The Best Retirement Investments
The American dream of retiring comfortably is getting tougher than ever. Today, many retirees spend decades longer in retirement, which present the challenge of making their savings last throughout a long lifespan.
So, you need to find the best retirement investments to generate regular income to maintain your lifestyle in retirement without going back to work. But How Can You Do That?
One common advice from financial professionals is to construct a portfolio of stock, mutual fund, annuity, bond index, bank Certificate Deposits (CD) and real estate investment to generate retirement income.
However, as we all know investing in stocks and mutual funds does not guarantee a constant stream of income due to stock market volatility. I am going to be blunt: there is no way you can predict when it comes to investing in the stock market.
One of the best investment and probably the most popular investment to produce passive income today is online investments. Online investments have turned ordinary people, including retirees, into millionaires. Through social networks and internet connection, retirees can now invest in themselves or other people ventures. You can turn a hobby into a profitable business with the help of a website. You can use your free times to invest in yourself: Launch Your Own Online Business to generate extra cash to support your retirement lifestyle.
Numerous studies have suggested that retirees are very suited for entrepreneurship.  No wonder, many retirees have turned to the internet not only to connect with families and friends but to make money online.
Let explore this opportunity and see how an online business can become the best retirement investments to help retirees build passive income in supporting their lifestyle. But before we discuss the online business investment opportunity, let first visits the traditional retirement investment options. After all, it is wise to diversify our retirement investments, not putting them all into a single basket, an online investment.
Online business investment should not require a lot of your retirement savings. You can invest in this opportunity with little or no money. It only requires time. Time is what retirees have lots of. Therefore, adding an online business investment into a retirement investment portfolio is a great option for all retirees.

These are the Best Retirement Investment Options
How to invest for retirement at age 60?
Retirement is approaching quickly if you haven't done this yet, 60 is the time to take an honest look at how much money you spend, and how you can spend less. This, I mean your monthly budget. You need a monthly budget because your income during retirement will substantially reduce comparing to when you had a job. For some retirees, a sudden drop in income can be difficult to adjust, and without a monthly budget, this can cause many retirees to potentially burn through their retirement savings at a faster rate than they had anticipated.
Now, It's the time to take an honest look at your financial situation and determine where and how to generate income to replace the loss of earning in retirement.
Traditional Retirement Investments
A traditional retirement investment options, call for an income plan, including guaranteed income with growth potential and flexibility. The concept is to design a funding plan for an extended retirement while controlling the inflation, marketplace volatility and withdraws amount to avoid depleting the cash.
Income Stock Portfolio
This retirement investment strategy designs to generate income by placing stocks that pay regular dividends into the retiree investment portfolio. This can be achieved by owning individual dividend stocks, or to keep things easy, buying a dividend Mutual Fund. Many investment professionals recommend this type of investment to retirees because it is a great way to hedge against inflation and market volatility.
As we all know, dividend payments are directly connected to the company's performance. It is not a guaranty income. The minute the company cancels paid dividends, the immediate loss of income is realized. Furthermore, the cancelation of paying dividends will send a negative signal to the stock market, which can result in a stock price crash. Because of these high risk, many retirees are recommended to add a small percentage of these stocks in their retirement investment portfolio.
Immediate Annuity
An immediate annuity is basically an insurance contract in that you pay the insurer a lump sum of money to receive a guarantee of a regular monthly income payment right away for life. Annuities are appealing to some retirees due to the fact they provide the ability to generate a steady monthly income in retirement. However, the validity of this guarantee is largely depending on the reputation and performance of the insurer. Furthermore, there is no return of principal from an immediate annuity.
Bond Index
Bonds may not offer a good return as stocks, but they may be a crucial part of every retiree portfolio. With bonds, the retirees are less likely to lose money than investing in stocks. Bonds pay regular interest which can be a good way to generate a stream of income. Furthermore, some bonds provide tax-free profits to entice investors.
Buying bonds to produce income is not entirely a safe vehicle. There are risks associated with bonds. The credit risk, sometimes your bond company might not able to make interest payments on time or not paying at all. Retirees also stand the risk of losing both principal and income if the company goes under. Another risk is inflation, the longer a bond's maturity period, the more the threat that the payout won't maintain pace with inflation. Then there is the market risk. In the bond market, the face value of bonds will fluctuate as interest rates change. In a rising interest rate market, you will see bond values decrease. Because of these risks, it is wise not to invest all your retirement funds into bonds.
Real Estate Investment
Owning an Investment property is the most direct approach to real estate investment. This strategy can produce a steady source of income from rental payment. However, this approach does come with a couple of disadvantages. First is the purchasing of the property, this can require a major one-time lump sum investment or taking a huge amount of debt. Once you have owned the property, there will be some unanticipated expenses of being a landlord. These include maintenance of the rental property, finding tenants, and making the mortgage while waiting for the monthly rental.
Real estate investment is very exciting to many retirees. But be careful, it can be very expensive for new investors. You can potentially lose all your saving if you do not know what you are doing.
Bank Certificate Deposits (CDs)
CDs are great investment products to have in a retirement portfolio. It is an important option to avoid market volatile with guaranteed monthly income from interest. Because of this, retirees falsely believe that CDs are the best options to protect their investment. However, it may not be a good idea to place all your retirement funds in this investment, due to the inflation risk. Inflation can result in decreasing the return on your investment. It will reduce your purchasing power due to the loss of monetary value.
Online Retirement Investments
Here, the most popular income-producing retirement investments to consider in your 60, starts your own part-time online business which can be operated as a home-based business.
Read more or watch this video about earning money online as the retirement investments that you can integrate into your retirement planning to generate passive income.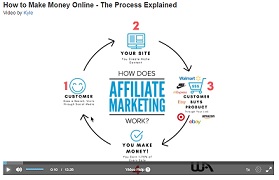 Best income investment is starting an online business
Life expectancies have risen by nine years over the past five decades, according to the Centers for Disease Control and Prevention. Today we are living longer, it means we need our money to last longer, too.
The smart strategy to maintain your lifestyle in retirement is to continue building upon what you have been saving and investing for decades.
You have three strategies to extend your saving in retirement:
You need to cut back on your expenses and put the extra cash toward saving. Take a good look at your monthly budget and see what expenses that are non-essential which can be eliminated. The method requires you to lower your lifestyle today to get ready for retirement.
Find extra income to increase your saving:
You can either get another job or sale stuffs that you no longer need to generate extra cash for investment. This means getting ready to pin on a name tag and call out "Welcome to Walmart".
Invest in yourself, Build an Online Business
According to the Small Business Administration, one in four Americans ages 44 to 70 harbors dreams of becoming an entrepreneur. A successful online business will produce passive income throughout your retirement. If one of your goals in life is to create your own business, the time to make a move on this dream is Now.

Planning for retirement is golden because you can launch your business part-time, doing it in the evening or on weekends, for three to five years before you retire. A business should be profitable in three to five years by the time you are ready to retire. This should be the best source of income in your retirement.
How do you approach your retirement today determine whether you will continue collecting a paycheck in your retirement? The obvious choice is to start an online business generate income for your retirement.
Why is entrepreneurship a safest investment for retirement?
Boomers grew up in an era of mom-and-pop shops. Most started from the bottom. You are a resourceful generation with full of creativity and handy skills for running businesses. You have lots and lots of life experience, especially business experiences. The most important factor, the risk is much lower: you can start an online business under $500, the kids are all grown up and on their own, living expenses are typically lower, and you have saving and retirement pension for back up.
Online investment does not require a big funding. You do not need to tap into your retirement savings at all. The initial investment is so small, but the benefits of owning an online business are great.
The benefits of owning a business in retirement
Beside generating extra income in retirement, running a business can add many more benefits to retirees.
Study after study has shown staying physically active in retirement improved health issues and prolong your life. Additional research has shown inactive mind can lead to a decline in mental functioning and keeping an active mind reduce the risk of dementia and Alzheimer's.
Starting a business is not only a wise move financially, but it is also improved your health.
Pursuing a Dream or Passion
Now is the time to pursue an idea that has been floating in your mind for a long time. Best of all, once your business gets off the ground, you get to call the shots. You can work whenever and where ever you want. You can take a break and spend time with the kids and grandkids. The option is endless.
Generate income to supplement your savings or pensions
Many retirees struggle in retirement when their income is largely depended on Social Security or pension benefits. Owning a successful online business could provide extra income to help ease the burden.
Watch this video to learn how you can generate online income working part-time with a niche website.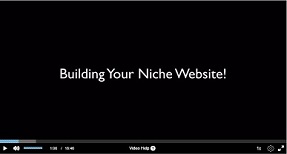 Best Business Ideas for Retirement Investment
Start an Online business is an excellent option for any age group including retirees. The internet is booming, especially in the online retail industry. Online business is one of the most lucrative opportunity that requires very low initial investment. You can start a business as little as $588 per year or $49 per month. Best of all, you can operate an online business from anywhere, from home, while traveling in an RV, on a vacation abroad, or while visiting the children and grandchildren. Flexibility is the number one reason Online Business is the best opportunity for everyone, especially retirees.
These two opportunities are the most lucrative online business ideas that allow retirees to market their skills, passions, knowledge, and lifelong experiences to generate income funding their retirement.
Affiliate Marketing
Affiliate marketing is a way to earn online income by promoting other people's products. You do not own any products, dealing with inventory, order processing, and customer service. You just a promoter. This industry is forecast to reach $6.8 Billion by the year 2020. This is a huge opportunity for retirees to earn money online. This opportunity works well for people with expertise, trade skills, or technical knowledge in an industry or with special products.
In this online business, you are offering advice, tips, tricks or reviews to help a potential customer in making an informed buying decision. You earn money when a customer follows a link on your web page and purchase an item. You are acting as a middleman connecting buyers with sellers, simple and easy.
Example: You are an experienced carpenter, you write reviews comparing different circular saw to inform the public about safety and durability.
Owning your own online business makes you the boss. It is up to you to decide which company or product you want to promote. You can promote Amazon, eBay, Shopify, Wealthy Affiliate, or more than one program.
It is very easy to get into affiliate marketing. The initial cost is very low. You just need a business website with a custom domain name and a computer to start this business. You can get all of this here.
I recommend setting up your free online business website with hosting and custom domain name with one company, this way when you experience technical problems, you do not have to deal with three or four different companies. If you don't know how to build a website, don't worry, it is very easy to build one for free. I have included a video to show you how you can create a website under 1 minute.
Many retirees interest in earning money online but do not know where or how to start. Like everything, you start by learning. There are many free basic online training lessons for you to learn before spending any hard earn money toward building an online business. I recommend you try these 10 FREE Online Affiliate Marketing Training Lessons from the Wealthy Affiliate to see if the online business is for you. This training program is free. You only need a valid email address to sign up. 
I suggest you take this free training program to start your online retirement investments.
Test Your Digital Marketing Skill With 10 Free Lessons

Join the Free Training Today!
Blogging
A blog, short writing for weblog, is an online journal or informational website where a writer or even a group of writers share their views on an individual subject. If you love to write and you have a lot of interesting ideas, informational skills, or entertaining stories to share with the world, then think of a blog as a self-publishing way to get your story out. This type of business is perfect for people heading toward retirement because they have a lot of life experiences and professional skills to share with the world.
Example: You have legal experiences, people would be interested in reading legal tips, analysis, and advises on family laws, business laws, or laws in general.
There are many ways to make money with a blog. You can earn money by writing a sponsored post, selling ad space, or Google Adsense program. There hundred of Ways to Make Money with A website.
It is fairly easy and cheap to start a blog. You can get one for free, but if you are creating your own business, it is better to purchase your own domain name and hosting to have more control over your earning and to build your own brand.
To be a successful blogger, you will need training and educations. There are many free training courses available online, but to make serious money, you will need to attend advanced training courses.
The most well-known free training program is the Online Entrepreneur Certification Program offers by the Wealthy Affiliate University. There have been over 1 million people attended this training. I recommend you check it out if you are seriously want to become a successful blogger. 
One important thing you need to remember when it comes to building an online business, it needs time to grow. If you start investing in this opportunity at age 50 or 60, you will be well on your way to generate enough income to support the same lifestyle in retirement. Investing in an online business opportunity will generate and maintain sufficient income to assure a comfortable and worry-free retirement lifestyle you and your family.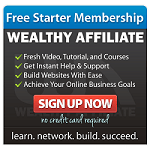 Each of the online business options above can be the best retirement investment option for you to generate income in retirement. Remember, when it comes to generating a reliable source of retirement income, you need more than just investments. You need a plan, an online business plan.
Yes, the best retirement investment is Starting Your Own Online Business.
Summary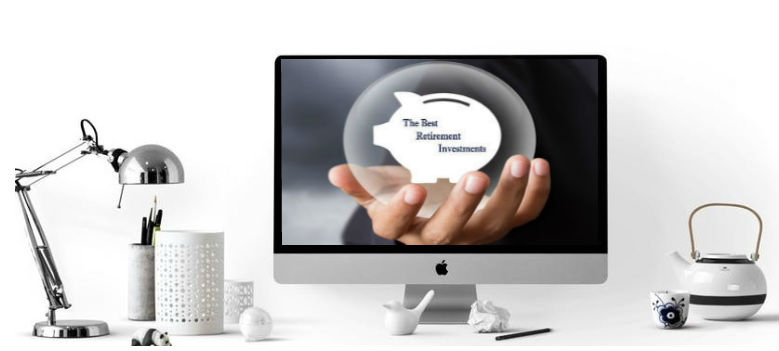 Article Name
The Best Retirement Investments to Build Future Income
Description
Today, the best retirement investments plan must have an online investment to generate future income. Traditional stocks, bonds, and annuities are not enough. If you want to maintain the same lifestyle in retirement, then it is time to learn how online investment today can help achieve future dreams.
Author
Publisher Name
Publisher Logo