Nikken is a 40 plus years old MLM Health & Wellness company. Giving the age of this company, how can people still label Nikken as a scam?
When people talk about the Nikken scam, they usually mean the mlm business opportunity, not the products.
In this Nikken review, I am going to discuss and analyze the Nikken MLM business opportunity. We are going to find out if Nikken a scam or a profitable mlm opportunity for us to build a life dream of financial freedom.
Tired Of Scams And Pyramid Schemes?

Your Work From Home Opportunity!
Nikken Review Summary
Business Opportunity:
Multilevel-Marketing (MLM)
Initial Investments: $99
Annual Revenue:
$68 Million
Nikken was starting out as a magnetic health and wellness company from Japan by Isamu Masuda in 1975.

Mr. Masuda promoted his new mlm company based on the five pillars of health: healthy body, mind, family, finances, and society. If you visit the Nikken website today, you can still see the five pillars.

In the late 80s, Nikken dominated the magnetic health products industry with sales revenue reached $5.5 billion annually.

The first Nikken USA operation was launched in April 1989 focusing on recruiting the Asian people in Los Angles and New York.

Nikken USA enjoyed strong support for its magnetic health products until the early 20's when the company experienced a rapid decline in sales.

In responding to slow sales, Nikken decided to expand its product lines to include other supplemental products such as ginseng, valerian root, camomile, and various vitamins and minerals.

At the time of writing this Nikken review, the company's annual sales revenue has declined to $68 million.

After 2016, the company stops publishing the Nikken income disclosure statement (IDS). This action suggested Nikken mlm opportunity is no longer profitable.

You can download a copy of Nikken IDS from the link above. However, I suggest not relying on this financial report because it does not reflect the current Nikken business situation.

Nikken offers a Face-To-Face sale and recruiting business. This home-based business opportunity is not suitable for people without direct selling experience.
NO FACE-2-FACE SALE – NO RECRUIT – JUST PASSIVE INCOME
CHECK OUT THIS #1 HOME-BASED BUSINESS
What Is Nikken?
Nikken is an mlm health and wellness company that launched by Isamu Masuda from Japan in 1975 based on 'The 5 Pillars of Health' principles.
The company opened its first USA operation in April 1989 targeting the Asian communities in Los Angles and New York.
At one time, the company's annual sales revenue reached $5.5 billion.
But by 2018, the company sales revenue fell to an all-time low of $68 million.
Today, the total of Nikken Consultants is estimated to be 45,000 worldwide.
By 2016, the company stopped publishing the Nikken income disclosure report. This financial document provided detail commissions earned by Consultants every year.
Many online Nikken review articles still use the 2016 Nikken income disclosure to evaluate the mlm opportunity. You must be careful when using this outdated financial report. It does not reflect the true value of this business opportunity.
I suggest you compare Nikken with other home-based business opportunities before joining.
You can use My #1 Business Opportunity to make a comparison.
How To Join Nikken?
You can join Nikken either as a customer or a consultant.
If you want to start a business with Nikken, you have to join as an Independent Consultant.
You will need someone to sponsor you into the mlm business opportunity. If you don't have a sponsor, you can visit the website to request one.
All new Nikken Independent Consultants are required to fill out a distributor application & agreement for approval.
You are also required to purchase a sales kit together with business tools which I will discuss in the following sections of this Nikken review.
How Much Does It Cost to Join Nikken?
The costs to join Nikken as an Independent Consultant includes the initial Sales Kit and the monthly Personal Sales Volume (PV).
The Sales Kit costs $99 which includes only the marketing material for you to start your Nikken business. If you want to have products on hand, you have to purchase them separately.
Besides the Sales Kit, there are also monthly sales volume requirements that you must meet to advance in rank and earn override commissions.
You can find more information on the sales volume requirements under the compensation plan section of this Nikken review.
The costs listed above do not include your times, marketing materials, travel expenses, and gas.
If you are interested in earning commissions promoting products and services on the internet, I suggest you check out the Affiliate Marketing Business Opportunity, where the commission is paid on every sale with no sales volume requirement.
To understand why mlm opportunities have a sales quota, you should read our discussion on the FTC MLM Guideline for more information.
The initial investment of $99 to join Nikken is not expensive if you can recover the costs.
When you evaluate any business opportunity, this should be your first question: can I recoup my investment? With MLM opportunities, the compensation plan should be the first document to look at.
Nikken Compensation Plan Overview
The Nikken compensation plan is structured using the unilevel organization.
There are two options to make money with Nikken: sell products and team building.
Personal sales Commissions are paid when a product sold without sales volume requirement.
However, team commissions, bonuses, and incentives are not paid unless the Independent Consultant met a certain monthly sales volume requirement.
I'll provide a brief explanation of the Nikken compensation plan below. To see the full version, just download a copy.
Make Money Selling Nikken Products
Nikken offers a wide range of products in 7 categories: sleep, breathe, light, water, nutrition, skincare, and rejuvenate.
This Nikken review is not about the products. We are not going to talk about the benefits or side effects related to Nikken products. You can download a copy of The Nikken Products Training Manual to learn the details.
We will discuss the commissions that Nikken will pay you for promoting and selling the Nikken products. This is known as the Retail Profit.
Retail Profit
Nikken offers a 25% retail profit to all Independent Consultants. This means Consultants receive a 25% discount off the suggested retail prices on every order.
Consultants have to order products directly from Nikken at the wholesale price, then resell to customers for a 25% retail profit. If you can resell at Nikken suggested retail price.
Products overpriced is the biggest problem for all Consultants. It is not easy to make a 25% retail profit when the products are overpriced.
Here's one Nikken overpriced product, the Nikken Magnetic Insoles, which suggested retail between $61 to $70.
When I visited the eBay online marketplace, I found most Nikken Insoles on sale for as low as $25. How can Consultant earn a 25% profit at this market price?
Make Money Recruiting Others To Join Nikken
You are ineligible to earn override commissions until you have achieved the rank of Senior Distributor.
A Senior Distributor is a consultant that has met the following sales volume requirement:
Personally purchase $100 of Nikken products every month

Produce a $500 Person Volume (PV) in a calendar month, and

Generate at least $1000 Personal Group Volume (PGV) in the same calendar month.
When you have met all these sales volume requirements, you will receive a 5% override commission on your PGV.
As you can see, a Nikken Consultant must produce $1,600 in sales volume to earn a $50 override commission ($1,000 x 5%).
Therefore, it is possible for a Nikken Consultant to make a lot of sales, but not qualify to receive the override commission.
The sales volume (PGV) increases up to $20,000 in a calendar month for the Silver Distributor rank. At this level, you earn a 20% override commission.
Leadership Bonus
The Leadership Bonus is awarded to Silver Distributors. This is the first step in qualifying for this bonus.
Eligible for Leadership Bonus does not mean you will receive the payment. There are more sales volume requirements that you must meet to earn the 6% commission.
One of your recruits must achieve the Silver Distributor level.

Make $100 monthly personal products purchased, and

Maintain team sales volume (PGV) of $2,000 every month
Once you have met all the requirements above, you will earn a 6% Leadership Bonus on the PGV of all the qualified Silver Distributor rank or above in your organization.
You start at the 6% Leadership Bonus up to 2 levels as a Silver Distributor. As you move up the ranks, the commission rate stays the same. But the level increases.
Nikken offers the 6% Leadership commission up to 6 levels at the Royal Diamond Distributor rank.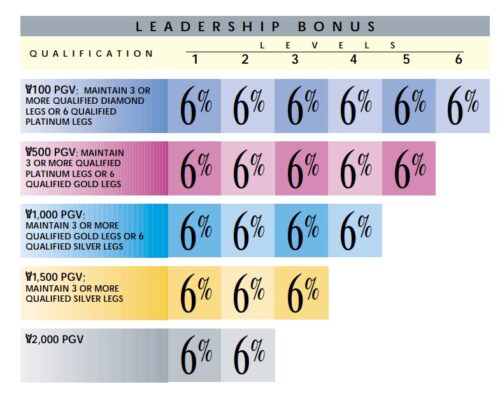 There are other team bonuses, commissions, and incentives that require more qualifications. You should refer to the compensation plan for more information.
As you can see, the Nikken compensation plan was designed to convert you into a customer. If you want to continue making money with Nikken, you and your recruits must maintain the monthly product sales volume.
Can You Make Money with Nikken?
The majority of online Nikken review articles answer to this question by looking at the Nikken Income Disclosure Statement (IDS). This normally the correct way to evaluate your potential earnings.
However, the Nikken IDS was produced in 2016. This financial document does not represent the current incomes of Nikken Independent Consultants.
The Nikken decision to not publishes the Income Disclosure Statement after 2016 should be a Red Flag. This mlm company has experienced a rapid sales revenue decline in recent years. The company is trying to hide something from the public.
But you don't need a copy of the Nikken income disclosure statement to know that 99% of mlm businesses failed.
This is common with mlm opportunity. 99% of Reps earn nothing while the top 1% receive all the commissions.
Why?
Because mlm compensation plans are designed for the company to sell products.
Just go back to the compensation plan section of this Nikken review, why do you think Consultants are required to meet the monthly personal sales volume (PV) to qualify for override commissions?
So, can you make money with Nikken?
The answer is NO. In my view, Nikken is a dying mlm company. The rapid decline in annual sales revenue should be a big warning to all investors that this business opportunity is not profitable.
Is Nikken A Scam?
We cannot say Nikken a scam, because the company actually sells products and offers a business opportunity.
The risk of starting a business is losing all your investments. You are responsible for researching, studying, and investigating Nikken before joining.
Reading Nikken Reviews is one way to learn the risks and rewards associated with this home-based business opportunity.
As the owner of an Online Business Review, I have evaluated hundreds of mlm businesses to help investors identified and discover the right opportunity to make money from home.
It's true that Nikken is not a scam, but this business opportunity on a decline.
Is Nikken A Pyramid Scheme?
No mlm company will admit that they are operating a pyramid scheme.
If you look at the Nikken compensation plan, the best option to make money is recruiting others to join Nikken as a Consultant.
You make money when others in your team purchased Nikken products to satisfy their monthly sales volume requirements. The more people join your team, the more money you make. This is how you build a pyramid.
You don't have to agree with me that Nikken is a pyramid scheme.
But you can't deny that the compensation plan was designed to convert you into a customer, not to help you build a successful business.
Is Nikken Worth It?
Many people join health & wellness mlm opportunities because they believe the products improved their life. Those that join Nikken for this reason, they would tell you, "It's worth the investment."
For those searching for a real profitable business, they will not invest with Nikken.
The truth is, Nikken is selling you the hopes and dreams, not a real business.
Let me ask you this,
Do you know why you want to start a home-based business?
To earn extra money from home, to be your own boss, or to achieve financial freedom?
And to make money, we invest in a PROFITABLE business!
There are much better and less risky home-based business opportunities.
If you want to be an owner of a lucrative and profitable business that generates six-figure passive income, then read my #1 recommended online business opportunity.
You should use the writing skill to start your own highly lucrative online writing business, TODAY!
There's NO traveling around town to attend late-night meetings and NO face-to-face sales or recruits with my online business.
The best part, you are working on the computer in your own home or anywhere you like.
Since the Nikken business is on a decline. You should carefully consider "The Business Control" issues before investing with Nikken.
As a Nikken Independent Consultant, you have no control over the business. You must obey Nikken rules and policies to stay in business.
What happens if Nikken goes out of business?
You are out of business! You can potentially lose everything and nothing you can do about it. This is the biggest business risk when investing with a declined mlm opportunity.
Look, you start a business to build long-term incomes.
You want to create a system that generates money far into the future. Isn't this the #1 reason you work hard to build a successful business?
There's a lucrative method that I and millions of people have been using to generate six-figure passive income online.
You must read my #1 recommended online business opportunity.
Can you write?
If your answer is "YES", then why not use this skill to start your own highly lucrative online writing business, TODAY!
Nikken was launched to promote and sell the Nikken products by recruiting people to become Consultants then requiring them to maintain a monthly personal sales volume.
The truth is, not many people can earn a full-time income with mlm opportunity. You must continuously enroll new people to grow your team because your primary commissions come from purchases made by your own recruits.
If you are not a good recruiter, you will have a hard time turning Nikken into a successful business.
There are other home-based business opportunities that do not require face-to-face selling or recruiting, such as my #1 choice: "Affiliate Marketing." You should investigate this home-based business opportunity before joining an mlm.
I hope this Nikken review answers your question, is Nikken a scam?
Until next time.
Please share your own Nikken experience below.