Hempworx is another mlm opportunity that offers people a chance to start a CDB Hemp business from home with a low investment.
This Hempworx review will answer the question that many investors have asked, Is Hempworx a pyramid scheme?
In our MLM vs Affiliate Marketing, we knew that not all mlms are a pyramid scheme.
We also understand that the FTC guideline is a legal procedure to determine a pyramid scheme.
But, we are interested in the Hempworx mlm opportunity. This requires a full business analysis, not a product or legal analysis.
Anyone interested in starting a business with Hempworx should read this Hempworx review to avoid the risks of becoming a victim of a pyramid scheme.
Tired Of Scams And Pyramid Schemes?

Your Work From Home Opportunity!
Hempworx Review Summary
Hempworx is a new CBD mlm company based in Las Vegas.

The company has achieved $100 million in revenue in just four years.

However, Hempworx distributors' average annual income was $91.20 with less than 0.5% made a livable income.

To make money with Hempworx, you must be in the top 1%.

This is a recruiting business. If you don't like face-to-face recruiting, then Hempworx home business opportunity is not for you.
NO FACE-2-FACE SALE – NO RECRUIT – JUST PASSIVE INCOME
CHECK OUT THIS #1 HOME-BASED BUSINESS
What Is Hempworx?
Hempworx is an mlm company selling and promoting Cannabidiol (CBD) products.
The company was started in Las Vegas by Josh and Jenna Zwagil in 2017.
Hempworx considers itself as a leader in the CBD industry.
The company gets its CBD oils from USA farmers in Kentucky and distributes throughout the United States.
The Hempworx annual sales revenue reached $100 Million in 2018, after just four years in business.
Hempworx primarily sells CBD products through an mlm network of Independent Distributors.
According to Hempworx/ MyDailyChoice Income Disclosure Statement, approximately 96,494 Distributors joined the company between May 1st, 2018 to May 1st, 2019.
But, 58,563 of all Distributors received no income, and only 48,208 New Distributors were still active at the end of the year.
Based on the information available to us, we can conclude:
Hempworx is owned and operated by MyDailyChoice, a health and wellness mlm company.

This is a fast-growing CBD mlm company based in Las Vegas, Nevada.

65.5% of Distributors closed their Hempworx business within the first year.

Hempworx home-based business opportunity is not profitable with the majority of distributors earned little or no income.

Hempworx business is very competitive.
Before starting your own Hempworx CBD oil business, it's smart to compare with other home-based business opportunities…
You can use My #1 Business Opportunity to make a comparison.
How to Join Hempworx?
There are four options to join Hempworx:
Entry Distributor,

Builder,

Director, and

Executive
Each business option requires purchasing a Starter Pack and a one-time Affiliate Fee to create a Distributor Account, setting up a Website/Back Office, and receiving Success Starter Kit.
Your earning is determined according to the level of membership that you selected.
The Process To Join Hempworx As A Promoter
You can join Hempworx business opportunity online or through a local Hempworx Distributor.
Once you complete an online registration process and pay the fees, you are a Hempworx Distributor.
You can start promoting and selling Hempworx CDB products.
But, before you can earn commissions, you have to sell or recruit others to join Hempworx.
How Much Does It Cost to Join Hempworx?
A $20 Affiliate fee is required for all levels of membership.
You are also required to purchase a Starter Pack with price ranging from $39 to $599.
The $599 Executive Pack is considered the best.
At the Executive level, you earn top commission 50% on all sales.
At the entry-level, your commission is only 25%.
Therefore, the lowest cost to join Hempworx is $59 ($39+$20), and the highest cost is $619 ($599+$20).
Most Hempworx Distributors are encouraged to join as an Executive to earn the top commissions and a better chance of success.
But, honestly, I don't believe it makes a difference.
Now, this is just the costs to join.
There are other costs to operate a Hempworx mlm business.
These costs are business operating expenses.
Hempworx reported in the income disclosure statement that the average annual expense for a Distributor is $1,608.
Do you know how Hempworx determined this expense?
Using the minimum product order a Distributor is required to purchase each month.
Each month, to maintain the Executive rank, a Distributor is required to purchase a $149 Director Spray Pack, a $199 Director CBD Oil Pack, or any CBD products total 90 Business Volume (BV).
If you take the lowest amount of $149 per month for 12 months, you get the average expense of approximately $1,608.
This average expense doesn't include your time, the costs of hosting events, traveling, and gas expenses.
If we add in your time to Hempworx average annual expenses, your annual business operating expenses will look different.
To become a successful Hempworx Distributor, you must invest at least 80 hours per week in building the business.
Using the 80 hours/week with a minimum wage of $8 per hours, this means a Hempworx Distributor invest $640 per week, $3,200 per month.
Your expenses might be different. I just want to show you that it will cost more than $1,608 to operate the Hempworx business.
Every mlm company requires its distributors to order products each month to remain active and receive a commission.
Depend on your rank with Hempworx, your monthly order must be 40BV or 90BV.
The total costs to launch a Hempworx mlm business is more than the initial $20 and a Starter Pack.
The Monthly BV is the biggest expense for every Hempworx Distributor.
This monthly expense can destroy your chance of making a profit because you must purchase products to stay in business.
With other home-based businesses, like affiliate marketing, you get paid commissions on every sale, no such thing as personal purchases to receive commissions.
Do you know why Hempworx has a monthly BV requirement?
To sell CBD products, and

To meet the FTC guideline as a legit mlm business.
Without product sales, Hempworx is a pyramid scheme, a scam.
We understand every business startup cost money.
However, we expect to make money to recover our investment.
Don't you want to know how you can make money with Hempworx?
Yes, we do!
We will discuss this in the next section.
Hempworx Compensation Plan
Hempworx is owned by MyDailyChoice. Both companies are using the same compensation plan, which is a binary compensation plan.
Do you know what Binary means?
It means you must build two teams, the right and the left, to make money.
The binary compensation plan is considered one of the most difficult to make money in the mlm industry.
Why?
Because you must have two successful organizations, not one, to earn.
I'll provide you a quick overview of the Hempworx compensation plan.
If you want to see it in detail, just download a copy.
Hempworx claims Distributors have many options to earn.
But, we know there are only two ways to make money with mlm.
Product Sales, or

Recruiting others to join Hempworx.
No commission is earned if you fail either condition above.
Make Money Selling Hempworx CBD Products
Hempworx offers Distributors a 25% off retail price.
Hempworx Distributors can purchase products at the 25% wholesale discount to sell retail for profits.
It sounds simple, right?
We'll see.
I did a quick search online and found a bottle of CBD Oil Peppermint 500mg selling for $30 with free shipping.
The same CBD oil on Hempworx website with a retail price of $69, and wholesale price at $51.75.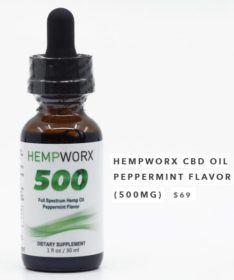 Can you see?
The market is so much cheaper than the Hempworx wholesale price.
It will be a challenge to make a retail profit when people can purchase the same products for $30.
Make Money Recruiting Others
There are several ways to make money with your Hempworx team.
However, you must first qualify:
Recruit people to join, either as a Preferred Customer or as a Distributor,

The recruit must place an order, and

You must meet the monthly minimum 40BV
The first income is called Jump Start Bonuses.
This bonus pays up to the tenth levels.
Hempworx advertises that Distributors can earn up to 85% Jump Start Bonus.
But according to Hempworx income disclosure, only 3 people achieved the Super Affiliate earning Rank. Two of the three might be the founders.
Most people start out at Builder Rank. The max you can earn with Jump Start Bonus is 30% on 1 level.
If you want to make more, you must purchase more CBD products each month to move up the ranks.
Next is the Binary Commissions
Besides meeting the three conditions above, both your right and left group each must achieve 90BV.
But to earn a commission, your total team sales must be 300 BV.
Maybe the illustration below will help.
As you move up the leadership ranks, the team total BV increased. (Refer to the compensation for detail.)
Distributors can potentially earn nothing even when their group, as a unit, performs well.
The Hempworx Binary Commissions is not easy to earn and understand.
We don't need to fully understand the Hempworx compensation plan, Because…
The compensation plan only tells us how you can make money with Hempworx.
It doesn't give us the actual income.
Actual earning is the information that helps us determine profits.
Then, why we discuss the Hempworx compensation plan?
To prepare us for the following discussing,
Can You Make Money With Hempworx?
Where can you find the answer to this question?
We know not from the compensation plan.
The answer is in the Hempworx Income Disclosure Statement.
Here's what I mean,
The Hempworx compensation plan offers the POTENTIAL EARNING, a guess or an estimate.
The Hempworx income disclosure statement contains ACTUAL COMMISSIONS Distributors earned.
As a business reviewer, I look to the actual commission/earnings to advise clients on an investment.
Potential earning is just a guess, an estimate.
Are you investing based on a guess?
Of course, NOT!
Then let discuss the Hempworx Income Disclosure Statement.
Actual Incomes
Hempworx reported 96,494 new Distributors signed for the year, (5/2018-5/2019).
But, only 48,208 remained active at year-end.
What does this number tell us?
That 48,286 Distributors, over 50%, closed their Hempworx businesses in the first year. The failure rate is high!
The next income level to look for is "Livable Income."
What is your livable yearly income?
I consider at least $30,000 for a family of three.
To make $30,000 income with Hempworx, you must achieve the 25K rank or above.
There were only 111 of Hempworx Distributors earned a livable income for 2019.
If we use the 48,208 active Distributors, this is less than half of a percent (0.5%) make money with Hempworx.
Looking at the Hempworx income disclosure statement, I can tell you with confidence that your chance of making money with Hempworx is like ZERO!
Why I am so confident?
Because we haven't deducted the business expenses from the incomes discussed above.
After deducting business expenses from these incomes, the group of Distributors that made money with Hempworx is much smaller.
Can you see how difficult to make money with Hempworx?
So, Is this a good investment?
Are you going to start a business with less than half of a percent chance of making money?
I wouldn't!
Then, does this mean
Hempworx A Scam
Yes, your chance of making money with Hempworx might be near Zero, but this doesn't make Hempworx a scam.
Hempworx is an mlm opportunity. It is a business investment.
Every investment has risks, which means, you can lose your money.
When you become a Hempworx distributor, you are willing to accept the chance of not making money.
When your business failed, you cannot call Hempworx a scam.
Before starting a business, you need to carefully research the business opportunity.
Reading this Hempworx Review is a good way to learn the risks and rewards.
Smart entrepreneurs hire professional financial analysts to evaluate the risks of every business deal before investing.
As a Business Review Writer, I have evaluated hundreds of businesses to help investors managing the risks…
That's all we can do, managing risks.
To me, Hempworx is not a scam. It's just a risky business.
Then, what about
Is Hempworx a pyramid scheme?
Well, Hempworx considers itself a legit mlm following the FTC guideline.
However, I think Hempworx is a pyramid scheme.
Why do I say this?
Looks at their earnings disclosure statement,
Do you notice a pyramid shape?
Yes, the largest commissions were earned by a few at the top.
This is the problem with every mlm opportunity. Less than 1% make money while over 99% lost money as Hempworx Distributors.
Doesn't this a pyramid scheme?
Yes, the more people you recruit into your team, the more money you earn.
Under the Binary compensation plan, Hempworx is rewarding distributors that recruit the most people into the organization, not selling products.
Recruiting is how you get promoted and make money with Hempworx!
This is how pyramid schemes work.
Well, you don't have to agree with me.
But, according to the Hempworx Income Disclosure Statement, you cannot deny that it is very difficult to make money with Hempworx.
This financial document showed us that the chance of making a decent income with Hempworx is less than 0.5%, OR
Should I say, "your chance of losing everything with Hempworx mlm opportunity is greater than 99%?"
So, Is Hempworx Worth It?
If Hempworx discloses on its website that the chance of making money as a Hempworx Distributor is less than 1%, would you still join?
I'll never start this business.
Do you know why you want to start a home-based business?
To earn extra money from home, to be your own boss, or to achieve financial freedom?
And to make money, we invest in a PROFITABLE business!
There are much better and less risky home-based business opportunities.
If you want to be an owner of a lucrative and profitable business that generates six-figure passive income, then read my #1 recommended online business opportunity.
You should use the writing skill to start your own highly lucrative online writing business, TODAY!
There's NO traveling around town to attend late-night meetings and NO face-to-face sales or recruits with my online business.
The best part, you are working on the computer in your own home or anywhere you like.
Another major business risk associated with mlm which people rarely discuss is the risk of losing your business.
You are in business as long as Hempworx allows you.
When you become a Hempworx distributor, you must understand that you have no control or ownership of the mlm business.
If Hempworx terminates your membership, you are out of business.
Don't you want to own and control your business?
There's a lucrative method that I and millions of people have been using to generate six-figure passive income online.
You must read my #1 recommended online business opportunity.
Can you write?
If your answer is "YES", then why not use this skill to start your own highly lucrative online writing business, TODAY!
I believe you can see from this Hempworx Review that your chance of achieving financial success with Hempworx is low, less than 0.5%.
Are you still invest if Hempworx is not a pyramid scheme?