Welcome to our Vasayo Review MLM Coffee Talk.
The founders of Vasayo, Dallin Larsen and his wife Karree Larsen, has been in the mlm business for decades.
They are the founder of another mlm company, Monavie, which went bankrupt in 2015 after defaulting on a $182 million loan.
Monavie was acquired by Jeunesse through an asset auction.
Millions of Monavie Brand Partners lost money and fell on hard times as the result of Monavie bankruptcy.
Now, the question is on Vasayo.
Is Vasayo going to end like Monavie?
We start a business to make money and achieve financial freedom.
You don't want to spend time, money, and years of hard works building up a business, then loss everything because the parent mlm company goes out of business.
This is the reality of mlm opportunities.
In this Vasayo Review, we are going to discuss the followings:
Is Vasayo a pyramid scheme, a scam or legit opportunity.

How to become a Vasayo Brand Partner?

The costs of joining Vasayo?

Vasayo compensation plan?

Can you make money with Vasayo? Then a big question,

The chance of Vasayo does into bankruptcy.
After finishing this review, you should be able to determine if Vasayo is a scam or a good opportunity to join.
Tired Of Scams And Pyramid Schemes?

Your Work From Home Opportunity!
Vasayo Review Summary
Name: Vasayo

Competitors: CTFO, Country Naturals, Forever Living,Hempworx, PrimeMyBody, Kannaway, Liv Labs, Zilis, Innov8tive, Bocannaco, Green Horizen, Illuminent, NEWYOU, Cibi-Gold

Annual Revenue: $80 Million
Business Opportunity:
Multilevel-Marketing (MLM)
Initial Investments:
$49.95 to $1,399

Business Earnings Estimate: 
<$100 Per Year.


Vasayo was launched by Dallin and wife Karree Larsen in 2016, a year after Monavie, their former mlm company went into foreclosure.

The company was formed to promote and sell wellness and weight loss supplements with a recent addition of CBD Hemp products.

The company headquarters is based in Pleasant Grove, UT, and Hong Kong.

In 2018, the company reported an annual sales revenue of $80 million.

Vasayo mlm is a startup mlm at the time of this review.

I classify Vasayo as a high-risk investment opportunity.

The company doesn't publish the income disclosure statement. But a copy is available upon request. This is common with a startup.

Vasayo recently entered the CBD business. However, the CBD industry is becoming more and more competitive.

To become successful as a Vasayo Brand partner, a good sales experience is required, especially with face-to-face recruiting.

The success rate for Vasayo mlm home business opportunity is expected to below.
NO FACE-2-FACE SALE – NO RECRUIT – JUST PASSIVE INCOME
CHECK OUT THIS #1 HOME-BASED BUSINESS
What Is Vasayo?
Vasayo stands for, "Vision Action Steadiness Assures Your Outcome."
The company mlm was established in 2016 by husband and wife team, Dallin and Karree Larsen, with headquarters in Pleasant Grove, UT, and Hong Kong.
The Larsen were founders of Monavie, an mlm company that went bankrupt in 2015.
Vasayo manufactures and distributes nutritional supplements, including CBD products, through an mlm network of independent Brand Partners across the United States.
The company annual sales revenue reached an estimated $80 Million in 2018.
Vasayo is in business for less than 5 years. It is a startup mlm with a higher risk of going out of business.
The company does not publish its income disclosure statement. This financial document provides important income information regarding the profits and losses of operating a Vasayo business.
You must compare the Vasayo opportunity with other home-based business before joining.
You can use My #1 Business Opportunity to make a comparison.
How to Join Vasayo?
You can join Vasayo through a current Brand Partner website or with a local Vasayo Partner.
The Partner that you sign up with is your sponsor. This is an mlm. Your sponsor is your upline.
You enroll by purchasing an Enrollment Pack or one of the five Product Packs.
To make money with Vasayo, you must be an Active and/or Qualified Brand Partner, which I'll discuss more in the Vasayo compensation section of this review.
How Much Does It Cost to Join Vasayo?
The cost to join Vasayo starts from $49.95 to $1,399, depends on your decision to purchase an Enrollment Pack or one of the five Product Packs.
However, the Enrollment Pack carries no Personal Volume (PV).
According to Vasayo compensation plan, Brand Partners are required to purchase 80 PV each month to maintain an "Active Status."
Brand Partners that join Vasayo with no PV must acquire 80 PV, approximately $110 of products ordered, to receive the commission.
To start earning the commission on day one, people enroll by purchasing a Product Pack.
Besides the joining fee, there are other expenses to operate a Vasayo mlm business.
Your biggest monthly expense is the Active Expense, which Vasayo refers to as Personal Volume (PV), 80 PV each month.
Brand Partners are required to place an order of roughly $110 each month to stay active and receive the commission from Vasayo.
This monthly business expense is known as, "Pay and Play!" If you want to earn, you have to pay.
A Brand Partner that fails to meet the 80PV monthly Qualification is considered "INACTIVE" and are not allowed to participate in earning commissions.
This monthly Active Expense can destroy your chance of making a profit because if you cannot resell the products, it becomes business losses.
Other home-based businesses, such as Affiliate Marketing, you earn the commission on every sale.
Want to know why every mlm opportunity has this active status?
Two reasons: to sell products and to avoid being classified as a pyramid scheme under the FTC guideline. (Check our MLM vs Affiliate Marketing for the discussion on the FTC MLM Guideline.)
Vasayo Compensation Plan
The Vasayo compensation plan is one of the most difficult to earn in the mlm industry.
Vasayo adopts a Binary mlm compensation plan.
Under Vasayo Binary, Brand Partners must build two teams, the right, and the left business teams, to earn residual income.
Why is it difficult to make money under the binary compensation plan?
Because you must have two successful organizations, not one, to earn. It is not easy to build two successful teams.
I'll provide you an overview of the Vasayo compensation plan. To learn in detail, just download a copy.
Before we begin, I need to explain to you how Vasayo calculates the binary commission.
The commission is calculated based on Commission Volume (CV), not the total order amount. The CV is points assigned to each order by Vasayo.
For example, you have an order totaling $100 with 68CV. Vasayo uses the 68CV to determine the binary commission, not the $100.
OK, we can start discussing the Vasayo compensation plan.
Vasayo claims Partners have 8 ways to earn.
But, with mlms, there are only two primary options to make money: Product Sales and Recruiting Others.
Make Money Selling Vasayo Products
Vasayo Active Brand Partners earn a 20% commission on customer sales.
The Brand Partners can sell products directly from their replicated VASAYO website to earn the commission.
This sounds simple to make a profit, right?
We'll see!
I did a search online and found a bottle of CBD Hemp Oil 1000mg selling for $21 with free shipping.
A CBD oil bottle retailing on the Vasayo website for $155.95 with the Brand Partner price of $139.95.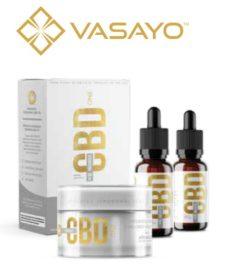 Vasayo CBD products are much more expensive compared to the market price.
Overprice is the reason why you can never sell mlm products on the market for a profit.
It will be a challenge to make a retail profit selling Vasayo products.
Make Money Recruiting Others
As an Active Brand Partner, you earn a 20% recruiting commission on your Personally Enrolled Brand Partners that purchase a Product Pack.
Vasayo refers to this as a Product Introduction Bonus (PIB). Below is the commission chart.
You also earn residual incomes from their team. This is known as Team Commission (TC).
But, you must be a Qualified Brand Partner to earn the TC.
Qualification is achieved by having two active teams, one on the right and one on the left.
When one team has accumulated 240CV and 480CV on the other team, you earn a $28 TC.
This sounds easy, doesn't it?
What happens if one of your team could not reach the required CV?
This is the trick with binary mlm compensation. You have multiple ways to earn. But, to receive the commission, both teams must be Qualified.
You might end up receiving no commission even when your Vasayo business, as a unit, is doing well.
Under the VASAYO compensation plan, earning the commission is one thing and receiving the commission is another.
When evaluating an mlm opportunity like Vasayo, you need to know the actual income received by the Brand Partners.
Actual incomes give you an idea of the business profit and loss.
Can You Make Money With Vasayo?
Vasayo will show you the compensation plan and say, "Yes, you can."
If you read this Vasayo review up to this point, you know this is not true.
The compensation plan shows POTENTIAL EARNING, not the actual income.
To find out the Brand Partners actual income, you need a copy of the Vasayo income disclosure statement. This financial document contains ACTUAL INCOME received by Partners from Vasayo.
Most mlm companies, including Vasayo, do not publish the income disclosure statement.
Why they do this?
Vasayo doesn't want us to know the truth. Brand Partners actual incomes might be very bad.
It's normal for 99% of Vasayo Brand not making money.
You can request for a copy of an income disclosure at the time of enrollment.
Vasayo is required by laws to provide you a copy together with the compensation plan.
With the income disclosure, you can see your chance of making money with this opportunity.
As a business review writer, I look to the actual business incomes to advise clients on an investment. Potential earnings are just a guess, an estimate.
Don't be surprised if the majority of Vasayo members are not making money.
Don't join Vasayo until you see the income disclosure statement.
If they refuse to provide you a copy, this is a sign of a potential scam.
Is Vasayo A Scam?
Yes, it might hard to make money joining Vasayo, but this doesn't make Vasayo a scam.
Vasayo mlm is a business opportunity, not a good one.
Your chance of achieving financial success is low.
When you join and your Vasayo business fails, you cannot call Vasayo a scam.
Every business opportunity has risks. You need to carefully research and study the opportunity before joining.
Reading this Vasayo Review is a good way to learn the risks and rewards related to this home business.
Many entrepreneurs hire professional business analysts to evaluate every opportunity to discover a profitable investment.
As a Business Review Writer, I have evaluated hundreds of mlm businesses to help investors identified and managed the risks.
That's all we can do, managing risks.
As a business opportunity, Vasayo is not a scam. It's just a risky business.
Is Vasayo a pyramid scheme?
Vasayo considers itself a legit mlm company, not a pyramid scheme.
Sorry, I don't agree with this.
Why do I think Vasayo is not a pyramid scheme?
Based on their compensation plan.
Partners are forced to purchase overprice products to earn the commission.
You cannot sell these overpriced products on the market.
The only way to sell Vasayo products is by recruiting others to join the business.
Once you join, you are forced to purchase 80 PV, approximately $100, every month to remain as an Active and Qualified Brand Partner.
This is the problem with every mlm opportunity. The business partners are the company primary customers.
The more people join your team, the more money you make.
Recruiting is the way to get promoted and make money with Vasayo.
Doesn't this make Vasayo a pyramid scheme?
I know, not everyone will agree with me on this.
But, based this Vasayo Review, you must agree with me that it is not easy to achieve financial success joining Vasayo.
This business opportunity is not profitable.
Is Vasayo Worth It?
I hope this Vasayo review provides you enough data and information answer this question yourselves.
Vasayo mlm opportunity is not for me.
I would never start a business when my chance of making money is less than 1%.
Do you know why you want to start a home-based business?
To earn extra money from home, to be your own boss, or to achieve financial freedom?
And to make money, we invest in a PROFITABLE business!
There are much better and less risky home-based business opportunities.
If you want to be an owner of a lucrative and profitable business that generates six-figure passive income, then read my #1 recommended online business opportunity.
You should use the writing skill to start your own highly lucrative online writing business, TODAY!
There's NO traveling around town to attend late-night meetings and NO face-to-face sales or recruits with my online business.
The best part, you are working on the computer in your own home or anywhere you like.
As I have stated earlier in this Vasayo review, this company is a startup.
Startups have a greater chance of "Going Out of Business" in their first few years. This business risk is real.
Remember Monavie?
Yes, the bankruptcy mlm company that owned and operated by the Larsen before starting Vasayo.
There is a possibility this might happen to Vasayo.
If VASAYO goes out of business. All Brand Partners are out of business. You have no control over this business risk. You must carefully evaluate this before joining Vasayo.
Starting a business is building a future stream of income. It's about making money in the long-term.
Future incomes are the reason we start a business?
There's a lucrative method that I and millions of people have been using to generate six-figure passive income online.
You must read my #1 recommended online business opportunity.
Can you write?
If your answer is "YES", then why not use this skill to start your own highly lucrative online writing business, TODAY!
VASAYO mlm might not be a pyramid scheme or a scam.
But, the company is a startup.
This business opportunity is risky and difficult to make money.
I hope that you find this Vasayo Review helpful with your research.
I want to thank you for joining our mlm discussion.
Until next time.
Please share your own Vasayo Review with us.