Immunotec Review – Is Immunotec A Scam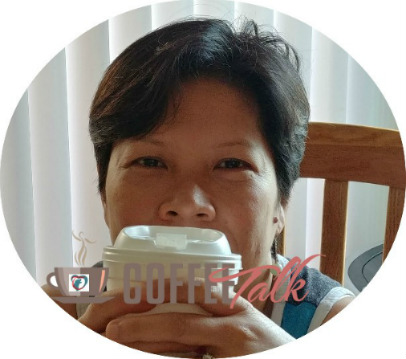 I'm TQ! Yes, I make passive income with
affiliate links
. Isn't that amazing? I make over $100K a year.
Join My Free Training
to start making money working from home today.
This MLM business opportunity Coffee Talk is our review of Immunotec.
We are going to discuss the popular business question, "Is Immunotec a scam?"
Are you looking to build a business with Immunotec?
Sometimes, when people refer to an mlm as a scam, they actually mean…
"Is Immunotec a pyramid scheme?"
We recognize a pyramid scheme as a scam!
If Immunotec is a pyramid scheme, then Immunotec is a scam.
In our previous Mlm Coffee Talk, MLM vs Affiliate Marketing, we have discussed the FTC guideline in determining a legit mlm vs a pyramid scheme.
Truth… the FTC guideline offers a legal procedure to define a legit mlm operation.
But… this legal guideline doesn't tell us about making money with Immunotec mlm home-based business opportunity.
Don't you want to know, is Immunotec business profitable? Or Can you make money with Immunotec?
Do you know why we start a business?
Yes, we start a business to make money and gain financial freedom.
There are many home-based business opportunities, which can be more lucrative and profitable than Immunotec.
However, before investing time and money in starting a business, we must know more than, "Is Immunotec a scam?"
The least we should know,
How to become an Immunotec consultant?

How much does it cost to join Immunotec?

Can you make money with Immunotec? And

Whether Immunotec mlm business opportunity is profitable?
Business Profits are a way for us to make money and recover our investments with Immunotec.
If you're interested in becoming an Immunotec consultant, you must read this Immunotec Review to fully understand the risks and rewards of owning an Immunotec business.
Don't you want to know how much you can make with Immunotec?
You will find the answer in this Immunotec Review.
Tired Of Scams And Pyramid Schemes?
Your Work From Home Opportunity!
Immunotec Review Summary
Business name: Immunotec


Direct Competitors:
Nu Skin, USANA, 4Life, YOR Health, Isagenix, Jeunesse, NEORA, Rodan + Fields, Mannatech, Morinda

Annual Revenue:
$120.5 Million


Business Opportunity:
Multilevel-Marketing (MLM)

Initial Investments:
$45 to $1,130.00


Business Earnings Estimate: 
The majority of consultants earned an average monthly income of less than $50.
Immunotec is an mlm company that researches, manufactures, and sells health and wellness related products.

The company sells its products through an mlm network of over 160,000 consultants.

However, based on the Immunotec earnings disclosure, over 60% consultant earned zero income.

It is very difficult to profit with this home-based business when the average consultants' monthly income is less than $50.

You must be super good at Face-To-Face selling and recruiting to make money with Immunotec.

If you are not comfortable with face-to-face recruiting, then Immunotec mlm business opportunity doesn't fit you.
Hate sales and recruits? I earn a full-time income online without doing either. Check out my #1 home-based business opportunity.

What Is Immunotec?
Immunotec is a direct selling (mlm) company that develops, manufactures, markets and sells weight management supplements, skincare products, and other health and wellness products.
The company popular and well-known product is "Immunocal."
Immunotec established in 1996 with headquarters in Quebec City, Quebec, Canada.
The company operates in Canada, the U.S.A., Mexico, the Dominican Republic, Guatemala, the United Kingdom, and Ireland with annual sales revenue $120.5 Million dollars.
According to Immunotec 2016 income disclosure statement, over 60% of Immunotec consultants earned nothing for the year, and over 90% earned an average annual income of $250.
On May 1, 2019, Immunotec was named number 79 on Direct Sale Network (DSN) Global 100 list with over 160,000 consultants.
Based on the information available to the public, we can conclude:
Immunotec is an mlm company.

Immunotec mlm home-based business is not profitable with over 99% of consultants earned little or nothing.

The Immunotec business success rate is low, and

Immunotec business is very competitive.
The Immunotec home business opportunity doesn't seem to be a good investment.
Before investing, you should compare with other home-based business opportunities.
You can use My Writing Business to make a comparison.
How to Join Immunotec?
Immunotec offers two options to join the company:
Preferred Customer is free to join. You receive a 25% discount on all purchases, exclusive promotion, an additional 10% discount if you subscribe to the monthly AutoShip.

The Immunotec Consultants receive all the benefits offered to the Preferred Customer, plus the opportunity to build a business promoting and selling Immunotec products for profits.
Our Immunotec Review is a discussion about starting a business with Immunotec.
Therefore, we will be talking about the process, the costs, incomes, and profits by becoming an Immunotec Consultant.
Become An Immunotec Consultant
You need a sponsor to join Immunotec both as a preferred customer and a consultant.
If you don't know a consultant, you can visit the company website and request an Immunotec consultant near you.
You are likely to meet face-to-face with your sponsor to go over the application and investment requirements to start an Immunotec business.
Once you have signed the consultant agreement and paid the investment fees, you are an Immunotec consultant.
You can start promoting and selling Immunotec products.
But, before you can earn commissions, you must meet several requirements.
How Much Does It Cost to Join Immunotec?
The lowest cost to become a consultant is $45 for a Welcome Kits.
This kit doesn't include Immunotec products. It has a zero Personal Volume (PV) and Commissionable Value (CV), which both are required to earn commissions.
(I'll explain PV and CV in the compensation section.)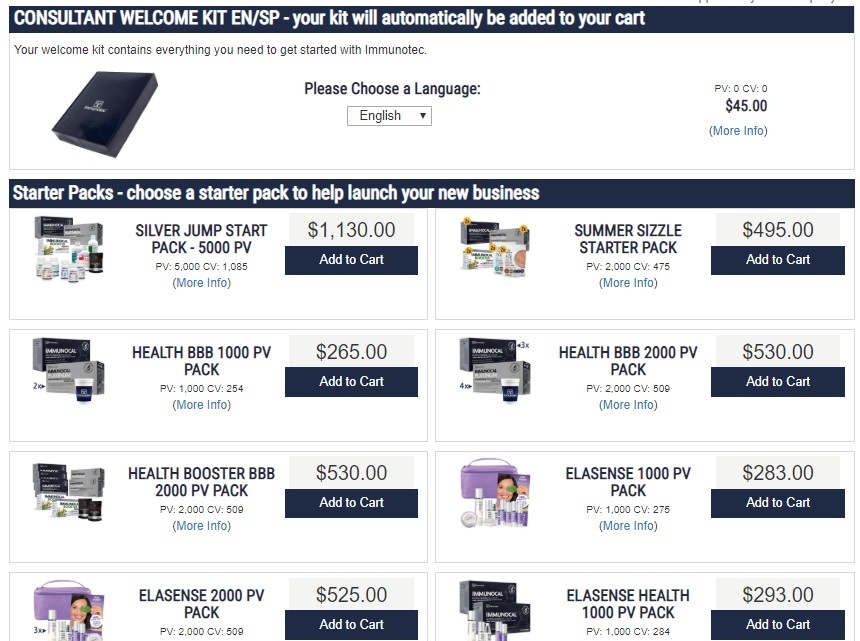 Immunotec offers new consultant Business Starter Packs, price ranging between $283.00 to $1,130.00.
These Starter Packs contain products for you to try and give out as promotions for the new business.
Immunotec consultants are not required to purchase a Starter Pack.
BUT… if you want to earn commissions, you will have to purchase one of these packs to earn PV and CV.
Immunotec will tell you purchasing the most expensive Starter Pack will boost your chance of success… But,
I honestly don't believe it helps!
Most people would say, $45 to start a business is a good deal.
Wait… There are additional costs associated with this business.
These costs are known as business operating costs.
I will discuss the two biggest operating costs for you in this Immunotec Review:
1. Time Investment
You are required to invest time into building your Immunotec business, mainly recruiting others. To become successful, you must invest at least 80 hours per week into the business.
Yes! This is a full-time job, not part-time. Hardly anyone becomes successful with an mlm business working part-time.
If we use the minimum wage of $8.00 per hours, this means an Immunotec consultant invests at least $400 per week, $4,800 per month, of building up the business.
2. Immunotec Hidden Costs – "Monthly PV Requirements"
We touch on this Personal Volume (PV) when discussing, "Becoming an Immunotec Consultant."
Don't you want to know what is a PV?
PV is personal sales volume, or purchase, which all Immunotec consultants are required to meet each month to stay active and earn commissions.
Each active Immunotec consultant monthly PV requirement is 180 PV, approximately $90 (2 PV per $1) of products purchased each month.
A consultant that fails to maintain the 180 PV monthly is considered "inactive" and receives no commissions.
So, to maintain active status, most Immunotec consultants have to spend $90 per month to stay in business.
The PV requirement is a hidden cost to the consultants because most mlm companies do not disclose this expense.
Many Immunotec consultants discover this expense after joining.
Now, the real investments to launch an Immunotec business is more than the Welcome Kit.
The monthly PV expense is the biggest operating cost for most consultants. It can add up to thousands of dollars over the years.
The monthly PV requirement is the reason you cannot make money with mlm opportunities.
This monthly expense destroys your chance of making any profits.
Other businesses, like affiliate marketing, do not require personal products purchased to get paid. You earn commissions on every sale.
Do you know why mlm companies require members to purchase products every month?
There are two purposes:
To sell Immunotec products, and

To meet the FTC guideline as a legit mlm.
Without product sales to consultants, Immunotec is a scam or a pyramid scheme.
Take away the PV, I personally believe mlm, including Immunotec, a pyramid scheme, based on the compensation plan.
OK, don't you want to know how you make money with Immunotec?
Well, we should discuss,
Immunotec Compensation Plan
Many people invest in an mlm opportunity without taking the time to understand the compensation plan.
All mlm compensation plans are written to hide the fact that consultants cannot make money with the business.
If you are confused when reading the Immunotec compensation plan, don't be surprised. You are not alone. Many Immunotec consultants are the same.
The Immunotec compensation plan is the key factor to determine profits.
You should spend time reading through this section.
I'll provide you a quick overview of the Immunotec compensation plan. To learn it in detail, just download a copy.
Immunotec says there are seven ways to earn under its compensation plan.
However, Immunotec is an mlm company. They're only 2 real ways to earn with mlm:
Earnings from product sales, and

Earnings from recruiting others.
All Immunotec commissions and earnings fall into one of the categories above.
Earnings On Product Sales
An Immunotec consultant can purchase products at a 40% discount, then retail for a profit.
Immunotec calls this retail earning.
But, can you make money selling Immunotec products on the market?
I did a quick search on the internet.
I found this Immunocal Booster on eBay for $43 with free shipping.
This same item on Immunotec website, retail for $77.50 and consultant price of $54.25.
I don't know how you make a retail profit at these prices?
The next commission in this group is Preferred Customers Autoship Wholesale Profit.
This earning is the difference between the preferred customers' price and consultant price.
If you look at the Immunocal Booster, the preferred customer price is $58.15, and the consultant price is $54.25. The Wholesale profit is $3.90.
Here's my question, who is going to buy at $58.15 when they can purchase online for $43?
OK, when consultants purchased or sold products, they also earn Commissionable Volume (CV) between 5% to 20% based on the CV.
But, you have to accumulate at least 1,000 PV to earn 5% (50 PV). These are points, not real money.
Now, let discuss
Recruiting Earnings
You do not earn commissions on recruiting a person to join Immunotec.
Your recruit must purchase products for you to earn commissions.
The more the recruit buy, the more you earn.
Based on the Immunotec compensation plan, a consultant earns a 5% commission only when a recruit spends $500, no commission if under this amount.
This means an Immunotec consultant could potentially earn nothing from recruiting.
To earn a big commission, your sponsor will push you to purchase the most expensive Starter Packs.
With mlm opportunity, you also earn from downline performance, override commissions.
Immunotec says, "it pays consultants up to 47% of residual commissions."
If you think they are paying you 47% on downline sales, you are wrong.
The downline commissions are from 5% to 10% up to 8 generations. Totaling all these commission rates together, you have 47%.
Remember, Immunotec consultants do not earn commissions unless they meet the sales volume requirements:
Personal Volume (PV) from 180 PV to 600 PV, about $90 to $300, and

Total Organization Volume (TOV) 6,000 PV to 1,500,000 PV, from $3,000 to $750,000 is total sales.
And then more requirements…
Under the Immunotec compensation plan, the consultants must build three organizations, 3 Legs, to earn commissions.
A unilevel, 1 Leg, mlm compensation plan is difficult to make money.
With Immunotec, the difficulty multiplies by 3. All 3 organizations must meet every sales volume requirement for a consultant to make money.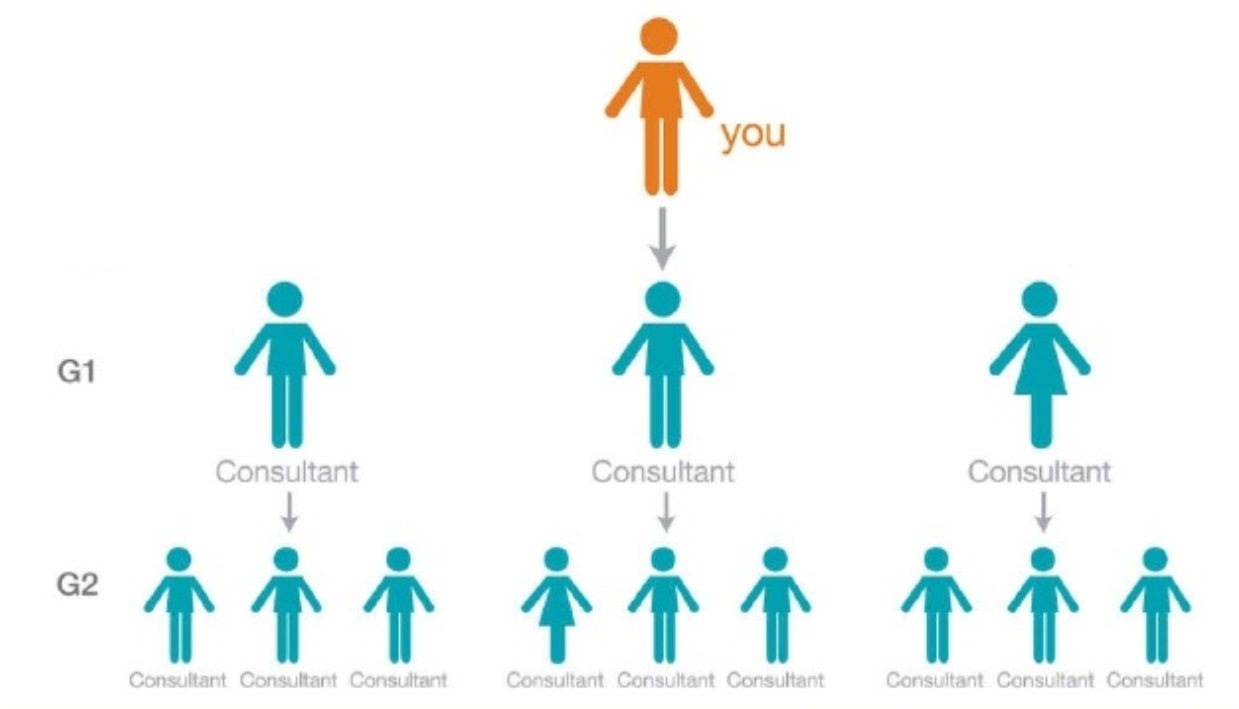 Under this compensation plan, it is almost impossible to earn commissions. Because you must build three successful businesses, 3 to earn a 5% commission.
Do you still want to become an Immunotec consultant?
I know the Immunotec compensation plan is very confusing and difficult to understand.
However, we don't need to fully understand it, Because…
The Immunotec compensation plan only tells us how an Immunotec consultant makes money.
It doesn't give us the actual earnings of a consultant.
Actual earning is the information that helps us determine profits.
Then, why we discuss the Immunotec compensation plan?
To prepare for the following analysis,
Can You Make Money With Immunotec?
We will not find the answer to this question from the Immunotec compensation plan.
Do you know why?
Well, because Immunotec uses the compensation plan to sell you a dream, not a real business.
Are you looking to invest in a dream or a real business?
Then, we need to look at the Immunotec earnings disclosure statement.
Here's why?
The Immunotec compensation plan offers the POTENTIAL EARNING, a guess or an estimate.
The Immunotec Earnings disclosure statement contains ACTUAL COMMISSIONS consultants earned in the prior year.
As a business review writer, I look to the actual commissions/earnings to advise clients on an investment.
Potential earning is just a guess, an estimate.
We do not invest based on a guess!
OK, let analyze the Immunotec earnings statement.
This is what the earning disclosure statement tell us about:
Immunotec Consultants Actual Income
More than half, 60.84%, of consultants did not earn income with Immunotec.
Of the 39.16% that earned incomes, the majority, 29.55%, earned an average monthly income of $250 or less.
Less than 1% earned the top income of $5,000 a month.
How many Immunotec consultants, do you think, make profits?
Before talking about profits, we need to deduct all expenses from the incomes above.
Immunotec reported these incomes before taxes and expenses.
What will happen after we deduct the business operation expenses?
Let see:
Earlier, we gave the lowest estimated monthly operation expense about $4,890, which does not cover all expenses.
If we deduct the expenses above from the top income earners, $5,000, the profit is $10.
Even the top earners did not make profits.
Is this a good investment?
Here's another business comparison,
Then…
Is Immunotec A Scam?
Yes, you might not make money becoming an Immunotec consultant, but this doesn't make Immunotec a scam.
Immunotec mlm is a business opportunity.
Every investment has a certain level of risk, which means there a possibility of losing your investment.
When you invest in Immunotec, becoming a consultant, you are willing to take on the business risk, over 99% of losing your investment.
So, you cannot call Immunotec a scam when your business failed.
Calling Immunotec a scam would mean every business investment is a scam because there are always investment risks associated with every startup.
Before you start a business, becoming an Immunotec distributor, it's your responsibility to do research on the opportunity.
Reading this Immunotec Review is a good way to learn the business risks versus rewards before investing.
I'll never join a business opportunity when the chance of profits is less than 1%, like Immunotec.
If you decide to invest, then you cannot turn around and call Immunotec a scam.
Many entrepreneurs hire a professional financial analyst to evaluate the risks of every business deal before investing.
As a Business Review Writer, I have evaluated hundreds of businesses to help investors managing the investment risks…
That's all we can do, managing risks.
To me, Immunotec is not a scam. It's just a bad investment.
However, when it comes to a pyramid scheme… here's
My Opinion On 'Is Immunotec a pyramid scheme?'
Immunotec tells you that they are a legit mlm, not a pyramid scheme under the FTC guideline.
But, why do I think Immunotec a pyramid scheme?
Well, looks at their earnings statement,
Do you notice anything unusual?
Yes, the majority of Immunotec consultants did not make money.
The largest commissions were earned by a few at the top. Less than 0.1% earned thousands and millions while over 99% earned little or nothing.
Look at the picture below, what do you see?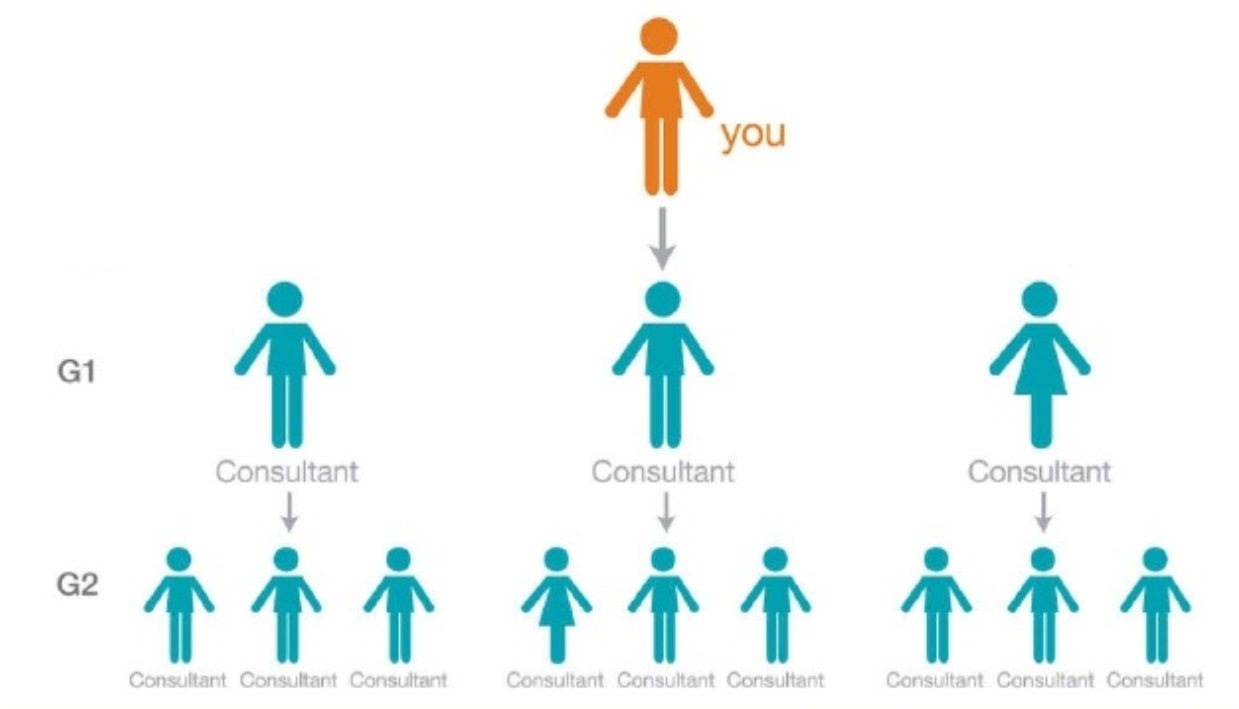 Doesn't this look like a pyramid scheme?
Yes, the more people you recruit, the more money you earn.
If you look carefully at the Immunotec compensation plan, you notice that Immunotec rewards consultant for recruiting, not selling products.
Recruiting is how you get promoted and make money with Immunotec!
Isn't this a pyramid scheme?
Well, you don't have to agree with me. It's not important
All you need to understand from this Immunotec Review.
"It is almost impossible to make profits with this mlm home-based business."
The Immunotec earnings disclosure statement tells us less than 1% of consultants make profits.
So, Is Immunotec Worth It?
Would you invest, if Immunotec discloses that there's a 99% chance you earn nothing?
Well, Immunotec did tell us this through their earnings disclosure report.
We should never invest in a business opportunity unless is profitable.
Immunotec is not a profitable business.
Do you know why you want to start a home-based business?
To earn extra money from home, to be your own boss, or to achieve financial freedom?
And to make money, we invest in a PROFITABLE business!
There are much better and less risky home-based business opportunities. I recommend you look at Affiliate Marketing.
As an affiliate marketer, there's NO traveling around town to attend late-night meetings and NO face-to-face sales or recruits.
The best part, you are working on the computer in your own home or anywhere you like.
Affiliate marketing is one of the most powerful work from home business opportunity to earn passive income. I recommend you read, MLM vs. Affiliate Marketing to learn.
What happens if Immunotec goes out of business?
Have you ever thought about this risk?
If Immunotec goes out of business, every Immunotec consultant is out of business. This is a business risk that most people don't consider when joining an mlm opportunity.
When you become an Immunotec consultant, you are not the owner of your business.
Don't you want to own your own business?
If you want to be an owner of a lucrative and profitable business that generates six-figure passive income, then…
You should read my #1 recommended online business opportunity.
Can you write?
If your answer is "YES", then why not use this skill to start your own highly lucrative online writing business, TODAY!
Can you see?
Your chance of achieving financial success as an Immunotec consultant is low, less than 1%.
Based on this Immunotec Review, we conclude that this mlm opportunity is not a good investment.
Do you consider Immunotec a scam?