Rakuten Ebates is a legit online cashback program. This company has the largest network of affiliated stores offering cashback on purchases, coupons, and promotional codes for thousands of products and services you use every day.
This is how Rakuten Ebates members review the company: "Ebates is an easy and legit way to find everything you need and earn cashback when you shop at more than 2,500 of your favorite stores."
Rakuten Ebates shares affiliate commissions with its members in a form of cashback.
If you want to learn more about the affiliate marketing business, read this article on The Free Affiliate Training Program that I have used to build my online business to learn more.
Today, there are many cashback and shopping reward programs available online. Rakuten Ebates is the largest cashback shopping website for you to make money.
In this Ebates review, I'll offer tips and tricks that you can use to maximize cashback earning with Rakuten Ebates.
Tired Of Scams And Pyramid Schemes?

Your Work From Home Opportunity!
Rakuten Ebates Review Summary
Rakuten Ebates is an affiliate marketing company with over 2,500 partners that allows shoppers to earn cashback on purchases for the last 20 years plus.
The company has a current valuation of more than $84 billion dollars with 10 million-plus registered members.
Rakuten Ebates has made cashback earning process super easy and convenient for every online consumer. It has become a household name in the cashback & rebate industry.
Whether you are shopping online or offline, you can get cashback with a free Rakuten Ebates account.
Rakuten Ebates is not a survey site like Inboxdollars, Swagbucks, or Survey Junkie. It only offers cashback.
Ebates has already paid billions of dollars in cashback to online consumers. These figures alone speak volumes about the reliability, integrity, and popularity of this company.
Rakuten Ebates is currently running a promotion that pays new members $10 just for signing up. This is a great way to make a quick $10 and earn cashback rewards, special offers, hot daily deals, promo codes, and coupons.
But you must take the first step to receive $10 by opening a free account, then read this Rakuten Ebates Review to learn all the tips and tricks on earning cashback with Rakuten Ebates.
What Is Rakuten Ebates?
The Ebates website was launched in May 1999 by Paul Wasserman and Alessandro Isolani Menlo Park, San Mateo County, CA with $50,000 from a venture capital firm, Foundation Capital.
The company initially offered up to 25% cashback with 40 store partners.
With the help of Canaan Partners and August Capital, in 2000, the company raised $20 million investment round.
Ebates steadily grows at an annual compound rate of about 50% through multiple acquisitions of several online businesses including Cartera Commerce and ShopStyle.
In September 2014, Rakuten, Inc. acquired Ebates in a $1 billion cash deal and changed the name to Rakuten. 
Today, Rakuten Ebates is recognized as a leader in the cashback and rebate online shopping industry.
How Does Rakuten Ebates Work?
Rakuten Ebates fully discloses the way it makes money and how it's paid you cashback.
Rakuten Ebates pays cashback in dollars. The payment is not in a form of gift cards, points, or anything like that, but it is a check in the mail or money deposited directly into your PayPal account.
To get started, you need to create a Free account with Rakuten Ebates using either an email address or a Facebook account.
Once the account is verified, you can shop and earn 1% to 60% cashback at over 2,500 stores both online or offline.
Here's how Rakuten Ebates works.
Through Rakuten Ebates, a customer purchases an Air Fryer for $200 on Amazon. Amazon pays Rakuten Ebates 6% ($12) for the referral. Rakuten Ebates shares $4.80 (40%) of the referral commission with the customer in the form of cashback. This is basically how Ebates works!
Rakuten Ebates Business Model
Ebates business model has two parts:
The first part is a simple affiliate marketing business relationship with companies. An affiliate marketing business relationship means the companies agree to pay Rakuten Ebates a referral commission on every sale completed through its affiliate links.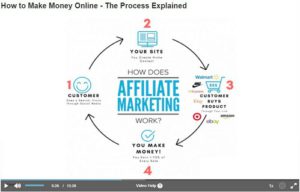 Here is a short video explaining the process of affiliate marketing. >>>>>
The second part of the Rakuten Ebates business is splitting the affiliate commission with consumers. Rakuten shares the affiliate commissions with its members in a form of cashback. This is why Rakuten Ebates is not a scam.
This is a win-win-win business model for all parties involved; merchants get the sale, Ebates earns a commission, and consumers receive cashback.
Ebates is affiliated with over 2,500 companies for you to shop and earn cashback.
What Is the Cost to Join Rakuten Ebates?
It costs you nothing to join Ruketne Ebates. The company pays you $10 for being an active Ebates member.
Here's how to get your first $10 bonus:
Go shopping and purchase from a Rakuten Ebates affiliate store to earn cashback.

After spending $25, Rakuten pays you a $10 bonus.
How to Earn cashback with Rakuten Ebates?
There are multiple ways for you to earn cashback with Rakuten Ebates.
Members can earn cashback shopping online, with Rakuten mobile app, with cashback Button, in-store, refer-a-friend, and more.
Online Shopping cashback
The next time you shop online, be sure to make all your purchases through your Rakuten Ebates account.
The process to earn cashback on your online purchases is very simple. Here are the two options:
Shopping through the Rakuten Ebates website
Login to your Rakuten account and start shopping by searching for the store and following the affiliate link.

A new window pop-up and sent you to the store.

All purchases that make during this shopping trip will receive cashback
Paying through Rakuten Ebates account
If you forgot to start a shopping trip through the Rakuten account, don't worry. You can still shop at your favorite stores and receive cashback.
Add the items to the shopping cart.

Before making a payment, Log into your Rakuten Ebates account.

Click on the store link inside Rakuten to complete your purchase.

You earn cashback when you make payment through Rakuten Ebates.
Ebates cashback Button
You can download and add the Rakuten Ebates cashback button to the Google Chrome Browser. This way you don't have to shop through the Rakuten website to earn cashback.
Every time you visit one of Rakuten's' affiliate partners, the cashback button will automatically pop up notifying any discounts, coupons, and cashback available in the store.
You simply click on the notification window to start earning cashback, without interrupting the shopping trip.
The cashback button also notifies you if the particular store is not an affiliate partner of Rakuten.
In-Store Purchases cashback
You can earn cashback when shopping at a physical location of Rakuten partners.
The process to activate this cashback option is simple:
First, add a debit or credit card to your Rakuten Ebates Account.

Then, find and save any in-store offers that you're interested in account.

Now, go shopping at the brick-and-mortar store with the same credit or debit card to receive the cashback. 
Cashback with Ebates Credit Card
Using the Rakuten Ebates special credit card, you can earn additional cashback and bonuses.
All purchases completed online with Ebates credit card are eligible for an additional 3% cashback.
Purchases completed elsewhere with the Ruketen Ebates credit card will earn a 1% cashback.
Just use your Ebates Visa credit card when shopping online or anywhere to earn cashback.
Rakuten Ebates Daily Deals and Double Cashback
Rakuten offers daily deals including double cashback and special promo codes for extra discount.
Check the reward platform to find double cashback stores where all purchases within 24 hours are eligible for double cask back.
There are also one-day promo codes with additional cashback as high as 30%.
When you use the one-day promotional code, you earn the promotional cashback together with coupons, deals, or any discounts currently offered by the merchant.
Make Money Referring a Friend
Rakuten pays $25 for referring a qualified friend into the program.
To get this refer-a-friend cash bonus, you just send an invitation with your unique referral link to friends through social media, email, or text.
When a friend signs up with Rakuten Ebates via your unique link and makes a qualifying purchase, you earn a $25 referral bonus.
You can find your unique referral link by visiting the Refer-a-friend page. You can invite as many friends as you want. Your earning is unlimited.
How to Get Your Rakuten Ebates Cashback Payment?
Getting paid from Rakuten is as easy as 1 and 2. You have a choice of receiving your caskback either by paper check or direct deposit into your PayPal account.
Rakuten sends out cashback payments quarterly if you have money in the account.
Below is how you know if a big fact check is coming:
Track Your cashback
It takes anywhere from a few hours to a couple of days for Rakuten to confirm your purchase. Once confirmed, the company will add the cashback to your account.
Your cashback balance is updated accordingly, and a checkmark appears in the cashback section on the "My Shopping Trips" page.
Total cashback balance reflects all earned cashbacks from purchases online, in-store, and using a credit card.
Rakuten Ebates sends out payment quarterly to members with the cashback balance in excess of $5.
When a payment is sent out, you can track your earning through my Big Fat Check History section.
You will get a notification if a payment is sent out via PayPal or in a Big Fat Check.
Ebates Payments Methods and Schedule
Rakuten payouts 4 times a year using 2 payment methods: via PayPal or a Big Fat Check.
It costs you nothing to receive cashback payment from Rakuten Ebates.
Big Fat Check
Under this payment option, Rakuten will be mailing you a check to the mailing address in your account.
If you choose this option, make sure your information is accurate and up-to-date.
It can take up to 3 weeks to receive your Big Fat Check. The check is valid for 3 months, plus an extra 30-day grace period.
By PayPal
Rakuten will deposit the cashback amount directly into your PayPal account.
To use this payment method, you will need to verify your PayPal account before the quarterly payment is sent out. This is the quickest way to receive your cashback.
Is Rakuten Ebates Legit or a Scam?
Rakuten is not a scam. Affiliate marketing is a well-known legitimate online business.
Affiliate marketing is how I make a living online for the last 10 years. Here's my profile.
This business model is very lucrative with a low initial investment.
If you are interested in learning more about affiliate marketing business. I recommend you read The 4 Steps to Affiliate Marketing.
Rakuten is a legit business that has paid over $1 billion dollars in cashback to consumers all over the world. This is the truth.
However, nothing is perfect in this world. After using Ebates for years, there are few things that I like and dislike about this cashback program:
What Do I Like About Rakuten Ebates?
You earn $10 to become a free membership – Ebates pays you to join Ebates.

You earn cash, not point or reward

Get cashback for doing absolutely nothing.

Earn cashback both online and offline "in-store cashback."

One-stop-shop for online bonus offers, hot deals, great discounts, promo codes, coupons and many more

Make $25 for referring a friend

The cashback Button makes earning easier

Payment is guaranteed every three months via PayPal or a Big Fat Check

The largest communities of smart online shoppers, more than 10 million members worldwide
Things I Don't Like About Rakuten Ebates?
You are responsible for getting the cashback payment. Missed Payouts make up the bulk of the complaints on the BBB website. However, Ebates seems to quickly resolve all complaints.

Not all categories are eligible for cashback

Cashback percentages are changing constantly. One day you see 6% cashback and then a few months later the offer is no longer found on Ebates.

Cashback tracking doesn't always work

The payout is not quick. cashback payouts once every 3 months.
Who is this for?
Rakuten is a cashback and rebates website. I recommend everyone to join and get the $10 signup bonus.
However, I would not recommend this to people looking for a business opportunity to make money from home.
If you are looking to make extra money from home or to start a business, you should check out my #1 Recommended Online Business Opportunity. This business training program is free to join. It will teach you the process of building a successful online business.
Is Rakuten Worth Your Time?
Yes! If you want cashback on every purchase, you need to get a free Rakuten Ebates account.
It pays $10 to join and you get cashback right away.
Ways to Maximize Cashback with Rakuten Ebates
Here are a few techniques that I have used to maximize cashback:
Tips to Maximize cashback
Check Rakuten for coupons before you check out. Coupons help you double down on your savings.

Install the Rakuten Ebates button on your browser to track every shopping trip to get cashback. No need to login to your Rakuten account every time.

Link a credit or debit card with your account to earn cashback for all in-store purchases.

Make payment with your Rakuten Ebates credit card to earn an additional 3% cashback
Combined Savings Technique
You should combine manufacturer coupons, store discounts, Rakuten Ebates cashback, and using the Rakuten credit card to maximize cashback.
Here's how I do this:
I activate my Rakuten Ebates button upon arriving at the merchant website. This activates the cashback.
At checkout, I check Rakuten for store discount promo codes and online for manufacturer discount code.
I used my Rakuten credit card at checkout.
Using this technique, a few times I got up 70% savings on the price.
Final Words on Rakuten Ebates Review
If you want cashback from over 2,500 retailers, then join Rakuten.
It is the easiest way to get cashback without the hassle of dealing with answering questions, points, or rewards like doing surveys.
It doesn't cost you anything to get a portion of your spending back in your pocket. Go ahead, click here to find out how.
To optimize cashback with Rakuten Ebates, just use the combined saving techniques above.
This completed my Rakuten Ebates Review. If you have questions or comments about this program, you can leave me a message here.