We have discussed Ebates several times now.
We talked about how Does Ebates cashback works, and the history of Ebates,
But, Still, people are asking me, is Ebates a scam? Or is Ebates safe to use?
So, I want to take a few minutes to explain why Ebates is safe and legit.
Tired Of Scams And Pyramid Schemes?

Your Work From Home Opportunity!
Is Ebates A Scam?
Ebates is an online cashback reward program that operates by Rakuten.
Rakuten is a multi-billion dollar company and is considered the Amazon of Japan.
Ebates has been in business since May 1999. In September 2014, Rakuten acquired Ebates for $952 million.
I have been a member of Ebates since July 22, 2016.
And, YES, I have no problem with Ebates… always receive my cashback, on time and every time!
There is nothing special or different about the Ebates cashback program… Ebates just simplified the cashback process…
How many times did you forget to send in the rebate or cashback forms? Too often, I can't remember…
That's the whole idea behind Ebates! You don't have to file any claim for cashback… Ebates takes care of the entire process for you… NO more forgetting or expired cash backs!
I use Ebates for convenience… I don't have to find the discounts, clipping rebate forms, filling out, and mailing in… I let Ebates takes care of the cash backs claim for me…
I just sit back and wait for my cashback… Ka-Ching!
SO, I can tell you Ebates is safe!
When you understand how Ebates business works, you'll understand why Ebates is not a scam.
What Is Ebates And How Does It Work?
Ebates is not an unknown or shady company…
It's an online cashback program that uses Affiliate Marketing to put money into your pocket.
Affiliate Marketing is a lucrative business opportunity for many online bloggers and writers… this is one of the many options for how I make my money online…
We have discussed Affiliate Marketing for Beginners, in our prior Coffee Talk, in which I explained: "how affiliate marketing works." You are welcome to follow the link to read the discussion.
Here's how Ebates uses affiliate marketing to give you cashback,
Ebates has an affiliate contractual agreement with more than 2,000 retailers and businesses… These merchants agree to pay Ebates a percentage of commission on each sale…
A better way to explain this is to give an example,
eBay enters into an affiliate agreement with Ebates, in which eBay agrees to pay 10% commission to Ebates for any sale generates from Ebates members.
When a member of Ebates purchased $100 worth of products from the eBay site, Ebates earns 10%, $10, from this transaction.
Now, the fun part, Ebates then turns around and shares the $10 with that member…
Now, let say Ebates offers 5% cash back on all purchased on eBay… 5% of $100 is $5… or we can also say Ebates share 50% of its commission with members.
Your cashback is generated by sharing affiliate commissions with Ebates… Ebates needs us as much as we rely on Ebates to earn cashbacks.
Under this affiliate commission sharing relationship, Ebates has no financial or economic benefit to scam its members.
In Q2 of 2018, Ebates members generated $21.7 million in income for the company… That is a lot of money!
If you owned Ebates, would you scam members?
I really don't think so… Why would you throw away millions to gain a few hundred?
Like I have said, once you understand how Ebates works, you'll understand why Ebates is not a scam!
Is Ebates Safe To Use?
I understand we worry about our personal information being used in the wrong way…
But, Ebates doesn't require the personal information to register for a free cashback account. (Ebates even offer a $10 signing bonus to new members).
To me, Ebates is safe to use… You can get an Ebates account with,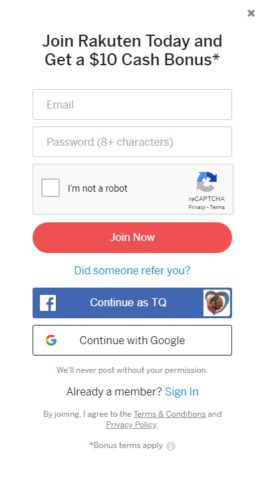 1. an email address, or
2. your Facebook account, or
3. direct link to your Google account.
Your physical address is not required until you are ready to collect the cash backs…
I have my cash backs deposited directly into my PayPal account… I just give my PayPal email address to receive the cashback payment.
When you are purchasing something through Ebates, you are not buying from Ebates… So, Ebates doesn't need or store your credit card information…
The shopping trip tracking is done by using a unique affiliate link… This makes Ebates a very safe and secure website.
The in-store cashback program is the reward option that requires a link to your credit card for shopping tracking…
This has generated a lot of concern about the security and safety of your credit card information with the in-store program…
I have been a member of Ebates since, July 2016, but never have an issue with data being breached…
However, I always deactivate my credit card after each in-store shopping trip… You don't need your credit card active to shop online, so, why not deactivate it.
Ebates tracks and generates cash backs through an affiliate link… The program doesn't need a lot of your personal information.
For this reason, I say Ebates is safe to use!
Ebates Cash Back After Purchase
A few people have asked, "how to track your Ebates cash back after purchase?"
This is a simple process… Just visit your personal account and click on the tab "Shopping Trips" where you can view all shopping transactions.
You can track Ebates cashback in your Cash Back Balance as well… There, you can get detailed information on the cashback status, whether is pending or already credited to your account.
Once you learn how to use Ebates, tracking Ebates cash back after purchase is a simple and fun process.
If you don't see an Ebates cashback from a shopping trip, just file a request for tracking and status updates…
Don't jump the gun and call Ebates a scam just for 1 or 2 missing transactions…
Sometimes, the affiliate link gets cut off during the shopping trip… When this happens, you will not see cashback…
To avoid this problem, I add the Ebates cash back button to my browser… It will reactivate the shopping trip if it gets cut off by accident.
Look, Ebates makes most or all of their income from affiliate marketing.
This company is owned by a multibillion-dollar corporation with over 20 plus years in business… It is unlikely that Ebates is a scam operation.
If you understand how affiliate marketing works… It's a very lucrative business which I recommend you all to check out…
The business value in affiliate marketing is the customers.
To make money with affiliate marketing, you must provide something of value to your customer…
Ebates provides cashback as a value to their customers.
I provide content as a value to readers visiting my site.
Ebates and I both make money online as affiliate marketers… Ebates is much bigger than my site… lol! But, the business concept is the same.
If you are interested in making money as an affiliate marketer, you can check these 10 Free Affiliate Marketing Lessons to learn more…
Many people have told me they learned valuable information about affiliate marketing with these lessons… You don't have to be an affiliate marketer to take these lessons… It's free to all!
I can say Ebates is not a scam, because I use affiliate marketing to generate passive income online…
However, my affiliate agreement with companies is different from Ebates…
For example, I can write a sponsored article that generates income when some click an affiliate link in the article… This is called lead generation, which does not require a purchase.
As a writer, affiliate marketing is a lucrative option to generate income online… One article can potentially generate thousands of dollars for a writer.
If you can write… you can get rich with affiliate marketing… This is real! This is how I make my wealth online.
Ebates is not a scam… To say otherwise would mean, the entire affiliate marketing industry is a scam.
So, what do you say, Ebates a scam or not?