The American dream is to become a homeowner.
The quickest way to create wealth is investing in real estate, according to Fortune Builder.
But real estate investment is very risky. You can lose thousands of dollars with one bad deal.
How do you avoid this expensive risk?
You join Than Merrill Fortune Builders Mastery program. This sounds legit, isn't it?
Not until you hear the price tag for this program. It costs up to $50,000.
Is this for real? Is Fortune Builders a scam?
$50,000 is enough to buy you a house.
Can you recover your investment using the Fortune Builders program?
This is a big investment, and there are too many unanswered questions. I hope this FortuneBuilders review will help.
Caution: FortuneBuilders is a real estate investment education program. Success is just marketing hype.
Tired Of Scams And Pyramid Schemes?

Your Work From Home Opportunity!
Fortune Builders Review Summary
Fortune Builders offers to share with you a business system that generates passive income through real estate investment, buy, and sell houses.
The FortuneBuilders program is expensive. The 3-day seminar costs $197. But the real Than Merrill real estate investment program costs between $30,000 to $50,000.
If you don't have $30K or $50K, then save the $197. The 3-day FortuneBuilders seminar is a sales pitch to get you into the Mastery program.
Most people attending the free and 3-day seminar left disappointed. They accuse Fortune Builders as a scam for not disclosing the expensive price tag before they signed up.
There are more complaints against Fortune Builders on the BBB than there are success stories. The truth is, according to many real estate investors, you can get the same information at a cheaper piece, less than $1,000.
FortuneBuilders is making a fortune for themselves. $50K should get you a house, not training books and videos.
NO FACE-2-FACE SALE – NO RECRUIT – JUST PASSIVE INCOME
CHECK OUT THIS #1 HOME-BASED BUSINESS
What Is Fortune Builders?
FortuneBuilders (FB) is a real estate investment education company.
The company offers one-on-one coaching, resources, tools, and support to help real estate investors build a successful real estate investment business.
Than Merrill, Konrad Sopielnikow, Paul Esajian, and JD Esajian founded the FortuneBuilders. However, people recognize FortuneBuilders as Than Merrill company because of his celebrity status.
The FortuneBuilders conducts real estate seminars across the United States to promote their program.
The seminars teach nothing about real estate investment. They are designed as a series of increasingly expensive seminars to sell you the Master program.
The comprehensive education in real estate investment doesn't begin until you join the FortuneBuilders Mastery program. But the Mastery program costs $30,000 to $50,000.
If you can't afford the Mastery program, don't waste your money on purchasing the FortuneBuilders seminars.
You can read Yelp Fortune Builders' scam reviews to know the truth.
Unlock the door to financial freedom with the
#1 home-based business opportunity!
Discover a way to earn over $100K a year from the comfort of your own home.
Don't wait, click now to start your journey to success.
Fortune Builders Than Merrill
Than Merrill is one of the three founders of FortuneBuilders.
Many people know Than Merrill because of his celebrity status. He was a former reserve player in the NFL.
After pro football, Than Merrill became the star of the A&E hit show 'Flip This House.'
Fortune Builders was launched to teach people the Than Merrill process of making money flipping houses.
Fortune Builders by Than Merrill is a marketing slogan to attract people to the real estate investment seminars.
Than Merrill will not teach you. He will not meet you at the seminars either.
There is no such thing as Fortune Builders Than Merrill house flipping process.
If Than Merrill has found a simple process to make profits on every house flipping deal, he will not tell people about it. He will keep it to himself and make billions upon billions with it. That's how smart people do business.
The Than Merrill name is used to promote Fortune Builders events and sell seminars.
Fortune Builders Events
Fortune Builders holds real estate investment events across the U.S. to sell their real estate education program.
Each event has a series of seminars for extra money from you.
The Fortune Builder event stars out with a free seminar, followed by a 3-day workshop seminar, then the Mastery program.
FortuneBuilders Seminars
The FortuneBuilders free seminar is advertised on local TV and radio inviting the public to attend Than Merrill special real estate investment program.
The free seminar introduces you to Than Merrill and how he has made millions with flipping houses.
You get a quick review of all Fortune Builders' real estate investment education programs, including the Mastery program.
The speaker will tell you that not everyone is invited into the Mastery program.
The program requires a one-on-one in-person interview which only offers at the three-day hands-on-workshop seminar.
The regular cost for this 3-day seminar is $1,197.
Fortune Builders offers a deep discount to everyone attending the free seminar, only $197 if they register immediately.
It's hard for people to not sign up for the 3-day seminar at such a discount price.
Most will fall for the scam.
FortuneBuilders 3 Day Seminar Review
You will learn the basic real estate investment from this FortuneBuilders 3-day seminar.
Don't expect to start flipping houses for profit after attending the 3 days.
This seminar is a general introduction to the Mastery program. Fortune Builders uses this to build up their credibility and sell their most expensive education package, the Master.
Here are the FortuneBuilders reviews on Yelp to confirm my report.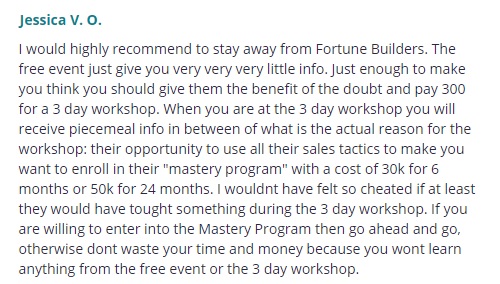 Does this sound legit?
FortuneBuilders Mastery Review
FortuneBuilders Mastery program admission is by invitation only.
You must go through an interview process to receive an invitation.
Fortune Builders will tell you that the interview is to ensure your chance of success. It makes you feel special, but this is part of the plan.
The interview process is an opportunity for Fortune Builders to sell you the $50K Mastery package.
The company representative will go through your saving and retirement accounts to design a payment plan for you.
You will end up with more credit card debts or your 401K account depleted to fund the Mastery education.
The FortuneBuilders Mastery program will teach you Than Merrill's real estate investment process. This education program is legit.
But this is just an education program.
After completing the Mastery program, you need money to purchase and invest in real estate deals. But you no longer have the $35K or $50K.
Many Fortune Builders students finish the Master program with a huge amount of debts before they see any profits.
How Much Does Fortune Builders Cost?
Fortune Builders knows how to make the most money from each attendee.
Let breakdown of the costs required to complete the Than Merrill Fortune Builders education program.
The first seminar is free $0.
The 3-day seminar costs $197.
The Mastery program has three prices:

Platinum – 6 months of education costs $30k
Diamond – 12 months of education costs $35k.
Inner circle – 12 months of education, one-on-one coaching, and marketing services cost $50k
If you add up all the costs, the lowest cost to purchase the Fortune Builders is $30,197.00. The most expensive is $50,197.00.
The best price to join Fortune Builders is to skip the seminars and go directly to the Mastery program. Why waste money on these worthless seminars?
Is Fortune Builders A Pyramid Scheme
People call Fortune Builders a pyramid scheme for employing a series of increasing cost seminars to sell their real estate investment education program. However, this is not a pyramid scheme.
FortuneBuilders doesn't involve in team-building or recruiting. You start your own business, and you make money from investing in real estate.
This is a sales funnel that takes attendees through multiple steps to condition them for the big sale.
The Fortune Builders' goal is to sell the Mastery program. They use a series of seminars to build trust and relationships with the attendees. Every seminar offers a little real estate investment strategies, just enough to advance you the next step.
Is Fortune Builders A Scam or Legit?
You might lose $50K, but Fortune Builders is not a scam. You are purchasing an educational program. There's no guarantee that you will get-rich after completing the program.
If we call Fortune Builders a scam, then every university and college are a scam. They charge a lot of money for education programs like the FortuneBuilders.
The value of an educational program is a personal decision. You might think Fortune Builders worth the $50K, but not me.
It's always legit to package information into an educational program to sell for profits. You can do the same with your writing skill.
What unethical with the Fortune Builders scheme is not telling you the truth cost upfront.
This company uses seminars to extra all as much money from the attendees, knowing many of them could not afford the Master program. This is wrong.
I would never give $30K or $50 to Fortune Builders. This money is enough for me to buy a house. It's a better investment.
Fortune Builders Complaints
Most complaints against Fortune Builders have to do with the lack of actual real estate investment teaching at the seminars.
Here's a complaint that offers a good review of the Fortune Builders:
"… you will not know how to flip a house if you don't already know how to do it before coming to this seminar. A little bit of false advertisement. They just want to build their credibility to pitch you the Mater class which costs 30k – 50k."
The seminars are sales pitches not real estate investment training.
If you don't have the $30K or $50 to purchase the Master program, stay away from FortuneBuilders. This is how you avoid scams.
Is Fortune Builders Worth It?
If you have to use the 401K or take on credit card debts, then Fortune Builders is not worth it.
After completing the education program, where are you going to get the money to start your real estate business?
You cannot tell me that it takes money to make money, because the FortuneBuilders Mastery program is an educational program. You cannot make money with an education program. This is not a business.
Ask yourself this question, do I have enough money to purchase the first real estate investment deal after completing the Master program?
You don't make money until you purchase and close on a deal.
Are you looking for a low investment and profitable business to earn passive income from home?
There's a lucrative method that I and millions of people have been using to generate six-figure passive income online.
You must read my #1 recommended online business opportunity.
Can you write?
If your answer is "YES", then why not use this skill to start your own highly lucrative online writing business, TODAY!
You don't need to waste $50k with Fortune Builders to learn how to make money.
There are better business opportunities for you to make money with a fraction of the cost.
You can use This #1 Home Business Opportunity to create a full-time passive income. You can work from the comfort of your own home and on a laptop, with no commute and no boss. You work whenever you want and where you like.
I invite you to read What I Do Every Day To Make Money At Home Online. Let me show you the real system of generating passive income.
I hope this Fortune Builders review answers your question, is Fortune Builders a scam?
Until next time.
Please share your experience below.