With today's internet, do you really need to join a travel club to save money and earn travel points?
Now, the real question. Are you willing to pay $39.97 or more per month to get a discount on airline tickets and hotel discounts?
If you are rolling your eyes and shaking your head, then this mlm opportunity is not for you.
We all love to travel. But the biggest problem is "time".
When you work from 9 to 5, you just don't have the time to travel or go on vacation often.
I understand you want to change your life by starting a business, and MWR Life offers you the best of both worlds, achieving a life dream of financial freedom and traveling the world.
But, can you build a successful business with this MLM opportunity? Or MWR Life is another pyramid scheme, a scam?
This MWR Life review you will help you decide.
But let me be honest with you; the MLM business is dying. People don't want to invite strangers into their homes. How can you build your MLM business?
Today, the opportunity is an online business. The internet allows us to reach customers around the world. It's the best way to generate passive income from home.
Tired Of Scams And Pyramid Schemes?

Your Work From Home Opportunity!
MWR Life Review Summary
MWR Life is a travel club with an added mlm opportunity for you to make money from home.

As a lifestyle consultant for MWR Life, you make money by inviting people to join the MWR Life travel club.

But when we reviewed the MWR Life income disclosure statement (IDS), we noticed that the average annual gross income for Lifestyle Consultants is projected to be anywhere between $500 and $2,000.

Earning $2,000 per year is not a good business opportunity. How can you achieve financial freedom with this income?

To become a successful MWR Life consultant, you must have exceptional people and sales skills, especially Face-To-Face recruiting.

MWR Life is an mlm opportunity. It's not suitable for people without direct selling experience.
NO FACE-2-FACE SALE – NO RECRUIT – JUST PASSIVE INCOME
CHECK OUT THIS #1 HOME-BASED BUSINESS
What Is MWR Life?
MWR Life is a discount membership travel club where members can make money by recruiting others to join their team. The company calls its members, "Lifestyle Consultants".
MWR Life was founded by Yoni Ashurov in 2014 with the mission to revolutionize the travel industry by offering people wholesale prices on airfares and hotels, while also making money by sharing their membership with others.
At the time of writing this review, MWR Life estimated sales revenue is $24 million.
The success of MWR Life doesn't help consultants much.
The company income disclosure statement (IDS) reported the average annual gross income for Lifestyle Consultants is projected to be between $500 and $2,000. This seems to indicate that most consultants operated MWR Life business with heavy losses.
I strongly urge you to carefully consider and compare MWR Life with other home-based business opportunities before investing.
You can use My #1 Business Opportunity to make a comparison.
How To Join MWR Life?
To join MWR Life, you have to find a sponsor. Any current lifestyle consultant can sponsor you in the program.
You can find an MWR Life sponsor online and register through that website.
To start a business and earn all commissions with MWR Life, you must purchase the Travel Advantage Pro to become an active and qualified lifestyle consultant. We'll discuss everything in the following sections of this MWR Life review.
The Cost To Join MWR Life?
The cost to become an MWR Life consultant is $60 with a $90 annual renewal fee to maintain an active status with MWR Life.
Besides the annual fee, there are other expenses to stay in business.
If you want to earn bonuses and commissions, you must have 3 Active Qualification Points (AQP) by purchasing the Travel Advantage Pro and Elite membership package, which costs $89.97 per month and a one-time upgrade fee of $150.
MWR Life requires lifestyle consultants to recruit at least 3 Qualified Lifestyle Consultants (QLC) to earn commissions.
As you can see, the cost to join MWR Life is more than $60. You must also include the monthly costs of the membership package, the upgrade, and the annual renewal fee.
If you fail to pay the annual fee and maintain the minimum 3 APQ each month, you are not qualified to receive bonuses and commissions from MWR Life.
Remember, the expenses above do not include your time, the marketing costs, travel expenses, and gas.
Other home-based businesses, such as Affiliate Marketing, you earn the commission on every sale, no need to be active and qualified.
To learn why mlm opportunity, such as MWR Life, requires consultants to maintain active and qualified status, you should read our discussion on the FTC MLM Guideline for more information.
MWR Life Compensation Plan
The MWR Life compensation offers lifestyle consultants two options to earn: sell travel club memberships and/or build a team.
I'll provide a quick analysis of the MWR Life compensation plan. To see it in detail, just download a copy.
Make Money Selling MWR Life Membership Packages
You earn $10 to $150 every time someone enrolled and purchase a Travel Advantage membership package. The commission is determined by your rank.
You must achieve the rank of Sponsor to start earning this commission. To qualify as Sponsor, you must recruit at least 3 QLCs with 3 AQPs
Make Money Recruiting Lifestyle Consultants
The best way to make money with the MWR Life compensation plan is by recruiting new lifestyle consultants.
As long as you are active and qualified, here are your options to make money recruiting people to join MWR Life.
Rising Star Bonuses
You can earn $300, $600 or $900 rising star bonus when have met the following requirements:
Enroll 3 Elite Qualified Lifestyle Consultants (QLCs) in your first 30 days after joining MWR Life to receive a $300 bonus.

Help your 3 personally enrolled QLCs to enroll at least 3 personal QLCs each within 60 days and earn $600 Rising Star Bonus.

Then help 3 personally enrolled QLCs each enroll at least 3 personal QLCs that each enroll at least 3 personal QLCs within 90 days and earn an additional $900 Rising Star Bonus
You can potentially earn $1,800 Rising Star Bonus by completing all the recruiting requirement numbers.
Daily Residuals
MWR Life offers from $3 to $15,000 daily residual from on your personally sold Travel Advantage memberships.
The residual earnings are calculated based on the total qualification points from all your personally enrolled members.
To start earning daily residual income, you must maintain at least 9 personal qualification points.
See the chart below for requirements and qualifications.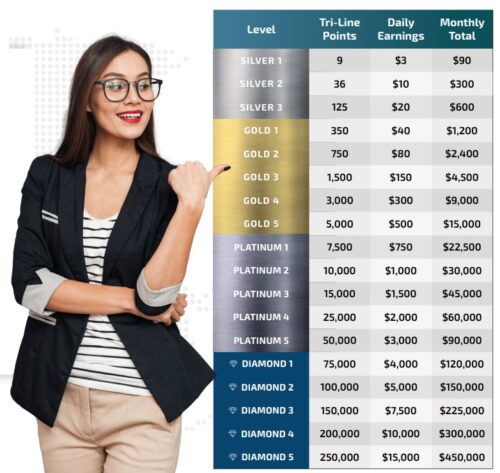 There are other bonuses, commissions, and incentives that require more recruiting to qualify. You can refer to the compensation plan for more information.
As you can see, there are multiple ways to earn with MWR Life. But to get paid, you must remain active and qualified.
This is how mlm works. Ways to earn is not the same as qualifying to receive the money.
You can potentially earn nothing with MWR Life because the costs to remain active and qualified might exceed the commissions received.
Can You Make Money With MWR Life?
People normally review the compensation plan and conclude that they can make money with MWR Life. This is wrong.
Here's what I mean,
The MWR Life compensation plan outlines ways for you to EARN, not real income.
To analyze consultants' income, you need to look at the MWR Life Income Disclosure Statement (IDS). This financial document provides ACTUAL INCOMES that consultants received from MWR Life.
But, where can you get a copy of the IDS?
You can request one at the time of enrollment. The law requires MWR Life to provide you a copy together with the compensation plan.
If MWR Life refuses to provide you a copy of the income disclosure statement, don't join.
However, here's a copy of the MWR Life income disclosure statement for you to use with this MWR Life review.
MWR Life Consultant Income

The MWR Life income disclosure statement indicates that the average annual gross income for lifestyle consultants is projected to be anywhere between $500 and $2,000. This means they earned less than $167 per month.
Before you get excited and concluded, "Yes, I can make money with MWR Life!" I like to point out that this is the gross income, before taking out taxes and expenses.
What happens if you deduct the business expenses from this commission?
Well, MWR Life consultants made no money, according to the income disclosure statement.
After reviewing the income disclosure statement, I can tell you that your chance of making money with MWR Life is near zero.
Why I am so confident?
Because how can you possibly achieve the $2,000 income group in the first few years?
MWR Life business opportunity is not profitable.
Is MWR Life A Scam?
MWR Life offers you a business opportunity. Even though this opportunity is very competitive and difficult to make money, it doesn't make MWR Life a scam.
You are responsible for carefully research, study, and investigate MWR Life before becoming a lifestyle consultant.
Reading this MWR Life Review is a good way to learn the risks and rewards associated with this mlm business opportunity.
As the owner of an Online Business Review, I have evaluated hundreds of mlm businesses to help investors identified and find the right home-based business opportunity to build their dream.
I can say MWR Life is not a scam. But, you will not get rich as an MWR Life consultant.
Is MWR Life A Pyramid Scheme?
MWR Life is legit if they follow the FTC guideline. However, it doesn't mean MWR Life a good investment.
You need to evaluate the compensation plan and the income disclosure statement together to determine if an mlm a pyramid scheme.
As we evaluated the MWR Life compensation plan, we found lifestyle consultants were forced to become Travel Advantage member to earn the commission.
Every lifestyle consultant becomes a customer of MWR Life, purchasing travel products to maintain the active and qualified status.
Recruiting is the best option to make money with MWR Life. The more people you recruit, the more money you make.
Isn't this how you build a pyramid scheme?
Well, you don't have to agree with me.
But you must agree that the MWR Life compensation plan was designed to convert lifestyle consultants into customers, not business owners.
It's not easy to achieve your financial freedom with MWR Life.
Is MWR Life Worth It?
If you travel a lot, then MWR Life is worth it for the $89.97 a month membership fee.
But if you are looking for ways to make money from home, then MWR Life mlm opportunity is not worth it.
Why do you pay $89.97 a month for the service that you only use once or twice each year? The cost is far more than the discounts.
The annual income from this mlm opportunity is between $500 to $2,000 per year. How can you quick your 9 to 5 job and live on this income? This business is not profitable. You can make more flipping burgers at McDonald's.
I like to ask you this question,
Do you know why you want to start a home-based business?
To earn extra money from home, to be your own boss, or to achieve financial freedom?
And to make money, we invest in a PROFITABLE business!
There are much better and less risky home-based business opportunities.
If you want to be an owner of a lucrative and profitable business that generates six-figure passive income, then read my #1 recommended online business opportunity.
You should use the writing skill to start your own highly lucrative online writing business, TODAY!
There's NO traveling around town to attend late-night meetings and NO face-to-face sales or recruits with my online business.
The best part, you are working on the computer in your own home or anywhere you like.
Here's another business risk for you to consider, "Business Control".
As a lifestyle consultant for MWR Life, you have no control over what products to sell or how to promote your business.
You must obey MWR Life rules and policies to remain in business and receive the commissions.
What happens if MWR Life terminates your membership?
You are out of business! You lose everything and nothing you can do about it. You have zero control over this mlm business.
MLM opportunities are no longer a lucrative option to make money from home. Everyone hates face-to-face selling and recruiting. You will have a hard time building a successful business with MLM.
The most profitable home-based business opportunities are online businesses. This business model doesn't require face-to-face selling or recruiting.
You can use This #1 Home Business Opportunity to create a full-time passive income. You can work from the comfort of your own home and on a laptop, with no commute and no boss. You work whenever you want and where you like.
I invite you to read What I Do Every Day To Make Money At Home Online. Let me show you the real system of generating passive income.
Thank you for reading this MWR Life review. I hope it answers your question, is MWR Life a pyramid scheme and scam?
Until next time.
You can share your own MWR Life experience below.