Tranont wants us to believe its business purpose is to help families achieve financial goals and live healthy lives.
Doesn't every MLM company say the same thing?
No wonder why so many people rushing online to search: "Is Tranont a scam? Or Is Tranont legit?"
The MLM industry is well-known for ruining friendships, relationships, finances, and lives.
Is Tranont any difference?
I am going to share with you the truth in this Tranont review.
You must have lots of questions. So, let start.
Tired Of Scams And Pyramid Schemes?

Your Work From Home Opportunity!
Tranont Review Summary
Tranont MLM Opportunity Info.
Name: Tranont
Business Type: MLM
Investments: $99

Tranont offers two lines of products: Health and Wealth.
You can make money at home by launching the Tranont MLM business.
You earn up to 35% commission on product sales together with residual income on team building.
However, the majority of Tranont MLM associates do not make money. This might be the reason Tranont doesn't release the income disclosure statement.
Online testimonies seem to indicate customers joined Tranont for the health benefits, not to make money.
If you are looking for an opportunity to make money, Tranont might not be able to help.
NO FACE-2-FACE SALE – NO RECRUIT – JUST PASSIVE INCOME
CHECK OUT THIS #1 HOME-BASED BUSINESS
What Is Tranont?
Tranont is an MLM company offering two distinct lines of product, dietary supplements and financial products.
The owner of Tranont, Lorne Berry, launched the company in 2013 with a vision of helping individuals achieve sustainable financial wealth. The company is based in Lehi, Utah.
At the time of conducting this Tranont review, the company sales revenue is estimated at $14.9 million.
One interesting fact about Tranont is its product lines. The company allows Associates the flexibility of offering both products and services to earn commissions.
Tranont Products
Tranont distributes two product categories:
Tranont Health
The Tranont Health division provides a wide range of dietary supplements to help improve individual health.
Most of these health products are mixed drinks with an expensive price tag.
The three popular Tranont health products are:
Tranont Life – This enzyme supplement helps get your gut back on track to healthy digestion and extract the most from your meals
Tranont Balance – This foundation supplement helps to replenish your meals with minerals, antioxidants, and vitamins for strong foundation health.
Tranont Vibe – This supplement is a blend of vitamin B with Yerba mate, Ginkgo biloba, DMAE, Rhodiola, and Huperzine A to enhance mental clarity, physical adaptation, and additional metabolic support.
Tranont Wealth
The Tranont Wealth division offers financial services and products to help businesses and individuals taking control of their finances.
You can purchase the following financial services and products from Tranont:
Tranont Credit Services – It teaches the process of improving credit score or fix errors on the credit report.
Tranont Defend – This identity protection (ID) service offers total identity theft and cybercrime protection.
Tranont Legal – This legal service offers protection against personal and business liabilities. It helps safeguard your hard-earned assets from legal actions.
Tranont TaxBot – TaxBot allows you to track and organize business expenses, receipts, and mileage using a smartphone or tablet. It is convenient and will help you get the most out of your year-end tax refund.
Most of the Tranont products are purchased and used by the Associates.
If you are planning to join this MLM company, you will be required to purchase the products, even you don't need them.
In the following sections, I'll discuss the business opportunity, the cost to join Tranont, and how you make money with Tranont.
Unlock the door to financial freedom with the
#1 home-based business opportunity!
Discover a way to earn over $100K a year from the comfort of your own home.
Don't wait, click now to start your journey to success.
Tranont MLM Review
Tranont MLM is a business opportunity for people to make money from home.
You earn commission and residual income as an Associate of Tranont.
You can join the Tranont MLM through online registration or with an active Tranont Associate, your sponsor.
The Cost To Join Tranont Business
It costs $99 to join Tranont and launch your own home-based business. This fee covers the membership activation and first-month Tranont business tools subscription.
There are additional expenses to operate this business:
There's a $25 per month for using the business tools.
You must place an order at least $150 (100 PV) each month to qualify for team commissions.
You must purchase a Builder Core pack $240 per month to qualify for the builder core bonus.
A $49 annual renewal fee is due on the anniversary date of your membership.
The monthly product order and the monthly builder core pack are the biggest expenses for all Tranont Associates. This is a $390/month business expense.
Tranont is a pay-to-play opportunity. Those failing to purchase the monthly order are not qualified to earn commissions. I hate this type of home-based business. It's designed to force you to purchase Tranont products.
Think about it.
Why do you have to buy Tranont products for a chance to earn commissions?
Tranont should be paying you to promote its products.
As an Affiliate Marketer, companies pay me to promote their products online. I don't' have to purchase anything.
The monthly minimum purchase requirement is used by MLMs to avoid being classified as a pyramid scheme by the FTC. You should read our discussion on MLM vs. Affiliate Marketing to understand how this scheme works.
Is Tranont A Pyramid Scheme?
People consider Tranont a pyramid scheme because they believe the only way to make money with this MLM company is by recruiting.
This might be true, but Tranont Associates do make money selling products and services directly to the customers.
However, the commissions earned from selling products sometimes aren't enough to cover business expenses.
When you recruit others into Tranont, you are guaranteed to earn commissions from their monthly purchases and those they recruit.
Money always funnels upward the pyramid. So, the more people you recruit, the more money you make.
There's not much of a distinction between an MLM and a pyramid scheme.
If you want to make money with Tranont, you must recruit others.
Don't believe me?
Take a look at the compensation plan.
Tranont Compensation Plan Review
Tranont adopts the unilevel compensation plan to pay Associates. The compensation plan is presented on 1 page. It is very confusing.
I'll explain the main parts of the compensation so it's easier for you to understand.
Your commissions are determined by rank. So, let talk about this first.
Tranont Ranks
There are 10 Tranont ranks:
Associates
Jade
Pearl
Ruby
Sapphire
Emerald
Diamond
Black Diamond
Red Diamond
Blue Diamond
You earn according to your rank. Tranont offers two types of commissions: personal commissions and downline commissions (residual income).
Tranont Personal Customer Commissions
Every Associate starts at a 10% personal sales commission.
The commissions increase as the number of customer account grows.
Below are the two tables for personal sales commissions, one for health products and the other for wealth products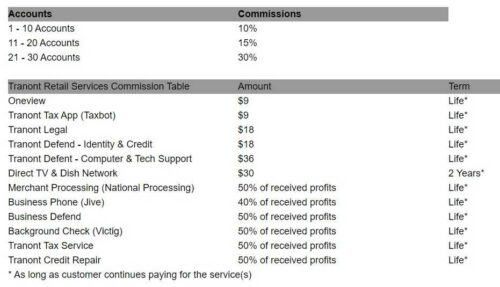 These are the commissions you can earn at the Associate rank.
Associates do not qualify for team commissions.
The only option to make more money is to move up ranks.
Tranont Team Commissions
The Associate must meet these requirements to qualify for residual income:
Must achieve the Jade rank or above
Must have 3 personally sponsored active Associates
Must maintain $300 (200 PV) order each month
Must pay $240 monthly Builder Core
It is not easy to meet all these requirements. If you do, you can earn the following team commissions:
Monthly Team Bonus
This bonus is paid based on rank. It starts at $250 for Jade rank up to $50,000 for Blue Diamond.
Jeep Bonus
This bonus is a monthly payment for your leased car "Jeep".
The minimum bonus is $350 per month and the max is $500 per month.
An additional requirement is needed to qualify for this bonus. You must maintain at least a $2,250 (1,500 PV) order each month to receive the Jeep Bonus.
Leadership Bonus Pools
Tranont offers 5 separate leadership bonus pools.
You must be at least at the Emerald rank and above to earn these bonuses.
These bonuses are paid based on the number of shares you have earned and the percentage of commissions.
At the Emerald rank, you entitle to 1 share equal to 4% of the bonus pool. As a Black Diamond, you entitle to 4 shares at 9% each.
There are other incentives such as life insurance benefits or travel incentives which I am not going to discuss in this Tranont review.
Benefits and incentives are not the main way to make money.
You can download the Tranont compensation plan to learn about them.
I hope you can see the Tranont compensation plan is designed to force Associates to buy products and services from Tranont every month.
Every time you move up ranks, you must purchase more to meet the Tranont Volume requirements. Look at the table below to understand.
Once you join Tranont, you are committed to order at least $159 (100PV) to remain active and qualify for commissions.
This is how MLMs make money, converting Associates into loyal customers.
Now you know why Tranont teaches Associates "they must be the products to sell the products."
How Much Does Tranont Associate Make?
Few people make millions with Tranont. This number is small. It includes the founders.
The majority at the bottom don't make money. This is normal with MLM opportunities, over 99% of Tranont members make no money.
The system is designed like a pyramid scheme where money from recruits follows up to the top.
The name of the game is recruiting, recruiting, and recruiting.
If you sit at the top of the pyramid, you are guaranteed to make money.
Is Tranont a Scam?
Some people consider all MLMs, including Tranont, a scam. This is overreached.
You must look at the company's business practices to finding out if it's a scam.
Tranont is a legit company under the law. If Tranont is a scam, it could not have been in business since 2013.
This, however, doesn't mean Tranont is a good business opportunity.
When readers ask "is Tranont a scam?"
But, they really want to know, "can I get back my investments?"
Your chance of recovering money invested in an MLM opportunity is less than 1%. Tranont feels like a scam, doesn't it?
Tranont Complaints
Online reviews are the quickest way to find out if Tranont is a scam.
I have read online customer reviews of Tranont, but most of them relate to products.
There are very few complaints against the Tranont MLM opportunity.
One warning from the Tranont BBB profile caught my attention. This complaint was about false income claims. Here's the FTC letter to Tranont.
False or misleading advertising is a sign of a scam.
As a Business Review writer, I have evaluated hundreds of home-based and MLM business opportunities to expose scams.
Based on my review of Tranont business, I have to say no. Your chance of success with Tranont is low.
Tranont Pros and Cons
It's time for us to take a quick look at some of the pros and cons of Tranont.
Many of the cons are common in the MLM industry, but they are still specific to Tranont.
Tranont Pros
These are a few good things that I have discovered for Tranont MLM:
You don't have to buy the products to promote them.
The Company offers a variety of products giving more options to make money.
Tranont pays up to 30% commissions for referrals that you get to join their system.
The opportunity is available in multiple countries. You can recruit team members worldwide.
Tranont Cons
Here's why Tranont MLM is bad.
You can get in trouble for offering financial advice without a license.
The application fee for joining Tranont is too expensive, and you have to pay a yearly membership fee to continue as an active member.
The overpriced products make them difficult to sell and earn commissions.
The compensation plan is unnecessarily complex, and there is no guarantee you will earn a commission.
Tranont is not a lucrative business opportunity because of the low success rate for MLM. You have over 99% of losing money with MLM business.
You should take into consideration all these cons before joining Tranont MLM.
My Final Review of Tranont
If you are going to invest with Tranont, I suggest requesting a copy of the company income disclosure statement.
The income disclosure statement offers a glimpse at Associates' earnings.
Don't look at the big income charts. You need to read the disclaimers. They will give you the true how much money you can make as an Associate of Tranont.
When evaluating the Tranont MLM business opportunity, ask yourself this.
Do you know why you want to start a home-based business?
To earn extra money from home, to be your own boss, or to achieve financial freedom?
And to make money, we invest in a PROFITABLE business!
There are much better and less risky home-based business opportunities.
If you want to be an owner of a lucrative and profitable business that generates six-figure passive income, then read my #1 recommended online business opportunity.
You should use the writing skill to start your own highly lucrative online writing business, TODAY!
There's NO traveling around town to attend late-night meetings and NO face-to-face sales or recruits with my online business.
The best part, you are working on the computer in your own home or anywhere you like.
Your chance of making money with an MLM is less than 1%. Why take so much risk?
Don't waste money and time with the Tranont.
The #1 reason you launch a business is to make money. Isn't this what you want?
There's a lucrative method that I and millions of people have been using to generate six-figure passive income online.
You must read my #1 recommended online business opportunity.
Can you write?
If your answer is "YES", then why not use this skill to start your own highly lucrative online writing business, TODAY!
Tranont is not the only home-based business opportunity.
There are many less expensive and profitable opportunities for you to build a lucrative business working from home.
I choose This #1 Business Opportunity to build my fortune.
I am my boss, working from the comfort of my home. I work whenever I want and where I like.
Before you join Tranont, I invite you to read "What I Do Every Day To Make Money Online".
You will learn how to earn a passive income without selling or recruiting.
I hope this Tranont review answers your question, is Tranont a scam or legit?
Until next time.
Please share your Tranont experiences here.