Is Avon A Pyramid Scheme – Avon Review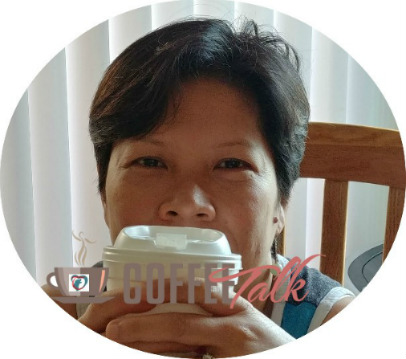 I'm TQ! Yes, I make passive income with
affiliate links
. Isn't that amazing? I make over $100K a year.
Join My Free Training
to start making money working from home today.
This is Avon mlm business opportunity Coffee Talk.
In this discussion, we are going to conduct a review of Avon home-based business.
Because Avon is an mlm, many investors and consumer advocates have accused Avon of operating a pyramid scheme.
As we have discussed in MLM vs Affiliate Marketing, according to the FTC, Avon is not a pyramid scheme
Yes, Avon might be a legit mlm under the laws.
But… we are talking about the Avon business opportunity.
Remember, why we start a business?
To make money and achieve financial freedom.
If we are going to invest with Avon, we want to know more than, "Is Avon a pyramid scheme?"
We want to find out,
The costs to start an Avon mlm business.

The process to join Avon, and

Can you make money with Avon?
Are you interested in starting an Avon home-based business?
Then this Avon Review is written to help you understand the risks and rewards of becoming an Avon representative.
Tired Of Scams And Pyramid Schemes?
Your Work From Home Opportunity!
Avon Review Executive Summary
Business Opportunity:
Multilevel-Marketing (MLM)
Initial Investments:
$30 Plus $500 Monthly Sales Quota

Business Earnings Estimate: 
Less than $600.
Avon Review and Analysis Summary:
Avon is a world second largest mlm company selling beauty products.

The company annual revenue reached $5.6 Billion in 2018.

Avon has a network of over 5 million Independent Reps across the world.

However, Avon Reps average annual income was less than $600.

To make money with Avon, you must be in the top 1%.

The beauty business is very competitive with a high business failure rate.
Hate sales and recruits? I earn a full-time income online without doing either. Check out my #1 home-based business opportunity.

What Is Avon?
Avon is the 5th largest beauty company selling cosmetic products.
It is the 2nd largest network marketing company (MLM) in the world.
The company was founded by David McConnell in 1886.
Avon 2018 sales revenue was $5.6 billion dollars.
According to the Avon 2018 annual report, this company primarily sells its products through 5 million active Representatives worldwide.
Most Avon independent sales representatives are women, working at home moms.
Avon reported an 8% decrease in the number of active sales representatives worldwide for 2018.
The popularity of Avon mlm business opportunity has also decreased.
The company is facing intense criticism from online consumer advocates for operating a pyramid scheme.
Avon has admitted in their 2018 annual report that the cosmetic business is very competitive, and the turnover rate of sales representatives is high.
Looking at the Avon 2018 annual report, we found:
Avon home business opportunity is on a decline

Avon independent sales representative failure rate is high.

The Avon cosmetic business is very competitive.
Before starting your own Avon business, it's smart to compare with other home-based business opportunities.
You can use My #1 Business Opportunity to make a comparison.
How to Join Avon?
You can join Avon in two ways:
Visit Avon's website to submit your information, then wait for Avon to assign a local representative to contact you.

If you know an Avon sales representative, ask that representative to sign you up.
You are required to have a face-to-face meeting with your Avon Sponsor to discuss the process of joining Avon, including startup costs.
Your Sponsor will complete the paperwork, collect the fee, and submit your Independent Representative Application to Avon for approval.
Once your application is approved, you are an Avon independent sales representative.
How Much Does It Cost to Join Avon?
The fee to join Avon is $30. This fee entitles you to select one of the 3 Starter Kits.
Starter Kit #1 – All Eyes on YOU
This Pack has a retail value over $84 which includes: 
ANEW Hydra Fusion De-Puffing Eye Serum,

ANEW Hydra Fusion Gel Cream,

Avon True Color Love at 1st Lash Mascara in Blackest Black, and

Avon True Color Lip Glow Lip Gloss in Stunner (clear).
Starter Kit #2 – I'm a Glowgetter!
Retail value over $80 which includes: 
Avon True Color Nourishing Lipstick in Persimmon Pink,

Avon True Color Eye Shadow Quad in Mocha Latte,

Avon True Color Love at 1st Lash Mascara in Blackest Black, and

MagiX Face Perfector, SPF 20.
Starter Kit #3 – BFF Best Face Forever!
Retail Value over $70 value which includes: 
Avon Ultimate Supreme Dual Elixir,

Avon True Color Nourishing Lipstick in Delicate Date, and

Avon True Color Love at 1st Lash Mascara in Blackest Black.
There are additional costs to the registration fee:
Avon sales representatives have to purchase their own product catalogs with the starting cost of $6.49 for a pack of 10.

For each order, Avon charges the sales representatives a flat fee of $5.95 for shipping and handling.
Now, these are just the initial joining costs.
There are other expenses to operate an Avon mlm business.
One expense is meeting the personal sales quota.
Avon requires all independent sales representatives to make at least 1 sale every 12 weeks to remain active.
But to qualify for commissions, Avon Representatives are also required to meet the personal sales volume of at least $250 every two weeks. This means $500 product sales each month.
To meet the sales quota, Many Reps have to purchase Avon products to meet these requirements.
This is how Avon sells its products.
The cost to join Avon is minimal. However, the cost to stay active and receive commissions is excessive. A minimum of $500 per month.
The $500 is the biggest monthly expense for every Avon Reps. This expense can destroy your chance of making a profit because you must purchase products to stay in the business.
With other home-based businesses, like affiliate marketing, you get paid commissions on every sale, no personal purchases required.
Do you know why Avon has a monthly quota?
To sell products, and

To meet the FTC guideline as a legit mlm business.
Without product sales, Avon is a pyramid scheme, a scam.
Now that you know the costs to join Avon is more $30, don't you want to know how you can recover these costs?
OK, let discuss,
Avon Compensation Plan
Too often, many people decided to invest in Avon without even looking at the compensation plan.
The Avon compensation plan is the key factor in determining your business revenue.
I'll provide you a quick overview of the Avon compensation plan. If you want to see it in detail, just download a copy.
Avon claims Representatives have many options to make money selling Avon.
However, under mlm compensation, you only can make money with Avon in two ways:
Earn commissions from product sales, and

Earn commission on recruiting others.
Make Money Selling Avon Products
Avon commissions on product sales depend on the sales volume, the type of products, and your leadership level.
The more you sell, the higher commissions you earn, with the expectation to the Fashion & Home products which commissions max of 20%.
This is an Avon commission chart for sales representatives.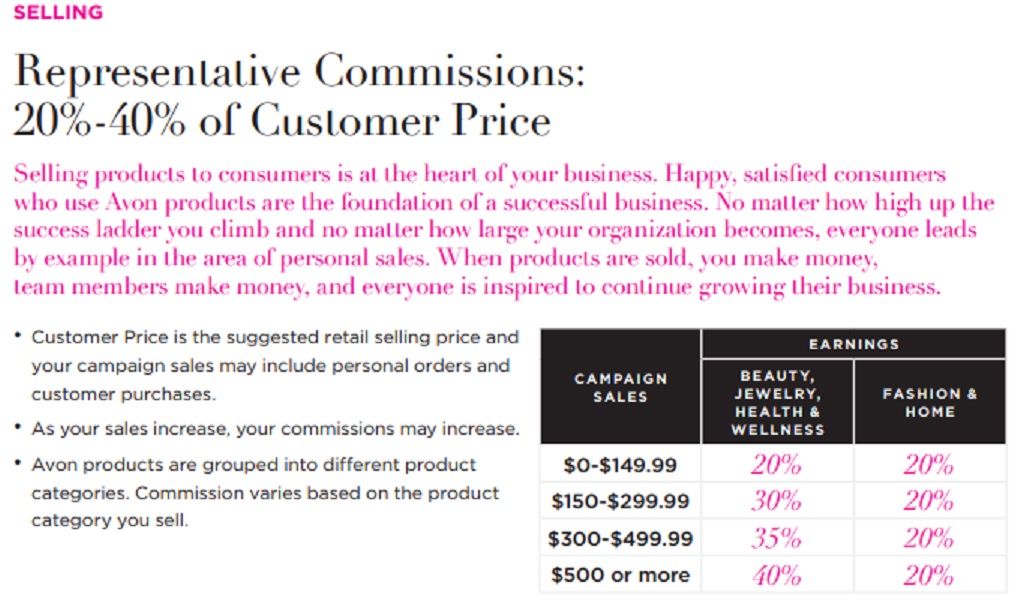 Promoting to a leadership position, the President' Club, will also increase your commissions.
This is an Avon commission chart for President's Club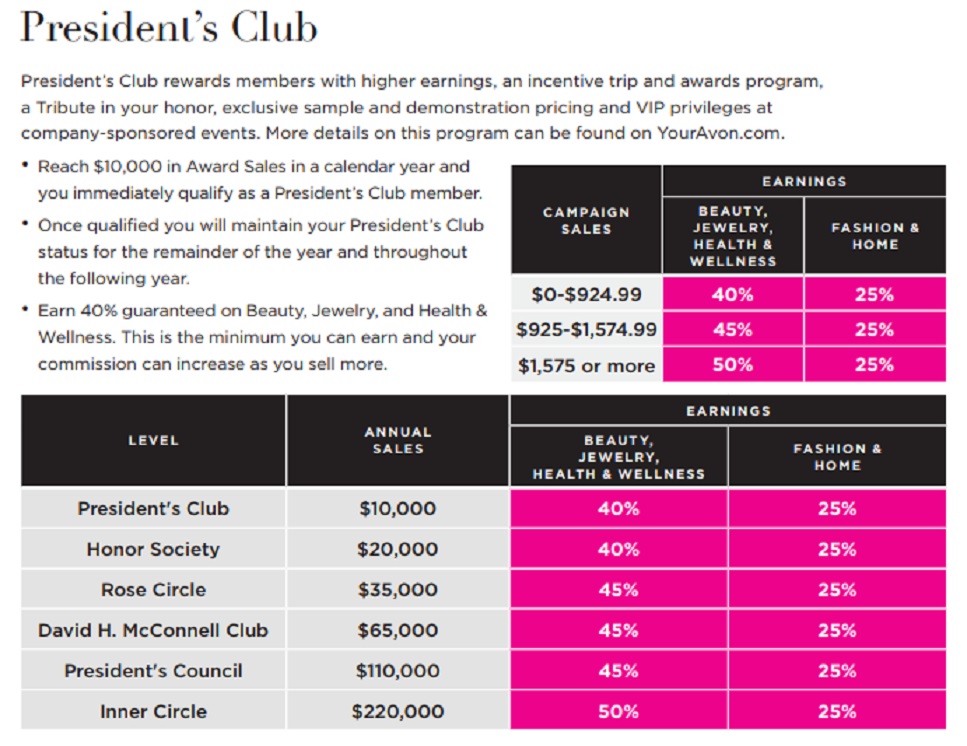 It sounds simple, right?
We'll see.
I did a quick search online and found a bottle of Avon Anew Ultimate Multi-Performance Day Cream SPF 25 selling for $8.00 with free shipping.
This same item on the Avon website with a price of $40.

Can you see?
The market is so much cheaper than the Avon price. It will be a challenge to make money selling Avon products.
Make Money Recruiting Others
There are several ways to make money with your Avon team.
You receive a cash bonus between $20 to $50 per recruit if the recruit orders a starter kit and products of $150 or more.
You also earn 3% bonus commission with products order of $50 or more placed by the new representative.
Before the Reps can earn on Team commissions, three conditions must be met:
Your team must make sales

You must become a Star Promoter, and

You meet the monthly personal sales volume requirements
You will earn override commissions based on the leadership level and up to 5 generations. (See the ACP for detail)
There are other bonuses that a sales representative receives for achieving goals and sales performances.
But, the Avon compensation plan only tells us how Reps make money.
It doesn't give us the actual income.
Actual earning is the information that helps us determine profits.
Then, how Much Does an Avon Representative Earn?
Normally, you should be able to find Avon Sales Representatives annual average earnings from the earnings disclosure statement.
For the last few years, Avon is intentionally hiding the earnings disclosure from the public.
We can get Avon sales representative yearly average earnings from the 2018 Annual Income Report.
Based on Avon reported commission expenses, we can calculate average earnings:
Avon SG&A commission expenses for 2018 were ($2,972,100,000).

Avon active sales representative for 2018 were (5,000,000).

Divide these two numbers we get estimated annual earnings for each Avon Representative in 2018 is approximately $594.42.
This means an Avon sales representative monthly average earnings is only $49.50.
This explains why Avon is hiding the earning disclosure statement from the public.
Looking at the Avon Reps earnings, I can tell you with confidence that your chance of making money with Avon is near ZERO!
Why I am so confident?
Because we haven't deducted the business expenses from the incomes discussed above.
After deducting business expenses from these incomes, you probably end in red, big loss.
Can you see how difficult to make money with Avon?
Is this a good investment?
Is Avon A Scam?
Yes, you might not make money with Avon, but this doesn't make Avon a scam.
Avon mlm is a business opportunity. When you become an Avon distributor, you should understand the risk of losing your investment is high.
Before starting a business, you need to carefully research the business opportunity.
Reading this Avon Review is a good way to learn the business risks and rewards.
Smart entrepreneurs hire professional financial analysts to evaluate every business deal before investing.
As a Business Review Writer, I have evaluated hundreds of mlm businesses to help investors managed the risks…
That's all we can do, managing risks.
To me, Avon is not a scam.
It's an unprofitable business.
Is Avon a pyramid scheme?
Avon will tell you that they are a legit mlm.
But to me, Avon is a pyramid scheme.
Why do I say this?
Looks at the Avon statement below.

The statement above is taken from the Avon 2018 Annual Report.
You can see that the company business model is not selling products, but recruiting more Representatives.
Yes, the more people you recruit, the more money you earn.
Recruiting is how you get promoted and make money with Avon!
This is how pyramid schemes work.
Now, you understand why less than 1% make money while over 99% lost money joining mlms.
Isn't this a pyramid scheme?
Is Avon Worth It?
Who invests in a business when the chance of making money is less than 1%?
I would not!
Do you know why you want to start a home-based business?
To earn extra money from home, to be your own boss, or to achieve financial freedom?
And to make money, we invest in a PROFITABLE business!
There are much better and less risky home-based business opportunities. I recommend you look at Affiliate Marketing.
As an affiliate marketer, there's NO traveling around town to attend late-night meetings and NO face-to-face sales or recruits.
The best part, you are working on the computer in your own home or anywhere you like.
Affiliate marketing is one of the most powerful work from home business opportunity to earn passive income. I recommend you read, MLM vs. Affiliate Marketing to learn.
Before ending this Avon Review, I want to discuss a major business issue associated with every mlm opportunity which no one talks about, "The Business Ownership."
When you become an Avon distributor, you must understand that you don't have a lot of control over your business.
You have to seek Avon approval on everything, from adding a business partner to selling the business.
You are in business as long as Avon permitted.
If Avon terminates your membership, you are out of business.
Don't you want to own and control your business?
If you want to be an owner of a lucrative and profitable business that generates six-figure passive income, then…
You should read my #1 recommended online business opportunity.
Can you write?
If your answer is "YES", then why not use this skill to start your own highly lucrative online writing business, TODAY!
After reading this Avon Review, I believe you can see that your chance of achieving financial success with Avon home business is low.
This is normal with mlm opportunities. The chance of success is less than 1%, even Avon is not a pyramid scheme.