The claim of earning $500 a day sounds a little unrealistic.
Viral Dollars is a new company started in April 2019.
This company claims you can make:
$500 a day as a social media influencer

$25 just for joining

$10-$15 for every person you invite and join Viral Dollars

$2-$5 for every click on your referral links
Are these earnings for real or is Viral Dollars another scam?
On the other hand, many successful social media influencers do make $500, even more, per day through affiliate marketing or products sponsoring.
But it takes them years to achieve this status.
So, can you easily join Viral Dollars today and start making over $500 a day?
Well, this is what you get after joining Viral Dollars.
Tired Of Scams And Pyramid Schemes?

Your Work From Home Opportunity!
What Is Viral Dollars?
Viral Dollars is a website that promises to pay you money for referring people to this website.
The concept sounds like affiliate marketing, but it's not.
Here's how Viral Dollars different from affiliate marketing:
They don't have a product

They don't offer training

They don't offer any surveys like legit survey sites: Ebates or Swagbucks.
Viral Dollars only asks for traffic.
Viral Dollars claims the program using an influencer network business model to make some easy money.
But, Viral Dollars has nothing to do with influencer marketing.
We do not know who the creator of the site or anything about the company.
Viral Dollars is neither an affiliate marketing site nor a survey site.
How Does Viral Dollars Work?
Viral Dollars provide you with referral links and ask to share them on your social media accounts.
When someone clicks on the referral link you get paid $2-$5.
When someone joins through your referral link, you earn $10.
This doesn't sound right.
If people can join Viral Dollars for free. How can the owners afford to pay $10 for each referral? Where the money comes from?
The answer is simple:
Viral Dollars never has the intention to pay its members.
Yes, you will never get paid. Viral Dollars is a SCAM.
There are legit websites that pay you to join. But, they required members to do some things, such as taking surveys, testing products, or evaluating websites.

I have written a report on these legit websites which you can follow the link below to read about them.

 

GET PAID TO JOIN – FREE MONEY WEBSITES
Click to see if you are qualified!
How You Make Money with Viral Dollars?
Once you become a registered member, there are several ways to make money with Viral Dollars.
Inside the 'Refer and Earn tab', you find the following earning options:
Your referral links
You use these affiliate links to refer people to Viral Dollars and make money, as I had discussed above.
Your $30 task wall
You can complete a task to make $30.
All the tasks in this 'Task Wall' connect to another website which you are required to provide personal information (Phone, email, and address).
This is a scam to get your personal information for later use.
Create and Upload Video
Viral Dollars pays $50 if you upload a video promoting Viral Dollars on YouTube.
You must have seen a few positive videos about Viral Dollars on YouTube.
Viral Dollars Payment
Viral Dollars will never pay.
This is the message you get when requesting for cash out: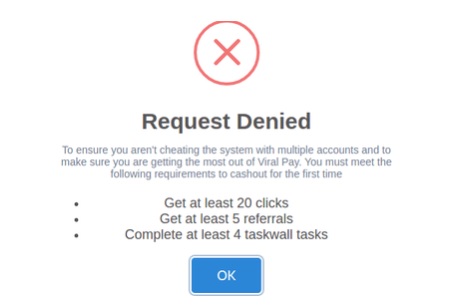 Even if you completed 20 clicks, 5 referrals, and 4 tasks above, you will not get paid.
Think about it, these earnings are ridiculous. Who pays $30 for a survey?
If you have joined a legit survey site or affiliate program, you know that these rewards are unreal.
You can check out my popular reviews on cashback and survey sites, Ebates, InboxDollars, and Swagbucks, to see the real earnings.
How Viral Dollars Makes Money?
Viral Dollars makes money when members perform a task.
The Task Wall is a referral scheme which requires members to register for various offers such as newsletters, email lists, and credit card.
Viral Dollars receive commissions when members signed up for these incentive promotions.
The purpose of incentive promotions is to collect email addresses and personal information.
The email addresses are sold to online marketing agencies or anyone wishes to run email affiliate marketing campaigns.
You will be bombarded with email promotions from unknown companies after registering with Viral Dollars.
Viral Dollars Scam or Legit?
Yes, Viral Dollars is a scam!
How do I know?
This online scammer, or group of scammers, is operating similar scam sites: Viral Pay and Kids Paid Money.
I have written reviews about these sites. Just follow the link to see the similarity with Viral Dollars.
Viral Dollars tried to make themselves legit by offering a few member testimonial videos on their 'Proof Page'.
Unfortunately, these testimonial videos are fake. They are completed with paid actresses from Fiverr.
Fiverr is a freelancing website where you can hire people to do a fake video for just $5. You should check this platform out if you want to make money doing freelance works.
I provide their picture side by side for you to review.
There are other evidences on the website that show Viral Dollars site a scam.
The Viral Dollars contact address is in Melbourne, Australia.

But, the company Terms & Conditions states that Viral Dollars office is in the United States of America.
Viral Dollars About page stated that the company was founded in 2018, which not true. But let gives them the benefit.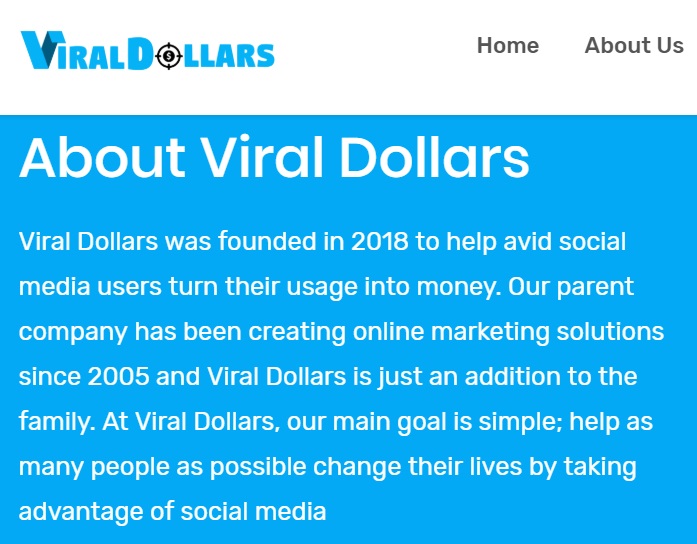 However, under Viral Dollars Terms & Conditions, the company has registered since July 1, 2016. How is this possible?

Everything on Viral Dollars website is copied and pasted from other survey sites.
This entire program is a scam.
The scam evidences above should be sufficient for you to make your own decision about Viral Dollars.
There is no need for me to tell you, 'Viral Dollars is a scam!'
But, there are people out there still believe Viral Dollars is legit.
Can I ask you a question?
Are you looking for ways to make money online?
There are many legit online programs that you can use to make money.
If you are looking to make a few extra bucks, you can join survey sites offering opinions for cash.
Take a look at my Get Paid To Take Surveys report, you will find a list of the most popular cashback and survey sites to join and make some extra cash.
On the other hand, if you want to make serious incomes online, you might want to consider the followings:
Become a freelancer
As a freelancer, you are working on short term projects to make money on the side. You can join, FIVERR, the freelance site to find and accept gigs.
I suggest you read this article, Fiverr Review – Becoming A Freelancer, to discover the process of becoming a freelancer.
Start An Online Business.
This option requires some works, but the reward is massive.
I am a full-time Blogger and use affiliate marketing to generate passive income online.

You can make serious money with this online business.
If you are interested, I like to offer you 10 Free Online Lessons to teach you how I use a blog to generate over $7,000 passive income per month.
I invite you to follow the link below and start your free training today.

Don't waste your time with scam site like Viral Dollars.
Choose one of the options above to make real money online.