This discussion was part of our Coffee Talk with Mitchell on this topic, "Is Mary Kay a pyramid scheme?"
Yes, we jump from one topic to another.
I remember Michell said this:
"TQ, I always wonder how a person becomes a consultant for Mary Kay?"
Are you thinking of joining the Pink Ladies, Michell?
Not in a million years! Just wondering, my friend.
I don't know, but I'll tell you what, I'll do a little research and you can come back and read my Mary Kay consultant review to find out the answer.
Trying to promote your Blog, clever TQ.
Business is business, my dear.
Do you always try to brag about your carefree life as a writer? Michell smiled at me.
As much as I can… You know, I think everyone should look into the online writing business before jumping into becoming a Mary Kay consultant.
Some of us cannot write TQ.
Everyone can write! You don't even have to be a good writer to blog and make money online.
I don't know TQ… Looks, don't change the subject… I still want to know how to become a Mary Kay consultant?
OK… already… You sound like to want to become one so bad!
Read my research later than, let's talk about our plan for the weekend.
Tired Of Scams And Pyramid Schemes?

Your Work From Home Opportunity!
How To Become A Consultant For Mary Kay?
Here's what my research on this topic reveals.
The process to become a consultant for Mary Kay is similar to Avon and Amway.
You need to have a Sponsor, you can have your own or Mary Kay can find you one.
The sponsor will meet with you face-to-face, this is a sale meeting, to explain about the Mary Kay business opportunity.
You have to purchase a 'Starter Kits' if you want to become a Mary Kay consultant, this is a requirement.
Oh! Do you know what's in the starter kits?
Well, I was able to obtain one, just so you know, the products inside each kit are differences.
Mary Kay offers different sizes and prices of starter kits. The more you pay, the more products you receive with your kit.
The lowest starter kit that I had is priced at $100,
Here's what's inside… I'm not going to list everything, it's too long of a list, just a few items:
1 CD "Watch. Learn. Be a Skin Care Party Pro!"

10 Mary Kay magazines called "The Look"

10 mini-brochures promoting Mary Kay 13 most popular products, I guess you are giving these out to customers or recruits

1 Instructor's Guide to running your Mary Kay business, this is marketing quotes for you to use

A bunch of customers profiles questionnaires, some mineral foundation brushes, a few mineral powder foundations, samples of hand products, facials on cardstock, samples of "Beach Bronze" lip gloss., samples of "Fancy Nancy" lip gloss., some mascara brushes and more products which you can see in the picture below.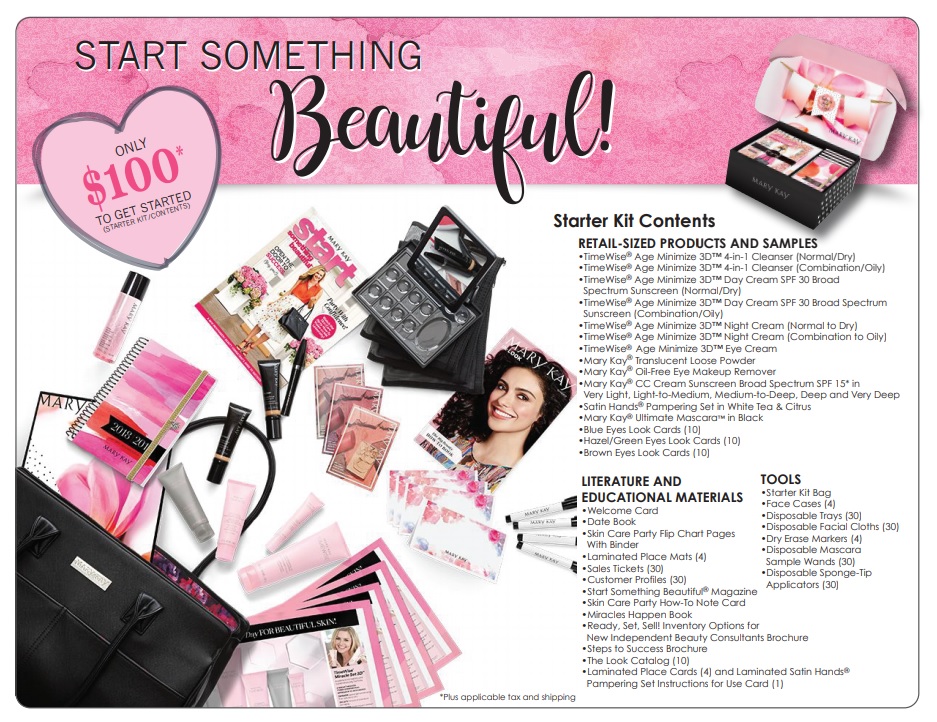 You can buy one of these Mary Kay starter kits on eBay or Amazon between $40 to $90… Must be from some Mary Kay consultants try to recover their investments.
OK, this is the only cost to become a Mary Kay consultant, there more.
What Does It Cost To Become A Mary Kay Consultant?
I learned from a few ex-Mary Kay Consultants that the Starter Kit is just the beginning.
Beyond the starter kit there are expenses:
Money for business cards, Mary Kay website, credit card processing system, and the biggest expense, INVENTORIES.
This is the classic Mary Kay line, also used by all others mlm, 'How can you sell if you don't have products?'
They make you feel like buying inventories are optional, But No, it's not!
Every Mary Kay consultant must place at least $225 products order every 2 months, that's about $112.50 each month, to maintain an active status.
Now, stay active with Mary Kay is very important… This is how you get paid.
If you are "Non-Active!" You will not receive commissions payment and discount privileges.
One ex-Mary Kay consultant said this:
"When I signed up, no one mentioned that I have to buy $225 worth of products to receive my payment. I wasted $100 bucks and works my ass off for what? Nothing! They robbed me! I didn't even get the 50% discount!"
Minimum sales volume requirement is the classic way for mlm companies to force their salespeople to purchase products.
They always say that you don't have to purchase anything to join.
Oh! But, By the way, if you want to get paid, you have to buy an X dollar worth of products. (Mary Kay requires $225).
Now, if you add $225 to $100, the startup cost to become a Mary Kay consultant is $425, this is not bad.
However, you got to remember the $225 cost is not one time. This is every 2 months…
Do you know what I call this? Hidden operating expenses… Because they never tell you about it.
Yes, the $225 is also part of the operating expenses. You must include this in your everyday costs of running the Mary Kay consultant business.
This can cost you upwards of $1,350 each year.
I was told by other Mary Kay consultants, there's another big expense, Hosting Parties. They are not cheap.
Mary Kay requires you to attend or host two "skincare classes/parties," with your Sponsor to learn the business.
Don't forget to add these expenses into your startup budget.
These expenses can shut down your business, before, you even started.
I think you get the idea about the costs to become a consultant for Mary Kay, it's not $100!
Before signing off, I like to discuss with you the life of,
Mary Kay Independent Beauty Consultant
The real work begins, once you become a Mary Kay consultant.
This is a business, a hard one too…
To be successful, you have to work long hours… 10 to 15 hours each day and still might not make a profit.
However, you can set your own working hours.
Most of your weekends are running Mary Kay beauty classes/parties.
You might no longer have a weekend for your family… if you're not OK with this, then think carefully before launching your Mary Kay consultant business.
Mary Kay independent beauty consultants argue with me that "No one force you to work long hours, and you choose to work on weekends because you want to make money!"
But, excuses me, isn't Mary Kay promotes itself as a part-time home-based business?… if working part-time and not making money, then how can this be a part-time business…
Second, weekends are the only time you can sponsor beauty classes/parties… not working on the weekend is like, saying, you should close your business during the busiest hours.
Yes, Mary Kay doesn't force consultant to work long hour and on weekends, BUT, if you want to make money with this business, you pretty much don't have a choice!
This is the same as saying, consultants don't have to buy products, BUT… if you want to get paid, "makes money with Mary Kay", you have to meet the $225 quota…
On its face, Mary Kay doesn't force consultants to do anything, BUT, It policies and requirements do!
I raise these issues not to say bad things about being a Mary Kay consultant… I'm just stating the facts of operating this business.
I want to know everything about this business before becoming a Mary Kay consultant… I want you to be successful,
and if working long hours every weekend is OK for you, then you can potentially make money as a Mary Kay beauty consultant.
I just want to add this, you have other choices for a part-time home-based business, like write for your own money-making website, part-time and at home.
When I decided to become a writer as a business, I went through a lot of souls searching and comparing different business opportunities, before finding the one I love to do.
When you are doing something you love… "I call my passion," then work become fun.
I love to write… I can write anywhere and anytime, and share with you on my blog… This is the ultimate freedom and flexibility to make money!
Hey, I want to say thank you for spending your time with me talking about "How to become a Mary Kay consultant?"
I don't know what you have in mind….
Are you planning to become a Mary Kay consultant or, maybe, thinking about it?
Whatever your decision, I know, it will be a good one… Because we have spent time together discussing the good and bad of Mary Kay consultant business…
The next time we talk, I'll like to discuss Earnings and Profitability for Mary Kay independent consultant business… we'll be looking at some financial data… It will be fun, I promise…
Be sure to read Mary Kay Earnings and Profitability before investing…until then… take care.
I welcome your discussions, questions, and comments on this topic.