Daily use of cosmetics can contain toxic chemicals that are harmful to your skin and your health.
Crunchi makeup MLM promises to provide safe toxic-free cosmetics with an opportunity to make money from home as a Crunchi Advocate.
You want to join the movement. But you are not sure!
Crunchi Advocates are telling you the company is not a typical MLM. What does this mean?
Do you want to know if Crunchi is an MLM? Or is Crunchi a pyramid scheme?
Welcome to our Crunchi MLM review.
I understand your concerns, and you must have lots of questions. I hope this review will help.
We'll review everything about Crunchi MLM, including background information, the cost to join, the compensation plan, and more.
Let me be honest with you; the MLM business is dying. People don't want to invite strangers into their homes. How can you build your MLM business?
Today, the opportunity is an online business. The internet allows us to reach customers around the world. It's the best way to generate passive income from home.
Tired Of Scams And Pyramid Schemes?

Your Work From Home Opportunity!
Crunchi Review Summary
Crunchi MLM Opportunity Info.
Name: Crunchi (Crunchi Makeup)
Business Type: MLM
Investment: $99

Crunchi manufactures and sells non-toxic cosmetics through an MLM network of Crunchi Advocates.
Crunchi claims that its business opportunity is a movement, not just an MLM.
The company states that there's no monthly sales quota to remain an Advocate. However, Advocates are required to place a monthly order of $150 to receive commissions. We'll talk more about this marketing scheme.
Crunchi doesn't publish the compensation plan and Income Disclosure Statement (IDS). This is a red flag. The company might be hiding Advocates earnings.
Without an IDS report, Crunchi is a scam. This financial document is so important that the FTC requires all MLM companies to provide a copy before you sign up, not after.
Crunchi doesn't look legit to me.
NO FACE-2-FACE SALE – NO RECRUIT – JUST PASSIVE INCOME
CHECK OUT THIS #1 HOME-BASED BUSINESS
What Is Crunchi?
Crunchi is a cosmetic and personal care products company. The company promotes its products as non-toxic and free of harmful ingredients.
Crunchi advertises its MLM opportunity as a movement.
The company most popular products are:
Face – Primer, Foundation, Concealer, Blush, Highlighter, Bronzer, Powder
Eyes – Eyeshadow, Mascara
Brows – Pomade
Lips – Lipstick, Lipgloss
Skincare – Facial bars, Day Cream, Night Cream, SPF
Bodycare – Body bar
Tools – Brushes, Makeup bags, Accessories
Crunchi products are made in the US.
Crunchi was launched by Melanie Petschke and Kelly Watson in 2015. The company headquarters is located in Stuart, Florida.
You can join Crunchi as an Advocate to make money from home.
At the time of writing this Crunchi review, the company is a startup. It's considered a high-risk investment.
I strongly recommend comparing Crunchi with other home-based business opportunities before joining.
You can use My #1 Business Opportunity to make a comparison.
Is Crunchi An MLM?
Crunchi considers itself 'not a typical MLM.' Well, it is an MLM.
Unlike legit MLMs, Crunchi doesn't provide a copy of the compensation plan or the IDS report unless you join.
So, how is Crunchi an MLM?
According to the FTC, a legit MLM provides its members the opportunity to make money by selling the company products and recruiting people to join.
Melanie and Kelly use the Multi-Level-Marketing (mlm) method to distribute toxin-free, natural, and organic cosmetics to women. We can say, Crunchi is a legitimate MLM company.
There are only two ways for you to make money with Crunchi. They are: Selling products and Recruiting members.
But before you jump into this opportunity, we need the answer to this question.
Can you make money with this business?
You cannot answer this question without the Income Disclosure Statement, the IDS.
The IDS offers us a clear picture of how members make money. If Curnchi advocates make more money from recruiting than selling products, the company is not a legit MLM.
The problem is Crunchi is too new. It doesn't seem popular right now. So, there's probably not a lot of sales going on.
However, Crunchi still has to provide a copy of the IDS.
When an MLM company refuses to provide a copy of the IDS, don't join.
Here's why:
MLM opportunities are financial investments.
The FTC requires every MLM company to provide financial documents to prospective investors, especially the IDS report.
The potential investor uses the IDS to evaluate profit and loss before investing.
When Crunchi doesn't provide the IDS, I am very skeptical about this MLM.
I give you all the warning signs. If you still want to join Crunchi Makeup MLM, here's the process.
How To Join Crunchi Makeup?
Crunchi Advocate enrollment is only available in the USA. There's no Crunchi in Canada.
You must be a US resident at least 18 years old to join Crunchi.
New Advocates can join by completing an application online at Crunchi's website or through a sponsor.
New Advocates are required to purchase a Crunchi Business Portfolio together with a Beauty Collection at the time of joining.
I will discuss the costs to join Crunchi below.
How Much Does It Cost To Join Crunchi?
The cost to join Crunchi is $29 for the Business Portfolio and one of the three Beauty Collections:
Explore Collection – $70.00
Empower Collection – $270.00
Transform Collection – $470.00
So, the initial cost to join the Crunchi Makeup MLM is $99, $299, or $499.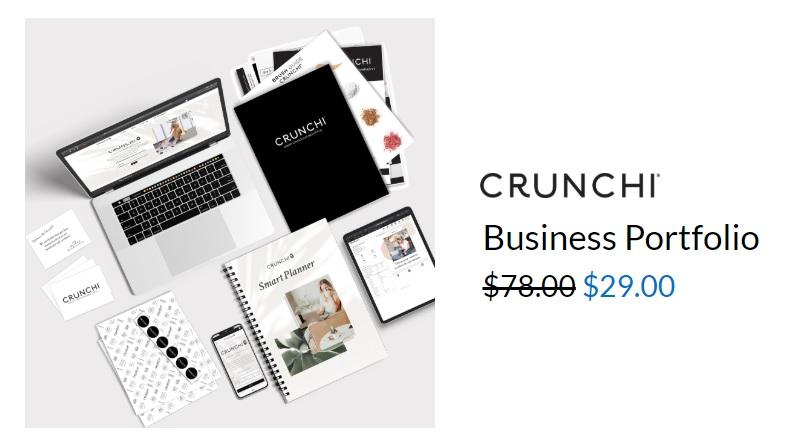 I will discuss why you must purchase the most expensive Collection in the compensation section. It has to do with commissions.
There are additional costs to run and operate a Crunchi MLM business:
$40 annual renewal fee to remain as an Advocate
$400 of product order every 6 months to maintain an active status. It's about $66.67 per month.
150 Personal Volume (PV) order every month to receive commissions. This is roughly $270 per month.
1.5% processing fee for each commission payout.
Those who fail to meet the requirements above are considered inactive and do not earn commissions.
As you can see, the annual cost to maintain your Crunchi MLM business is $4,080. It's not cheap.
I hate MLM because of the monthly minimum order requirement to receive commissions. It's designed to force you to purchase Crunchi products.
Think about it.
Why do you have to purchase Crunchi makeup every month for a chance to promote and sell its products?
Crunchi should be paying you as an Advocate.
As an Affiliate Marketer, companies pay me to promote their products on the internet.
The monthly order requirement is used by MLM companies to avoid being classified as a pyramid scheme. You should read our discussion on MLM vs. Affiliate Marketing to learn more.
Crunchi Compensation Plan Review
I believe the reason Crunchi doesn't publish its compensation plan has to do with the excessive fees. The company doesn't want you to know until after joining the MLM. This is a scam.
Unlike other MLMs, new Advocates who joined with a $70 Collection do not qualify for commissions. These advocates only receive a 20% personal discount.
No one will pay Crunchi $99 just to get a 20% product discount. This is not a business opportunity. You cannot earn money with this option.
To make money with Crunchi, you must purchase either the $270 or $470 Collection. The more expensive the collection the higher commissions you can earn, up to 40%.
I'll discuss what I know about the Crunchi compensation plan to give you an idea.
Your earnings and commissions are determined by your rank. Here's what I found.
Crunchi Ranks
Advocate
Activist
Ambassador
Executive
Advocates have two ways to earn with Crunchi:
Sell Crunchi Makeup for profits.
Build teams to earn commissions.
Products Sales Commission
Crunchi Advocates receive a 20% product discount upon joining. They can purchase Crunchi makeup at the discount price to resell for profits.
Most Advocates prefer selling directly from their replicated website to avoid carrying an inventory.
Crunchi is an in-home hosting party MLM. This method of sale is required. You cannot sell Crunchi makeup on social media networks, eBay, Craigslist, or online auction sites.
There is no monthly sales quota to receive the 20% discount. The only requirement is staying active.
An active Advocate is someone who places at least a $400 product order every 6 months.
You should know when someone tells you, Crunchi MLM has no sales quota, this is a lie. Yes, maybe not every month, but there is a 6 monthly sales quota.
The other option to make money with Crunchi is recruiting new Advocates.
If you want to make money with MLM, you must focus on team building, not selling products.
Team Commissions
Crunchi team commissions are awarded based on your rank and total Personal Volume (PV) each month.
The requirements for team commissions are:
You must be an active Advocate with a $400 product order in the last 6 months.
You have at least 1 active Advocate.
You maintain the $270 PV monthly orders.
Once you are qualified, you can earn up to 40% commission on purchases by your personal recruits and clients. The commission rate is determined based on monthly sales volume.
You also qualify to earn up to 10% override commissions on the sales volume generated by your team members.
Other leadership bonuses are very difficult to qualify for. I am not going to waste your time discussing them.
I hope you can see the Crunchi compensation plan is designed to sell products, not to help you make money.
Crunchi Advocates are committed to order at least $400 of Crunchi makeup every 6 months and $270 every month, even they cannot resell them.
You will end up with a garage full of Crunchi inventory.
How Much Does Crunchi Advocate Make?
You need the Income Disclosure Statement (IDS) to evaluate the potential income as a Crunchi MLM business owner.
The IDS is such an important financial document that even the Federal Trade Commission (FTC) advises against joining MLM without one.
Crunchi doesn't provide an IDS report. The company is hiding the truth from you. Maybe Advocates are not making money.
But you don't need Crunchi MLM to tell you this. Over 99% of MLM owners make no money.
Do you know why?
The answer is simple, overpriced products, excessive fees, and the compensation plan are designed not to help people make money.
The chance of making money with Crunchi is low.
Is Crunchi A Scam?
Crunchi is a scam. Some will disagree with me. But I have my reasons.
Crunchi MLM is not a business opportunity. The company uses the 'MLM Opportunity' to sell products, building a loyal customer base.
The compensation plan was designed to force Advocates to buy products.
Crunchi doesn't look for business partners. Advocates are customers of Crunchi. They are purchasing products every month for a chance to earn commissions.
A legit business opportunity will provide prospective investors with all financial information before they invest.
You have to become a Crunchi Advocate to option a copy of the compensation plan and IDS report. This is a classic business scam.
As a Business Review writer, I have evaluated hundreds of home-based and MLM business opportunities to expose scams.
This Crunchi MLM is not a good business opportunity. It's a scam.
Is Crunchi A Pyramid Scheme?
I believe all MLMs are pyramid schemes.
Crunchi must be a pyramid scheme. They're afraid to release the IDS.
Based on available data, we know that Advocates receive higher commissions, up to 40%, to recruit others.
The more people you bring in, the more money you make. This is how you build a pyramid scheme.
A small group at the top of Crunchi Pyramid earned big residual incomes. While news Advocates earn little or nothing.
You don't have to agree with me.
But you can't deny that the Crunchi compensation plan is not designed for you to make money. It's designed to convert you into a customer.
Is Crunchi Worth It?
I am skeptical about Crunchi MLM. I believe that the company is hiding something from us all.
As a business opportunity, Crunchi Makeup has more risks than benefits.
Good things about Crunchi Makeup MLM:
Nontoxic cosmetics.
New company with lots of room to grow.
Bad things about Crunchi Makeup:
Crunchi is a startup MLM. The rate of failure for a startup is high.
Advocates are forced to purchase Crunchi products to stay active.
The Crunchi compensation plan was designed to sell products, not to help you make money.
Excessive fees destroy profit and the chance of making money.
No financial data to support company performance claims.
Low Return On Investment (ROI), It is unlike you can achieve financial success with Crunchi.
One major business risk with Crunchi MLM is you have no control of your business.
You are out of business for simply failing to maintain active status, or Crunchi Makeup revokes your Advocate status.
Think about it! Is this the type of business you want to start?
What you are looking for is a profitable home-based business opportunity.
You want to own a business that generates consistent incomes every month.
The #1 reason we work hard to build a successful business is to make money. Isn't this what you want?
There's a lucrative method that I and millions of people have been using to generate six-figure passive income online.
You must read my #1 recommended online business opportunity.
Can you write?
If your answer is "YES", then why not use this skill to start your own highly lucrative online writing business, TODAY!
Crunchi doesn't look like a profitable business opportunity.
One thing we know for sure is that you cannot make money by purchasing products and more products every month.
Plus, MLM opportunities are no longer a lucrative option to make money from home. Everyone hates face-to-face sales and recruiting. You will have a hard time building a successful business with Crunchi MLM.
The most profitable home-based business opportunities are online businesses. This business model doesn't require face-to-face selling or recruiting.
You can use This #1 Home Business Opportunity to create a full-time passive income. You can work from the comfort of your own home and on a laptop, with no commute and no boss. You work whenever you want and where you like.
I invite you to read What I Do Every Day To Make Money At Home Online. Let me show you the real system of generating passive income.
It's easier to make money doing what you love than getting scammed.
I hope this Crunchi review answers your question, is Crunchi a scam?
Until next time.
Please share your own Crunchi experiences here.