Earning passive income buying virtual real estate is the latest gold rush trend.
Upland is an NFT game that allows players to make money by buying, selling, and trading virtual properties.
While this is exciting news for some, it leaves others scratching their heads and wondering, is Upland legit or another internet scam?
So after several days of playing the game, OnlineBzDog took this opportunity to review Upland and explain what it's all about.
Tired Of Scams And Pyramid Schemes?

Your Work From Home Opportunity!
Upland Game Review Summary
BUSINESS INFORMATION
Name: Upland
Business Type: Play-To-Earn
Investment: $5
Upland is a blockchain game that allows you to buy, sell, and trade virtual property based on a real-world map.
Players could technically buy NFT representations of real estate in Upland's virtual world to earn passive income.
Buying a property requires UPX, Upland's native token built on top of the EOS blockchain.
Using this bonus link, you can start playing Upland for free with 6,000 UPX, or you can purchase 5,000 for $5 using a debit or credit card and even crypto.
The downside is you can't redeem your UPX for fiat currency or any other crypto.
NO FACE-2-FACE SALE – NO RECRUIT – JUST PASSIVE INCOME
CHECK OUT THIS #1 HOME-BASED BUSINESS
Upland Game What Is It?
Upland is a virtual property metaverse that offers ownership of NFT property parcels mapped to real-world addresses.
It is kind of like a real-world version of Monopoly in which users can buy, sell, and trade virtual properties.
Upland in-game currency is UPX. By becoming a digital landowner, players earn UPX coins monthly.
Upland is also known as a play-to-earn metaverse game.
The project utilizes blockchain to tie each property within the Upland platform to an NFT.
Upland offers PayPal as the payment mechanism.
Players can technically buy NFT representations of real estate in Upland's virtual world and sell it for real U.S. dollars.
Unlock the door to financial freedom with the
#1 home-based business opportunity!
Discover a way to earn over $100K a year from the comfort of your own home.
Don't wait, click now to start your journey to success.
Is Upland Legit?
Upland is a legit metaverse game that leverages blockchain technology for users to buy, sell, and trade virtual properties mapped to the real world.
The game utilizes blockchain to tie each property within the Upland platform to an NFT.
Players can buy each plot NFTs with UPX coins, an in-game utility token.
Even though UPX is a fungible token, you can only use it inside Upland and cannot withdraw or exchange for USD at this time. It might change in the future.
How Does Upland Game Work?
The Upland game is a 2d map of the real world, where your avatar explores the map and can purchase any property you pass.
You can play this game on a desktop computer or a mobile device on iOS and Android apps.
The registration process for Upland is simple. We'll discuss this in the next section.
However, new players must have some UPX, an Upland's native token, to purchase properties.
New players can either buy UPX to begin playing the game or use a bonus link like this one exclusively for OnlineBzDog readers to get free 6,000 UPX.
Yes, anyone can start playing Upland without buying UPX.
Here's how you can start making passive income with Upland.
Upland Registration
New players sign up by downloading the mobile app or by visiting https://play.upland.me/signup.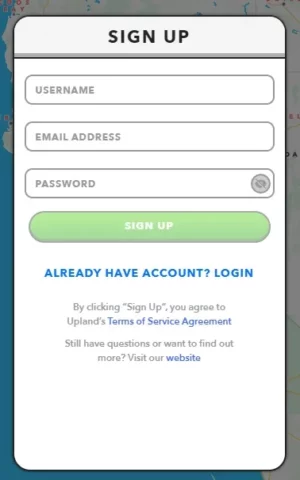 The signup form asks for the username, email address, and password.
After clicking the signup button, the next step is verifying the email address.
You can verify your email by clicking a link within an email sent to you. This link leads to a "get started" button.
Clicking the "Get Started" button allows you to choose a design for in-game Block Explorer, essentially your playing piece.
Your Block Explorers (BE) will randomly move across the map, automatically explore the city and discover new properties for you to buy.
You start playing the Upland game by finding and buying properties.
Getting Upland UPX
The basic strategy of playing Upland is buying land to collect the monthly payment of UPX coins.
UPX coin is the currency of Upland. It's the in-game tokens to buy properties.
Upland gives new players 3,000 UPX as a signup bonus. There is a way that you can double this bonus.
You will want to use a double bonus link like this one exclusively for OnlineBzDog readers. It will net you 6,000 UPX, as opposed to the regular 3,000.
If you want more UPX coins, you can purchase 5,000 UPX for $5 using a debit or credit card and even crypto.
Once you own a property in Upland, you can start collecting the monthly UPX earnings on it.
Buying The First Upland Property
Becoming a property owner is the first step to earning passive income playing the Upland game.
There are two ways for a new player to acquire land.
You can purchase land on the marketplace or mint an unowned property on the EOS blockchain, which will result in a spanking new nonfungible token (NFT).
Upland colors land plots according to their status.
Light blue plots already have owners.
Dark green plots are also owned but are up for sale.
Bright green and grey plots are both unminted. The difference is that the bright green ones are in the range of your block explorer, which allows you to mint the plot as a spanking new nonfungible token (NFT).
Buying or minting unowned land is much cheaper than buying on the marketplace.
Buying FSA Properties In Upland
Upland creates the FSA properties to offer new players a fair opportunity to compete in Upland. FSA stands for Fair Start Act.
Only players with a net worth of less than 100,000 UPX can mint FSA properties.
Upland classifies players into six groups: visitor, uplander, pro, director, executive, and chief executive.
Upland Visitor
Players with a net worth in the game of less than 10,000 UPX are considered Visitors.
Visitors can buy properties to collect the monthly UPX coins, but they cannot sell their properties for UPX or cash.
Upland requires Visitors to renew their VISAs once every seven days.
Visitors who fail to renew their VISA, Upland will terminate their accounts. They will lose all their assets.
Uplander
Uplanders are players with a net worth of between 10,000 – 100,000 UPX.
They control their accounts. Nobody can access the private keys of the wallets controlled by Uplanders.
Uplanders can buy, sell, and trade their virtual properties with other players on the marketplace for UPX or cash.
Uplander Pro and Above
Below is the breakdown of Upland players status by net worth:
• Pro: 100,000 – 1,000,000 UPX net worth
• Director: 1,000,000 – 10,000,000 UPX net worth
• Executive: 10,000,000 – 100,000,000 UPX net worth
• Chief Executive: 100,000,001 UPX net worth
Uplander Pro and above may not mint FSA properties. This is the only restriction.
How You Make Money With Upland Game?
You can buy and hold virtual properties in Upland to collect the monthly UPX coins.
The more lucrative options to generate income with Upland are completing a collection, trading, or selling property with other Upland players.
Collecting The Monthly UPX Rent
Owning land will give you interest based on the value of your property.
Each piece of land in Upland generates a set amount of monthly UPX rent for its owner.
If you purchase a property, you will begin to collect the UPX rent from it right away.
The rate of rent varies from property to property. The more land you own, the more UPX you make per month.
Let's discuss the advanced strategies that you can use to earn more.
Completing Collections
Collections are one of the best strategies to increase your earnings in Upland.
You receive an instant UPX bonus and a boost in the monthly rent of your properties by completing a Collection.
A collection includes properties of certain types or in a certain part of town.
If you own properties in a Collection, your earnings will increase on all the properties.
Selling Upland Property
This strategy is for active players who are looking to make deals.
You are looking to make a quick profit by minting properties and resale them on the marketplace.
This strategy is best to use with the launching of new cities. You are minting new properties to resale on the marketplace.
Upland offers two methods for players to resale their properties.
You can resale your property for UPX or USD.
Selling a property for USD is currently the only option for players to cash out their investment with Upland.
You can withdraw all sales proceeds directly into your PayPal account.
Upland Game Pros
The Upland game is competitive and fun.
It offers you a way to turn your real-life house into an NFT.
Your virtual property is verifiable on the EOS blockchain.
You can earn passive income by holding, selling, and trading virtual properties.
Upland Game Cons
UPX is a utility token. It can only use inside Upland to purchase properties. There's no option to convert UPX into USD.
Upland is only available in the US.
This game is slow. It takes a long time to build your real estate portfolio.
The monthly rental earnings are low. 1,000 UPX is equivalent to $1. A property paying 700 UPX a month is about $0.07 monthly earnings.
Final Review – Is Upland Game Worth It?
An investment in Upland is just an investment.
For those with money to spend and time to play, the game is worth playing.
Upland is an example of implementing blockchain technology into a play-to-earn game.
Since it operates on blockchain technology, the property that you acquire in Upland is 100% yours. You can sell it. Trade it. Keep it forever.
Upland is a great concept, but the business model is far from allowing players to earn a full-time income.
Upland may present as an early adopter opportunity, giving prospective owners a chance to get in early without spending a lot of money.
However, players who buy land in Upland now may be stuck with it for a while.
The game doesn't have many options for players to generate immediate income.
So, if you're new or looking for ways to earn passive income today, Upland is not for you.
The internet has created more millionaires and billionaires than any industry.
All you need is to find the right business opportunity to achieve financial freedom.
I understand you are here to read this review of Upland Game.
So, I am not going to discuss my online business in this article.
If you want to learn more, I suggest reading this article, the #1 Opportunity To Make Money Online. It will help you to understand how online business works.
Every year, millions of people use this online business to earn a six-figure passive income from home.
I use the same business system to fire the boss, work from home, and achieve financial freedom.
Let me explain to you why:
You can use This #1 Home Business Opportunity to create a full-time passive income. You can work from the comfort of your own home and on a laptop, with no commute and no boss. You work whenever you want and where you like.
I invite you to read What I Do Every Day To Make Money At Home Online. Let me show you the real system of generating passive income.
I hope this Upland Game review helps you in making the right decision.
Until next time.
Please, share your experience below.