Pinecone Research is a legit consumer survey company. It claims to pay $3 per survey.
You might think '$3 per survey' is a great way to make some extra cash online.
There's one problem, you must be invited to take surveys.
You only receive one survey invitation every 3-6 weeks.
Earning $3 every three to six weeks is not a good opportunity to make money from home.
Is Pinecone Research tries to scam you?
Let start our review on Pinecone Research.
Tired Of Scams And Pyramid Schemes?

Your Work From Home Opportunity!
Pinecone Research Review
I like taking surveys to earn a few dollars in my free times. I am a member of Swagbucks, InboxDollars, and Ebates.
When I heard Pinecone Research pays $3 per survey, I immediately visit the company website to sign up for Pinecone Research.
I was surprised with the Pinecone Research survey selection process.
So, I decided to write this Pinecone Research Review to share my experience.
If you want to sign up for Pinecone Research, you should read this review to understand the signup process and improve your chance of acceptance into the survey program.
What Is Pinecone Research?
Pinecone Research is a legit consumer research company owned and operated by The Nielsen Company.
This survey company has been around since 1998. It is among the top survey program like Swagbucks
and InboxDollars.
A few unique features of Pinecone Research are:
Each Survey pays $3 to $5

Sign up for Pinecone Research is by invitation only

You earn up to $6 for product testing

Few disqualifications on taking surveys
The $3 per survey reward is the most popular feature of Pinecone Research.
However, taking surveys by email invitation only has become a major inconvenience feature.
This means you are not allowed to take surveys in your free time.
You have to take surveys when Pinecone Research sends them to your email.
Who can stop working just to take a survey? This is not a fun option to make a few bucks in your free times.
Taking surveys is a pastime activity. It is not a means to earn extra income.
HERE'S A LUCRATIVE OPTION TO MAKE MONEY ONLINE
Follow the link to learn more.
Sign Up For Pinecone Research
You cannot visit the company website and sign up with Pinecone Research.
You need an invitation to start the registration process.
Many people stated that membership by invitation only reinforces the legitimacy of the Pinecone Research program.

However, I like to point out that many online scammers also use this, exclusive membership, to lure people into their trap.
No, Pinecone Research is not a scam. However, I personally think sign up for Pinecone Research is a waste of time.
Here's the Pinecone Research sign up process:
You either have an invitation or contact the company directly to request for one.

The first step is providing basic contact information by completing the form below.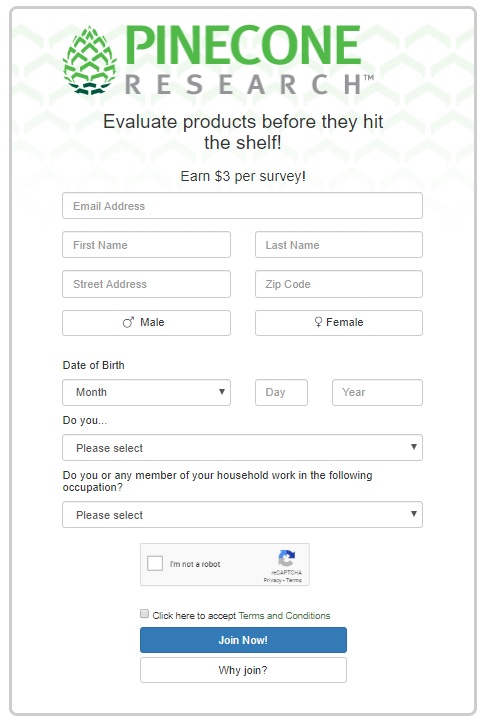 You then must wait for a confirmation email to confirm your account and move on to the second step.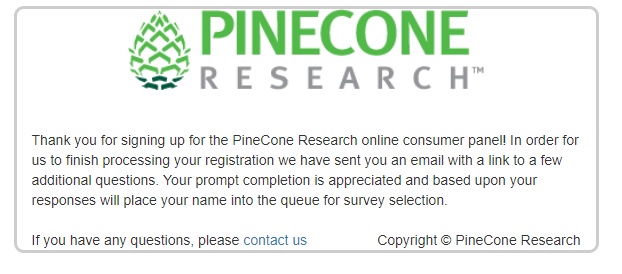 When you receive the confirmation email, you can click on the link to fill out online questionnaires offering details demographic information.

Once you complete the second step, you have to wait for an invitation to take surveys via email.
Sign up for a Pinecone Research account is simple, but the problem is waiting for a survey email invitation.
You are not going to receive an invitation every week. Sometimes, it takes three to six weeks to get an invitation.
When you receive an email invitation, you have to act quickly before it fills up. If you are busy or working, you must wait for a few more weeks for the next invitation.
Earning $3 every few weeks is not how you want to make money taking surveys.
If you want to earn money right away, Pinecone Research is not a good survey site.
HERE'S A LIST OF SITES THAT PAY YOU TO JOIN
Yes, you get paid right after signing up!
How Does Pinecone Research Work?
As I have stated above, you cannot log in to your Pinecone Research account to take surveys. This is not how Pinecone Research works.
You must wait for an email invitation to start taking surveys.
Email invitations are sent out based on demographic and survey availability.
You have only a few minutes to start taking the survey upon receiving an invitation.
Once you have completed the survey, Pinecone Research will reward you between $3-$5 dollars based on the time required.
Sometimes, you Pinecone Research invite you to join its product testing panel to earn more cash, but it's rare.
As a product tester, you receive product delivered free to your home to try and offer a review of the products.
You earn $6 for every product testing you completed.
Yes, Pinecone Research offers a big reward for surveys and product testing. This is not a scam.
However, you are not going to get enough invitations to make this opportunity worth your time.
Pinecone Research Rewards
Unlike InboxDollars and Ebates which rewards cash, Pinecone Research rewards members with points.
100 Pinecone Research points are equivalent to $1.
If an existing Pinecone Research Panelist tells you that he/she makes up to a hundred dollars in reward each month, it is a lie.
You have to receive more than 30 survey invitations to make over $100. Pinecone Research doesn't send out that many invitations to one person a month.

The most invitation I had received from this survey company is 1 a week. This means only 4 invitations a month.
You have a few options to redeem Pinecone Research reward points.
These points can be redeemed for cash, prepaid credit cards, or e-gift cards.
However, after earning your first 300 reward points, Pinecone Research automatically sends out a check for $3.00 to the mailing address on your profile. This is to verify your profile and account.
After this first check, you must request a payout to receive payment.
You have these payment options to choose from:
Old Fashion Check
You may request a check upon accumulated 300, 500, or 1500 points. Check payment processing takes 3-5 business days before putting the mail. This option takes longer to receive than other options below.
PayPal Payout
You must have at least 300 reward points to request a PayPal payment. This reward option takes 3-5 business days to process.
E-Gift Cards
You can choose to redeem points for a wide variety of gift cards. The e-gift card code is sent directly to your email account. This is the quickest option to receive your Pinecone Research rewards.
Prepaid Virtual Credit Card
You can also request payout in the form of a prepaid virtual Visa. However, this payment option is only suggested to US residents and residents of US territories, because virtual Visa can only be used in the United States.
Redeeming Pinecone Research reward is easy, but earning points are not.
Pinecone Research does not reward new member for signing up.
These survey sites below do:
To maximize your earnings, I suggest you join more than one survey sites.
You can join Swagbucks, InboxDollars, Survey Junkies, and Ebates to make more money and to claim your sign up bonus.
Pinecone Research Scam
When people desperate to join a program, it is an opportunity for scammers.
There many Pinecone Research scams are running online.
Scammers set up fake Pinecone Research website offering sign up to collect victim's personal information.
Remember, Pinecone Research requires 2 steps registration process with email confirmation.
One popular Pinecone Research scam is offering an opportunity to become a 'Mystery Shopper.'
Scammers use Pinecone Research name and logo to offer victims a mystery shopping assignment.
They send the victim a fake certified check as a prepayment for the job.
Victims are encouraged to cash the fake check, kept the agree payment portion, and wired the remaining amount back by Western Union to test the service.
However, the fake check later bounces. The bank will go after the victim to collect the full amount.
This is a well know Pinecone Research scam. Even the Pinecone Research publishes notice warning member about this scam.
Honestly, I don't understand why some people so desperate to sign up for Pinecone Research.
As a smart online entrepreneur, you know that you are not going to get rich with taking surveys. You are lucky to make $3 to $6 a month.
There are better ways to a lot make money online than Pinecone Research.
WANT TO MAKE $7,000 PASSIVE INCOME A MONTH
Click on the link to find out.
Is Pinecone Research Legit?
Pinecone Research is legit and a safe consumer survey company.
There is nothing special about this survey site.
You need to be careful not to fall for the marketing hype and scams.
You will make money taking surveys, but not in hundreds of dollars a month.
From my experience with online surveys, you definitely won't make a lot of money from it.
Are you looking for ways to make extra cash on the side?
I have been working online and make passive income for decades now.
I learn how to make serious money online with these 10 Fee Training Lessons from the #1 entrepreneur community.
If you want to generate substantial income, taking surveys is not the option.
I invite you to click on the button below and discover how I and others make passive income online.

As you can see from this Pinecone Research Review, this program is no different than other online survey sites.
You will earn about $3 to $6 a month. It is not an option to supplement or replace a full-time income.
Check Out My #1 Recommendation to find out my secret of making a full-time passive income online.