Primerica uses multilevel marketing (MLM) business model to distribute and sell financial products.
This means Primerica doesn't hire sales agents. If you get invited to a 'Job Interview', you are coming to a business opportunity meeting.
Primerica offers everyone an opportunity to start their own MLM business selling insurance and financial services as an independent agent of Primerica.
However, the majority of Primerica agents earned little or nothing.
You must have lots of questions about the Primerica MLM business.
You want to know, 'is Primerica a pyramid scheme?'
Let begin our Primerica review to find out.
Tired Of Scams And Pyramid Schemes?

Your Work From Home Opportunity!
Primerica Review
Since Primerica is an mlm business opportunity, many of my readers and investors have asked, 'Is Primerica a pyramid scheme?'
Under US laws, Primerica is not a pyramid scheme. The mlm legality issue has been discussed in our popular article, MLM vs Affiliate Marketing. I suggest you read the article to understand more.
However, before investing in this mlm business opportunity, we also need to know, 'Is Primerica mlm business opportunity profitable?'
In this Primerica Review, together, we will be looking at the Primerica compensation plan, the Primerica agent commissions structure, and Primerica income disclosure statements to determine the profitability of this business opportunity.
But first, let get to know Primerica business model.
(You can skip this section if you already know about Primerica.)
What Is Primerica?
Primerica is a multi-billion dollar financial services company located in Duluth, Georgia.
The company is traded on The New York Stock Exchange under the symbol "PRI."
Arthur Williams Jr launched this company in 1977 with the mission "to help families earn more income, become properly protected, and achieve financial independence,"
Primerica adopts the mlm business model to promote and sell all types of insurance products, Legal Protection Program, investment products, ID theft protection, Debt Consolidation, and Financial Needs Analysis.
Primerica 2018 annual report reviewed the company generated $1.89 billion in global revenue, insured approximately 5 million lives and managed over 2 million client investment accounts.
The company reported 130,736 active licensed independent representatives at the end of 2018.
However, the average earning for all active representatives in 2018 is only $6,069. This data should be a little concern for anyone interested in starting a Primerica business. I'll explain later.
How Does Primerica Work?
Now you have the idea of Primerica business opportunity, let discuss how does Primerica work.
There has been reported that many Primerica sales representatives using the unethical tactic of promising a 'job interview' to invite unsuspected job seekers to attend the business opportunity meeting.

When job seekers arrive for an interview, they are coerced into signing up and pay fees to become an independent sales representative.

If this happened to you, you should contact the Primerica office to request for a refund of the application fee and report the agent.

This is not how Primerica works.
How to Become A Primerica Agent?
The process of becoming a Primerica agent is simple.
You can request for an Independent Business Application (IBA) by contacting a Primerica office near you, or from an active agent of Primerica.

You complete the IBA, pay a fee of $99, and submit to a background check.

Once your background check is clear, you can start the training to become a licensed sales representative for Primerica.
Professional Licensing Requirements
The first license that you need is the insurance agent license.
Once you become a licensed insurance agent, you can receive commissions from selling Primerica insurance products.
You also then need to pass the securities licensing exam to become a licensed securities agent to sell financial products, such as mutual funds.
It usually takes three months for an individual to complete the licensing training and pass the state exam to become a licensed sales representative of Primerica.
This means you will not make money for at least three months after starting your Primerica business.
Primerica Start Up Costs
There are several costs that you must consider when starting this financial services business with Primerica.
The minimum startup costs are:
This fee covers the costs of background check and 2 days insurance pre-licensing class.
Insurance Licensing Test Fee – $147.55 (FL)
The test fee varies by each state. I use the state of Florida, but you have to check with your own state to find out the actual cost. This cost is above $100.
Insurance License (Appointment) Registration Fee – $60.00 (FL)
This is the first year fee to register your insurance agent license with your state. There is also a license renewal fee every year, for Florida is $20. You should check with your state to find out the total cost.
Primerica Online (POL) – $25 per month
This is the fee for using the Primerica website. This gives the sales representative full access to tools and resource, such as the commission statements and the client account tools. This fee increase as the sales representative gets promoted. The POL monthly fee is required.
Based on the estimated costs above, the minimum Primerica Start Up Cost is $331.55. This cost can be more or less depending on the state you are licensed.
You still have to pay the $25 technology fee each month.
Additional costs:
Securities Licensing Process – $500 – $1,000
This is an estimated cost to become a licensed securities agent. You should check with your state for the actual cost of each securities exam.
There is a license renews annually and is approximately $500 and up, depending on the state registration.
The startup cost to launch this mlm business is inexpensive.
As you can see, most of your costs are related to licensing. This Primerica business opportunity requires a lot of studies and exams.
I don't like exams, and I hate studying. So, I choose to become a Blogger.
WANT TO KNOW HOW MUCH I MAKE AS A BLOGGER
Click on the link to find out!
Once you are a licensed sales representative of Primerica. You might like to know how can you make money with Primerica?
Let's find out
How Do Primerica Agents Get Paid?
To find out how do Primerica agents get paid, we need to look at the Primerica compensation plan, or Primerica commission structured.
Primerica adopts an unilevel commission structured. This means that your own customers and referrals will be on the first level.
Primerica agents get paid 2 ways: commissions on personal sales and override.
| | | |
| --- | --- | --- |
| Position | Direct Sales | Override |
| Sale Representative | 25% | 0 |
| Senior Representative | 35% | 10% |
| District Leader | 50% | 15% – 25% |
| Division Leader | 60% | 10% – 35% |
| Regional Leader | 70% | 10% – 45% |
| Regional Vice President | 95% | 25% – 70% |
| Senior Vice President | 110% | 15% – 85% |
Primerica agent also gets paid commissions on Investment Products. However, the commission structure is a little tricky to understand.
Licensed agents get paid 30% from the dealer commission.
The commission works this way: Primerica, the dealer, gets paid 4.5% from the sale of a mutual fund. You receive a 30% commission from the 4.5% that Primerica gets paid or 1.35%.
Commissions for financial products are little. Therefore, most Primerica sales representatives prefer selling insurance products over investment products.
To earn override commissions, you have to reach the senior representative level. The preferred level that Primerica encourages all agents to achieve fast is District Leader.
Like all mlm business compensation, the agent gets promoted to a new level after meeting certain requirements.
Here is the Primerica promotion guideline if you are interested.
The Primerica compensation plan only tells us how Primerica agents make money.
We need to know the actual earnings to determine profitability. We can find this information in the 2018 Primerica earnings disclosure statement.
Two most important data to us are the number of new recruits and the average annual earnings commission.
Primerica 2018 Sales Representatives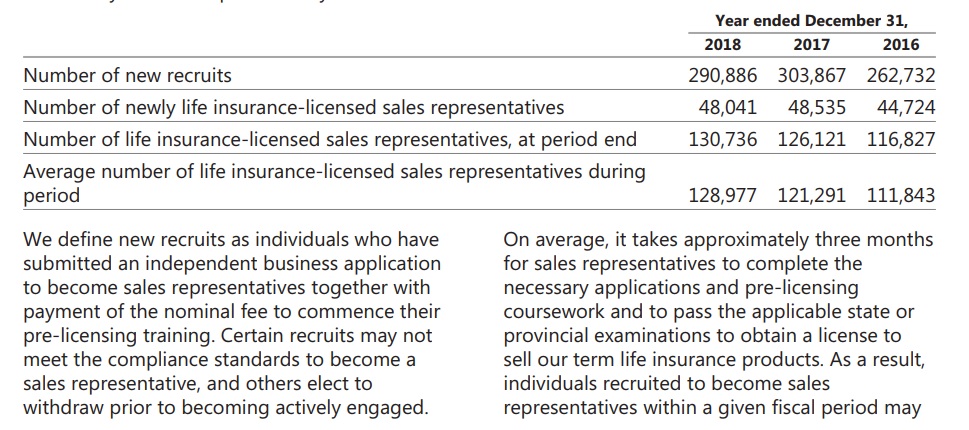 According to the table above, the total new recruits for 2018 is 290,886.
But only 48,041 passed the exam to become a licensed sales representative.
This information tells us that over 83% of new Primerica business owners fail before they even qualified to earn commissions.

Or, we can say that less than 17% of new recruits pass the first exam to become a licensed sales representative.

The success rate for the Primerica business opportunity is low.
Many people launched this mlm business without thinking about the difficulty of these licensing exams.
They waste their investment dollars for nothing in return.
You need to carefully evaluate your chances of passing these tests before investing.
This table also tells us Primerica has a total of 130,736 active licensed agents at the end of 2018. Now let see how much they make.
Here's the earnings disclosure statement.
According to the earning statement above, the average earnings for all Primerica sales representatives is only $6,069 a year.
This means the majority of Primerica agents earned $6,069 or less in commissions for the entire year. This is before taking out tax and business expenses.

Taking out taxes and expenses, most Primerica mlm businesses generate ZERO profit.
My Business Generates Over $7K Passive Income A Month!
Discover The Earning Power Of Affiliate Marketing 
Can You Make Money with Primerica?
Looking at the Primerica compensation plan together with the earnings disclosure statement, we must agree that it's very difficult to make money with the Primerica business opportunity.
The licensing exams are the biggest hurdle to achieve success with this business.
A large number of Primerica businesses failed before even making a sale.
To make money with Primerica, you must have a strong background and experience in financial planning.
This mlm business opportunity is not for everyone, especially for those having problems with tests.
Even when you pass all the licensing tests, making money with Primerica is not easy when the annual average earning is less than $7,000.
Primerica financial data tell us that the chance of making a profit with this business opportunity is low.
Is Primerica a Pyramid Scheme?
No, Primerica is not a pyramid scheme under the laws, because when you are investing $99 in this business, you receive a service, 2 days pre-licensing class.
An mlm opportunity is not a pyramid scheme when it promotes and sells products or services, not just memberships. This is mlm a legal definition. You can read this article MLM vs Affiliate Marketing to learn more.
After reviewing the Primerica financial information, whether Primerica a pyramid scheme or not is irrelevant to our investment decision.
The financial data show us that this mlm business opportunity is NOT PROFITABLE.
It is not a good investment.
How I Make Money Investing in Business?
Before I make an investment, I carefully study the business opportunity by looking at the financial information, the compensation, and the business model.
I am looking for a PROFITABLE business.
We invest in a business to make money. If the financial tell us this opportunity is a looser, we move on.
It is nothing wrong to make a mistake in investing. Cut your losses and move on.
This is how I found success with my current online business.
Making money online is much easier comparing to mlm marketing.
There is no recruiting, no face-to-face selling, no tests or exam to worry, and the initial cost of investment is low.
I started my business with these 10 Free Online Training Lessons. You only need a computer and an internet connection to learn this business. It's free, no payment required.
I make more money in a month than a licensed sales representative of Primerica made the whole year.
If you want to learn how to build a business that generates 4-figure passive income each month, then CLICK HERE TO DISCOVER MY SECRET.
I want to invite you to join my #1 Free business training program to learn about investing and building a successful business, follow the link below to discover your potential.

My people accused Primerica a pyramid scheme because they lost their investment.
But from our Primerica Review, we discovered the Primerica business opportunity is not profitable to start.
Most recruits lost money not because Primerica is an mlm opportunity, but because they failed to pass the licensed insurance agent exam.
Your chance of success with this mlm business is ZERO!