Your friend is bragging about the quality, the look, and how awesome Zyia leggings are.
She invited you to join her Zyia MLM business.
It's hard to say no. You are looking for a good reason.
You came online to read Zyia reviews and find out, 'is Zyia a scam?'
You have lots of questions. I hope this Zyia review can help.
We'll discuss everything about Zyia MLM, including background information, the cost to join, compensation plan, and more.
But Let me be honest with you; the MLM business is dying. People don't want to invite strangers into their homes. How can you build your MLM business?
Today, the opportunity is an online business. The internet allows us to reach customers around the world. It's the best way to generate passive income from home.
Tired Of Scams And Pyramid Schemes?

Your Work From Home Opportunity!
Zyia Review Summary
Business Information
Name: Zyia Active
Business Type: MLM
Investment: $295

Zyia is a popular women's activewears company.
Many women have joint Zyia MLM to make money from home.
Zyia claims that Reps don't have to carry inventory. But, they are required to order between $200 to $600 of Zyia clothes every month to receive commissions.
Zyia Rep earnings are low. So bad that Zyia didn't even publish the Income Disclosure Statement (IDS). We'll talk more about this financial report in a bit.
I must warn you Zyia MLM is not a work-from-home business opportunity. This is a hosted party MLM. Traveling and face-to-face selling is part of the business.
NO FACE-2-FACE SALE – NO RECRUIT – JUST PASSIVE INCOME
CHECK OUT THIS #1 HOME-BASED BUSINESS
What Is Zyia?
Zyia is a clothing company specializing in women's activewears. The company does offer a limited clothing line for men and children.
The company's most popular products are leggings. Some call them, yoga pants.
Zyia Active was founded by two sisters, Erin Bradley and Brenda Bradley in February 2017.
The company distributes its clothing exclusively through an MLM network of Independent Representatives.
Zyia activewears are made in China, not in the US. Many women compare Zyia's activewears as an affordable version of Lululemon or Lorna Jane.
You can start your own business from home selling Zyia cloths for commissions.
At the time of writing this Zyia review, the company has been in operation for only 3 years.
Zyia MLM is a startup. It's considered a high-risk investment.
I strongly recommend comparing Zyia with other home-based business opportunities before joining.
You can use My #1 Business Opportunity to make a comparison.
Is Zyia An MLM?
Zyia Active is an MLM. The company distributes its products through a network of Independent Reps.
For a small startup fee, you can join Zyia MLM and start your own home-based business.
How To Become A Zyia Rep?
You must be at least 16 years old to become a Zyia Representative.
Those under 18 must have parental consent to join Zyia.
You also need to have a sponsor. Any current Zyia Active Rep is qualified to be a sponsor.
If you don't have a sponsor, you can find one with a Google search, Facebook Zyia party, or by contacting the company.
Your sponsor will help select a Starter Kit, submit an application, and train you.
Your sponsor is your upline (leader). This person earns override commissions from your business activities.
Besides purchasing a starter kit, you are required to meet a monthly sales quota to receive commissions.
Now, let look at the costs to join Zyia.
How Much Does It Cost To Join Zyia?
The cost to join Zyia Active is $295. This is the price for one Starter Kit.
Each Zyia Starter Kit includes:
$100 Zyia eGift Card
1 pair of Leggings
1 Sports Bra
1 pair of Joggers
1 Tank Top or Jacket
1 Hat.
You also receive product catalogs and marketing materials to promote and build your Zyia MLM business.
Above are the costs to join Zyia. It costs much more to run and operate a Zyia MLM business.
You will be charged a monthly website subscription fee of $15 after 2 months of joining Zyia.
Zyia Reps are required to order between $200 to $600 worth of Zyia activewears every month. Those who fail to meet this requirement are considered inactive and do not earn commissions.
As you can see, it costs $295 to join Zyia.
But it costs up to $7,380 per year to keep your Zyia Active business.
I hate MLM because of the monthly minimum order requirement. It's designed to force you to purchase Zyia products.
Think about it.
Why do you have to pay Zyia every month to promote and sell its clothes?
Zyia should be paying you as a rep.
As an Affiliate Marketer, companies pay me to promote their products on the internet.
The monthly order requirement is used by MLM companies to avoid being classified as a pyramid scheme. You should read our discussion on MLM vs. Affiliate Marketing to learn more.
Zyia Compensation Plan Review
Zyia's compensation has 2 pages. It looks simple, but not easy to understand or make money.
I'll explain the main parts of the compensation so it's easier for you to understand.
Your earnings and commissions are determined by your rank.
Zyia Ranks
There are 11 Zyia ranks:
Representative
Junior Representative
Senior Representative
Director
Senior Director
Executive
Zyia Executive
Double Zyia Executive
Zyia Elite
Presidential
Zyia Presidential
Reps have two ways to make money with Zyia:
Sell Zyia products to earn commissions.
Build teams to earn residual income.
Products Sales Commission
You start out with a 25% personal discount and a 20% commission from retail sales through your website and in-home party.
You can purchase Zyia activewears at a 25% personal discount and resell them for profits.
However, most Zyia reps prefer selling directly from their website to avoid carrying inventories.
The 20% based sales commission will increase when you achieve the Executive rank.
From the Executive rank and above, Zyia MLM offers you a 25% commission on all personal sales.
Every month, you have an opportunity to receive an additional 8% Personal Commission Override (PCO).
The PCO is giving to reps who have a monthly Personal sales Volume (PV) of more than $1,000.
There is no monthly sales quota to receive the 25% personal discount.
However, the 20% commission requires a minimum monthly personal order of at least $200 and increases to $600 as you advance the ranks.
You should know when someone tells you, Zyia Active has no monthly sales quota, that is a lie.
New reps without sales are encouraged to place a $200 order with Zyia Active every month to qualify for commissions.
So, every new rep that you recruited will generate a $200 recurring monthly revenue for your Zyia MLM business.
If you want to make money with Zyia, you must focus on team building, not selling products.
Team Override Commissions
Team Override commissions are awarded based on your rank and total Group Sales Volume (GV) each month.
The requirements for override commissions are:
You must recruit at least 1 active rep.
You maintain the $200 PV monthly orders.
You achieve the rank of Junior Representative.
Your monthly GV is at least $600.
Once you are qualified, you can earn team override commissions from 1% to 11% up to 10 levels. Please refer to the table below for your commission rate.
Zyia Rank Bonus
Every time you advance in rank, Zyia will pay you a rank bonus.
Zyia rank bonuses are as follows:
Junior Representative – $50
Senior Representative – $75
Director – $100
Senior Director – $200
Executive – $500
Zyia Executive – $1,000
Double Zyia Executive – $5,000
Zyia Elite – $10,000
Presidential – $12,000
Zyia Presidential – $15,000
The Zyia compensation plan looks simple, but the sales volume requirements to earn commissions and bonuses are very high.
You should look at the Zyia compensation plan to learn more.
I hope you can see the Zyia compensation plan is designed to sell Zyia products, not to help you make money.
Once you join Zyia, you are committed to order at least $200 of Zyia clothes every month, even you cannot resell them.
You will end up with a garage full of Zyia inventory.
How Much Does Zyia Rep Make?
Many former Zyia reps said they earned a small profit selling Zyia cloths.
Zyia claims that reps are not required to purchase products or carry inventory.
But if you want to be successful, Zyia expected you to buy and use the products to earn commissions. This can get very expensive.
Zyia MLM business is all about recruiting. It will be very difficult for you to make money without recruiting new Reps.
Zyia Reps with good recruiting skills make a lot of money. But this is small.
It's normal for a small group at the top of Zyia MLM to earn large commissions, while 99% of reps make no money.
How can you make money when the compensation plan forces you to purchase more products than you can sell?
Is Zyia A Scam?
Zyia is a scam, not a good business.
You might disagree with me. But I have my reasons.
To me, Zyia MLM is not a business opportunity, because the company uses the 'MLM Opportunity' to sell products, building a loyal customer base.
The compensation plan was designed to force reps to buy Zyia products.
Zyia doesn't look for business partners.
Zyia Reps are the primary customers. They are purchasing products every month for a chance to earn commissions.
As a Business Review writer, I have evaluated hundreds of home-based and MLM business opportunities to expose scams.
This Zyia MLM is not a good business opportunity. It's a scam.
Is Zyia A Pyramid Scheme?
I believe all MLMs are pyramid schemes.
Zyia is a pyramid scheme where reps make money through team building, not selling products.
The more people you bring in, the more money you make. I learn this from the Zyia compensation plan video on YouTube.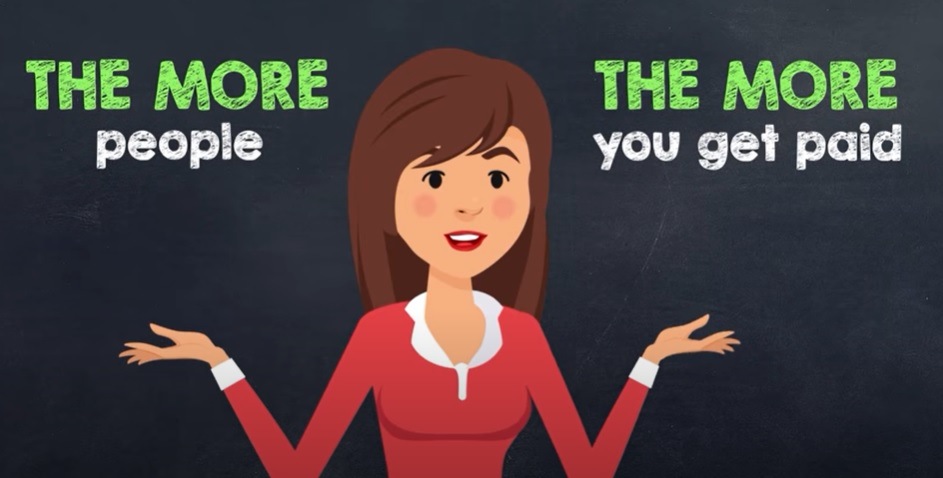 People at the top of the team (the Pyramid) earned a big residual income. While news reps spend money buying products and earn little or nothing.
You don't have to agree with me.
But you can't deny that the Zyia compensation plan is not designed for you to make money. It's designed to convert you into a customer.
Is Zyia Worth It?
I am not convinced that you can make money with Zyia MLM.
As a business opportunity, the risks outweigh the benefits.
Good things about Zyia MLM:
Zyia's activewears look trendy and legit.
It's cheap to start a Zyia business.
Zyia Active is a new company with lots of room to grow.
Bad things about Zyia MLM:
Zyia Active is a startup MLM. The rate of failure for MLM startup is high.
Reps are forced to purchase Zyia products every month.
The Zyia compensation plan was designed to sell products, not to help you make money.
Low cost to start, but expensive to stay in business.
Most Zyia MLM business owners make little or no money.
Low Return On Investment (ROI), your chance of achieving financial success is less than 1%.
One major disadvantage with Zyia MLM is you have no control of your business.
You must obey and follow Zyia rules and policies to stay in business.
Zyia can put you out of business anytime by revoking your Rep status.
Let think about this,
Do you know why you want to start a home-based business?
To earn extra money from home, to be your own boss, or to achieve financial freedom?
And to make money, we invest in a PROFITABLE business!
There are much better and less risky home-based business opportunities.
If you want to be an owner of a lucrative and profitable business that generates six-figure passive income, then read my #1 recommended online business opportunity.
You should use the writing skill to start your own highly lucrative online writing business, TODAY!
There's NO traveling around town to attend late-night meetings and NO face-to-face sales or recruits with my online business.
The best part, you are working on the computer in your own home or anywhere you like.
What you are looking for is a profitable home-based business opportunity.
The MLM opportunities are no longer a lucrative option to make money from home. Everyone hates face-to-face sales and recruiting. You will have a hard time building a successful business with Zyia Active MLM.
The most profitable home-based business opportunities are online businesses. This business model doesn't require face-to-face selling or recruiting.
You can use This #1 Home Business Opportunity to create a full-time passive income. You can work from the comfort of your own home and on a laptop, with no commute and no boss. You work whenever you want and where you like.
I invite you to read What I Do Every Day To Make Money At Home Online. Let me show you the real system of generating passive income.
The #1 reason we work hard to build a successful business is to make money. Isn't this what you want?
Zyia Active MLM doesn't consider you a business partner. You are just another customer.
I hope this Zyia review answers your question, is Zyia a scam?
Until next time.
Please share your own Zyia experiences here.