Imagine you're building a business for over 2 decades, then one day, with one simple change in the compensation structure, you lost everything.
This was the story of more than 600,000 AdvoCare distributors.
In July 2019, AdvoCare quitted the mlm business and terminated all of its independent distributors.
Yet! That's how mlm opportunities work.
I understand you are searching for a business opportunity to build a life dream of financial freedom, and you like to know what has been changed in the AdvoCare distributor program.
Hello and welcome to our AdvoCare review Coffee Talk.
It smarts for you to stop by and read about AdvoCare before joining.
In this AdvoCare review, we will discuss the AdvoCare changes:
What is AdvoCare today, mlm or not?

Can you still join AdvoCare as a distributor?

How much does it cost to join AdvoCare?

The new AdvoCare compensations plan? And

Can you make money with the new AdvoCare?
Reading this AdvoCare review, you should be able to decide if the changed AdvoCare a good business opportunity for you to achieve your financial goals and dreams.
Tired Of Scams And Pyramid Schemes?

Your Work From Home Opportunity!
AdvoCare Review Summary
AdvoCare is the producer and distributor of general nutrition, weight loss, energy, and sports performance products.

AdvoCare offers you the opportunity to make money as an AdvoCare distributor, selling and promoting the AdvoCare nutrition and weight loss products.

AdvoCare was operated as an mlm business from 1993 to July 2019.

Today, AdvoCare distributors make money by promoting products to earn commissions. This is the same as distributor marketing.

To make money as an AdvoCare distributor, you just need to learn the affiliate marketing skills to promote AdvoCare products online.

AdvoCare distributors no longer make money from recruiting others.
NO FACE-2-FACE SALE – NO RECRUIT – JUST PASSIVE INCOME
CHECK OUT THIS #1 HOME-BASED BUSINESS
What Is AdvoCare?
AdvoCare is a family-owned company that manufactures and distributes vitamins, supplements, minerals, weight-management, and personal care products.
AdvoCare was founded in 1993 by Charles E. Ragus with headquarters in Plano, Texas.
From 1993 up to July 2019, the company distributed its product through an mlm network of over 624,141 independent distributors.
Then on May 17, 2019, AdvoCare gave a termination notice to all distributors that effective July 17, 2019, AdvoCare will shift from the mlm business model to a "direct to consumer" model, citing the FTC had taken issue with "how AdvoCare compensates its Distributors."
Today, AdvoCare business opportunity is not an mlm opportunity. AdvoCare has changed into an affiliate marketing business opportunity.
If you are interested in the AdvoCare business, I suggest you compare it with other home-based business opportunities before investing.
Unlock the door to financial freedom with the
#1 home-based business opportunity!
Discover a way to earn over $100K a year from the comfort of your own home.
Don't wait, click now to start your journey to success.
How To Join AdvoCare?
You don't need a sponsor to join AdvoCare. You can register directly at the AdvoCare's website.
However, the process of joining AdvoCare has changed. You must join as a preferred customer before you can upgrade to become a distributor.
You are not required to purchase a starter kit or product to join AdvoCare.
However, you must be a qualified distributor to build a business and earn commissions, which I'll discuss in the next section of this AdvoCare review.
How Much Does It Cost To Join AdvoCare?
The cost to join AdvoCare as a preferred customer is $19.
After becoming a preferred customer, you can upgrade to become a distributor for $59.00.
This means the total cost to join AdvoCare is $70.
You are also required to pay a $50 annual fee to maintain the distributor status.
Besides the initial investments, there are expenses to stay in business. These expenses include your time, marketing costs, travel expenses, and gas.
Other Affiliate Marketing home-based businesses, it is free to join and there's no annual fee to earn commissions.
Why pays to join the AdvoCare distributor program when you can do the same for free.
AdvoCare Compensation Plan
AdvoCare changes its compensation plan to the single-level compensation model, which means distributors are no longer allowed to sign-up or sell to other Distributors and cannot earn compensation based on the sales by other Distributors.
The AdvoCare changes effectively terminate all current distributors and turn them into affiliate marketers, earning from selling products only.
I'll provide a quick overview of the new AdvoCare compensation plan. To see it in detail just follows the link.
Now, the only way to make money with AdvoCare is selling products.
Make Money Selling AdvoCare
AdvoCare distributors start out with a 20% product discount and can work their way up to 30% when customers purchase directly from their replicated AdvoCare website.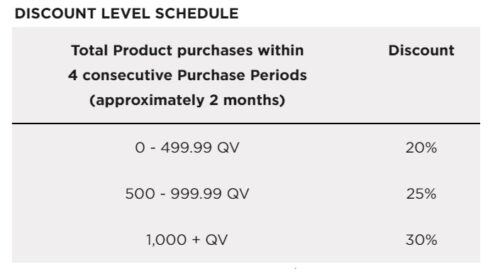 But the question is, can you sell AdvoCare products on the market?
I visited eBay, the famous online marketplace to dump mlm product, and I found over 1,000 of AdvoCare items selling for as low as $3.
This tells us many distributors are unable to sell AdvoCare products at the suggested retail price.
Overprice is the reason why you cannot make money selling AdvoCare products.
Make Money Recruiting Distributors
Under the new AdvoCare business model, distributors are not compensation for recruiting or purchases made by other distributors.
This is the biggest change of AdvoCare, which latterly terminated all distributors who had built their business based on recruiting.
There are a lot of unhappy and angry distributors after Advocate announced this change.
Yes, this is how mlm opportunities work. You have zero control over your business. You are in business as long as the mlm companies allow you.
As you can see, AdvoCare changes from multiple ways to earn to only one option to earn, sell the products for commissions.
Distributors who know how to promote their business online, through affiliate marketing, will survive the AdvoCare changes.
Those without affiliate marketing experience have to close their business.
Now, you understand why I always encourage current mlm business owners to start learning the affiliate marketing skill.
Can You Make Money With AdvoCare?
Yes, you can make money with AdvoCare as long as you change your business model from recruiting to affiliate marketing.
This is a big change for many distributors. Those already using affiliate marketing to promote their AdvoCare business online should be fine.
Distributors that built their business based on recruiting will see a big change in their paycheck. No more downline commissions.
The recent changes in the AdvoCare business model don't provide us enough financial information to evaluate the distributors' income.
Furthermore, AdvoCare hasn't released a new income disclosure statement (IDS). The only way to get a copy of the IDS is to request from AdvoCare the time of enrollment.
As a business review writer, I look to the actual incomes, the IDS, to evaluate an investment.
If AdvoCare refuses to provide you a copy of the income disclosure statement, don't join. This is a scam.
Is AdvoCare A Scam?
When AdvoCare changed its business model, many distributors felt cheated and rip-off. But this doesn't make AdvoCare a scam.
AdvoCare is an mlm business opportunity. The risk of owning an mlm business is the parent company goes under or change their business strategies.
You are responsible to carefully research, study, and investigate the AdvoCare mlm business opportunity before investing.
If you have properly conducted the business risk analysis, you should be prepared for this day.
Reading this AdvoCare Review is a good way to learn the risks and rewards associated with this business opportunity.
Many entrepreneurs hire professional financial analysts to evaluate a business profit and loss before investing.
As the owner of an Online Business Review, I have evaluated hundreds of mlm businesses to help investors discover the right home business opportunity.
As a business opportunity, AdvoCare is not a scam. It is a risky opportunity.
Is AdvoCare A Pyramid Scheme?
Mlm companies are legit if they follow the FTC guideline.
AdvoCare had indicated that the FTC was not approved of the way the company compensated distributors. This was the reason for the changes in the AdvoCare compensation model.
From this information, we can say AdvoCare was operating a pyramid scheme. The company quit the mlm business to avoid fine and legal action.
I personally feel all mlm opportunities are pyramid schemes. It is very likely that many of them will get shut down by the FTC or forced to change their business model like AdvoCare.
By removing the company from the mlm business model, AdvoCare has avoided being classified as a pyramid scheme by the FTC.
Is AdvoCare Worth It?
If you love AdvoCare nutrition and supplement products, then joining AdvoCare might be worth it for the discount.
If you are looking for a profitable business opportunity to make money from home, then becoming an AdvoCare distributor might not worth it.
Look, you can become an affiliate marketer for free. Why in the world do you pay $50 a year to earn commissions. AdvoCare should be paying you to promote its products. That's how affiliate marketing works.
However, the decision to join AdvoCare as a distributor is yours to make.
Look, you start a business to build long-term incomes.
You want to create a system that generates money far into the future. Isn't this the #1 reason you want to build a successful business?
There's a lucrative method which I and million of people have been using to generate six-figure passive income online.
I understand you are here to read this Advocare review.
However, I invite you to read this article talking about this #1 online business opportunity.
Here are my discussions on why:
You can use This #1 Home Business Opportunity to create a full-time passive income. You can work from the comfort of your own home and on a laptop, with no commute and no boss. You work whenever you want and where you like.
I invite you to read What I Do Every Day To Make Money At Home Online. Let me show you the real system of generating passive income.
I start a business to make money, not to get a discount on buying products.
AdvoCare is not a good opportunity.
But the final investment decision is yours to make.
I hope this review answers your questions, what is AdvoCare?
Until next time.
You can share your own AdvoCare review below.