This is a review of an all-in-one marketing platform called, Builderall.
Builderall offers every digital tool you need to build and grow a successful online business.
If you are running an online business, you understand the cost of third-party digital tools is skyrocketing. This can be a dream come true!
The unbelievable amount of marketing tools offers by Builderall, together with a rock bottom price, leaves many to wonder, is Builderall a scam? Or is Builderall any good?
Two great questions which will be addressed in this Builderall review.
Tired Of Scams And Pyramid Schemes?

Your Work From Home Opportunity!
The Builderall Review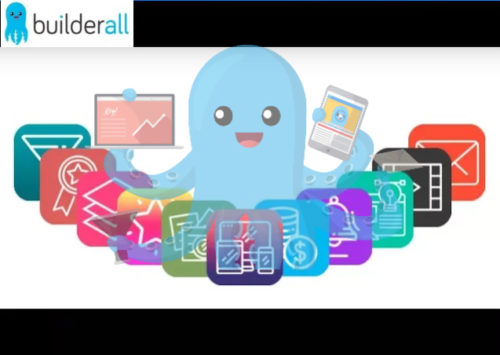 What is BuilderAll?
Builderall is an online digital marketing platform offering business owners an affordable way to market and promote their business online.
Builderall provides a solution to a big problem facing by all online businesses. The costs of building and operating an online business.
To operate a successful online business, you will need a lot of digital tools, tools to build the business as well as tools to promote the business.
Here a short list of tools that you need to operate an online business: web hosting with website builder, Email autoresponder, sales funnel, sales pages, landing pages, analytics, and so much more.
Now you can get all these tools with Builderall at a very cheap price.
Builderall also offers members the ability to make money by promoting their marketing platform to fellow online business owners.
The company promotes itself as a solution that every online business owner is looking for.
An all-in-one online tools platform that allows both beginners and experienced marketers to build their own online business at an extremely affordable price.
The cost for Builderall tools is so low compared to other services, it makes you wonder, is worth the investment.
Builderall Tools
Builderall considers itself to be a single platform that provides all the tools you need for your online business.
You can find the following digital tools inside the Builderall marketing platform.
Site Builder Tools
Builderall HTML5 Drag & Drop intuitive website builder can help you build professional websites, blogs, virtual stores, sales pages, lead pages, or any type of online marketing pages with a few clicks of the mouse.
With powerful built-in templates, you will be able to create everything by yourself saving business owners thousands of dollars from hiring professional site builders.
However, Builderall site design tool is not compatible with WordPress, the most popular web design platform online. This is one major disadvantage.
E-mail Marketing Boss
Builderall E-mail Boss allows business owners to quickly write and send highly converting, customizable e-mails campaigns to 10,000 subscribers with a guaranteed deliverable.
You don't have to pay any more for an autoresponder. You can use Builderall e-mail boss to create and develop unlimited autoresponder campaigns quickly and simply, apply behavioral triggers, manage leads using tags, and boost your conversions.
Design & Presentation Tools
Builderall design and presentation tools offer you a creative way to interact with website visitors.
The design tool can be used to create professional-looking cover images, posters, and presentation without spending hours using complicated photo editing apps.
The presentation tool allows you to build digital presentations which you can embed them anywhere on your website or blog.
Video Creator
Builderall video creator allows you to make both animated and floating videos in just a few minutes.
Creating animated video is easy and simple with Builderall. Say goodbye to the long learning curve. You can design your own characters or choose from Builderall hundreds of exclusive predesigned characters to create your video.
It only takes a few minutes to create an animated video which you can publish to your YouTube channel or Facebook Page.
The floating videos tool is a unique way of delivering a surprise, impressive, and powerful message to the website visitors. The process of creating a floating video is painless. Just record your message in front of a green screen, upload it to the Builderall floating video creator and the rest is history.
Apps Builder
You can easily build your own mobile App for both iOS and Android with Builderall App creator, just a few clicks of a mouse!
Creating an app allows your business to have a presence with cell phone users, and the ability to offer products and services directly to them. This way, you can bring your business into the hands of all mobile users.
Facebook Integration
This is a powerful way to build a business relationship with all the people that like or follow your business on Facebook. Builderall offers you several ways to Integrate Facebook with your website.
You can use this tool to capture leads, convert more sales, notifications, and apps integration on Facebook Pages.
Browser Notification
A powerful and effective way to stay relevant to your customers.
This tool allows delivering function notifications in a pop-up form to website visitors even if they're not on your website. Customer permission is required.
SEO Report Tool
Improve your website ranking and search results with Builderall SEO report tools.
This tool will provide you with all the information you need to make SEO changes and improvements to your website search performance.
Yes, you want your website to be indexed and ranked on Google. This tool will help you.
Click/Heat Map Tool
The best way to boost your marketing content is to understand what makes visitors click.
This powerful tool helps you identify areas of your website or blog that get the most activities, so you can place a call-to-action button in that area to increase sales and conversions.
There is a long list of tools for design, marketing, and automation available on Builderall platform. It is too long to give a full description of each of them. I am just providing you a short list here. If you want to see all the tools, you can visit Builderall.
The Tutorial – Knowledgebase
Builderall provides abundant tutorials on how to use each tool on the platform. There are over 200 video tutorials cover every feature of each tool for you to learn and apply to build your online business.
The videos are short and to the point making them easy to understand and follow.
Builderall all also has a Private Facebook Group and Weekly Live Training for members to learn and ask for support.
Builderall Affiliate Program
Members are offered an opportunity to make money with the Builderall platform through its affiliate program known as the commercial license.
The commercial affiliate license costs $49 per month.
Commercial affiliate partner can earn commissions from their own sales and the sales of their downline.
Builderall calls this as an online affiliate business opportunity.
I call this an online MLM scam.
Builderall is an MLM
Downline is a special characteristic of an MLM business model.
The reason MLM members need to build a downline because that is their main source of earning, not from the sale of the company products.
Builderall adopts the MLM business model to market its online business.
This tells me Builderall marketing tools are hype and no good.
The MLM business strategy is to use the home-based business opportunity for recruiting customers.
Members of the Builderall MLM program are required to maintain an active status to earn commissions. You don't have this with affiliate marketing.
Builderall is an MLM, not an affiliate marketing.
Builderall Training
Many online affiliate marketers that promote Builderall claims that the program offers training on how to build an online affiliate business.
This is a lie! It is not the truth.
Most Builderall training videos are tutorials on how to use their products.
The lessons for Builderall affiliate partners focus on teaching the process of building an online business to promote and market the Builderall tools.
Builderall teaches the affiliates how to create sales funnel to qualify prospects, using automation to build relationships and recruit others into their Builderall MLM team to grow downline to increase sales.
Builderall training does not teach affiliate marketing. It's more of a marketing plan to sell the Builderall MLM affiliate program.
If you want to see the business training program for yourself, you can sing up for a free trial account. This is how I gained access to the Builderall business.
Many Builderall promoters claim, 'Just make the initial sale and profit forever.' This sounds like MLM hype, not a real affiliate marketing program.
I used the 7 days free account to review and learn everything about Builderall business. When I discovered this is an MLM opportunity, I left quickly.
Here is a quick list of benefits Builderall claims in its affiliate program:
The Perfect Product
Everlasting Niche
High Demand and Real Application
100% Direct Sale Commissions
30% Recurring Commissions after the first month
100% Upsell Commissions
30% Commissions on all 2-Tier Sales
Recurring Monthly Income
Full Access to Resource Area
Over 20 Different Funnels
Lead Magnets
Automated Follow-Up Email Sequence
Earning/Commissions Control
Forum Support
Quick training for commercial partners
Access to Private Facebook Group
Active live chat on the sales page
Facebook ads model
Build an online MLM business using funnels
Builderall provides many features to help its affiliates promote the commercial licensing program.
Is Builderall Tools Any Good?
Below are my experiences using Builderall tools.
Builderall

Niche Funnels
These are ready-made funnels which you can use to start promoting Builderall products to social media networks and online advertising.
They include the following niches: Beauty salon, interior design, real estate, chiropractic, dentistry, home insurance, accountant, landscaping, and more.
These funnels already have content, landing pages, and training pages. There is very little left for the members to do except promoting them on social media.
Builderall

90 Day Challenge
This 90-day challenge funnel is specially designed to recruit new business partners.
This is how the process work: Builderall business partners would issue this 90-day challenge to their families and friends on social media with a link connecting directly to the funnel. When someone clicks on the link, it will take them to a training page with videos teaching how to make money promoting Builderall commercial license.
HERE IS THE TRICK – your 90-day challenge comes with a 7-day free trial account. After 7 days, you have to pay the $49 monthly subscription, or you will forfeit all commissions.
So, you can join the challenge. But to receive the commission, you have to become paid members. Builderall does not tell you this.
Many people signup believing that they have 90 days to build the online business, NO! This is not the case.
BuilderAll gives you a Car
Another Builderall current marketing promotion is giving you a car. To qualify, you have to become a business partner, paying $49 per month, and make 100 direct sales of the commercial licenses.
NO, you do not get a car for selling 100 Builderall products. You get a car if you recruit 100 new business partners. This sounds easy, but not easy to achieve.
Testimonials
Every Builderall website has tons of testimonies from people who have found success in the program. Like any MLM, I have no double that there are success stories, but I am also certain that this is less than 0.1%. The average MLM success is only 0.04%. You decide for yourself if this a good business opportunity.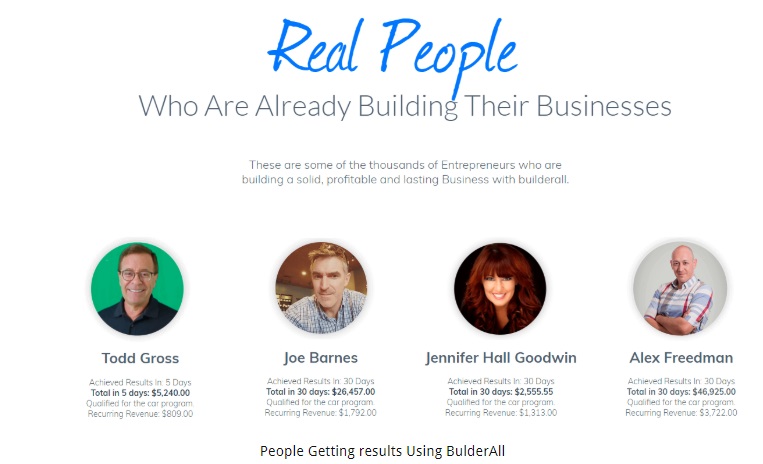 Builderall pricing

plan
Builderall offers three different prices:
$9.90 for Web Presence
These offers web hosting and web builder tools. You can use this plan to build a website for your business. This price does not include a domain name.
This web hosting service is a lock-in platform. This means you cannot import or export a website. More explanation below.
$29.90 for Digital Marketing
This plan allows you to use all the digital marketing tools listed above. You have no access to the web hosting platform and the Builderall business program
$49.90 for Builderall Business.
The business plan is a commercial license, which allows you to build an online business with Builderall. You have access to all the tools, including the opportunity to make commissions promoting the program.
There is an option to pay annually, $180.90 for Web Presence, $328.90 for Digital Marketing, and $548.90 for Builderall Business.
These prices are very reasonable and affordable, but you should know they come with certain limitations.
Builderall Complaint
The biggest complaint about Builderall tools is a lock-in platform. This means you cannot move or change your online marketing services if you change your mind, or Builderall goes out of business.
You are forced to stay with Builderall for the rest of your business life. This is a major commitment.
If Builderall does out of business, you are forced to close your online business. You cannot move to another platform. You can potentially lose everything.
Experienced affiliate marketers hate lock-in platforms like Builderall. Many choose WordPress because using this opened platform allows them to move their site with ease. 
Builderall Alternative
Having the opportunity to use the tool with Builderall 7 days, I must tell you that I am not very impressed.
Now I understand why Builderall uses the multilevel network marketing (MLM) model to promote its business.
Since Builderall tools are inferiors to most of the tools currently available online, I don't want to waste your time making comparisons.
If you want to use a cheaper version of tools, then use Builderall. If you prefer using a more stable and bug-free tools, you use ClickFunnels, ConvertKit, or LeadPages to run your online business.
However, there are two areas that I like to discuss in this Builderall Review: the comparison again WordPress and Affiliate marketing training programs.
Builderall vs WordPress
Both software is designed to help people build websites. However, there are major differences.
I disagree with many online reviewers that Builderall has more advantages over WordPress. They compare them as a web hosting service which WordPress is not.
WordPress is a Content Management Software (CMS), so I will stick with this comparison.
WordPress powers more than 28% of all websites globally. It has thousands of free and paid plugins. The Builderall site builder has none.
People like Builderall drag and drop design functions and tools because they don't know WordPress has hundreds of plugins that can do the same.
With WordPress, you can import and export your website more freely. You cannot do this with Builderall. You are stuck with this platform.
You can potentially lose all your content if something goes wrong with Builderall.
As an affiliate marketer, content is your online business assets. It takes a long time and a lot of time to create and rank content.
If you cannot back up and move your content when something goes wrong, you are out of business. I am not willing to take this risk.
Builderall Vs. Wealthy Affiliate
Builderall is not a training platform for people that want to learn the process of building a successful affiliate marketing business.
Wealthy Affiliate is a training platform teaching affiliate marketing.
Builderall is a platform that provides marketing tools. It focuses on teaching people how to use their tools to build a website, e-mail marketing campaigns, and sales funnels, not the business of affiliate marketing.
On the other hand, the Wealthy Affiliate training program teaches the step-by-step process of making money online.
It teaches you how to choose a profitable niche, how to create SEO content, how to generate traffic to your website, and how to monetize the business website.
All affiliate marketing training lessons are completely different from Builderall.
If you are interested in learning how to build an online business, you need a training program that specifically designs to teach people how to make money online.
Builderall is designed to help online businesses owners cut costs.
Is Builderall worth it?
Builderall is not for everyone. The tools are designed to help people promote and market their existing online business.
Builderall is worth it for existing business owners.
If you have an existing online business, Builderall might be a good option for you. This all-in-one tool platform can save you hundreds from purchasing each tool separately.
You get everything integrated into one secure place to operate your business.
However, you must be willing to lock-in your business with Builderall.
Builderall is worth it for experienced affiliate marketers.
Experienced affiliate marketer who want to promote Builderall tools, this is a good source of online income for you.
You can join the Builderall affiliate program and pay the $49 per month to use the tools to promote the Builderall platform.
However, you will not be able to transfer your existing website to Builderall because of platform incompatibility. Unless, you want to rebuild the entire website, which I think is an unwise business decision. Read more …
Builderall is worth it for marketing agencies.
Marketing agencies help business clients on advertisements, promotions, and brand building through online marketing. Builderall has all the tools that will allow them to achieve these business objectives at an affordable price.
Using Builderall, marketing agencies can cut costs for themselves and their clients. Read more …
But you have to disclose to your clients that Builderall is a lock-in-platform. They must have a Builderall account to use the tools.
Builderall is not worth it for those looking to learn the affiliate marketing business.
Builderall is an MLM program, not an affiliate marketing training program. It will not teach you how to build a successful affiliate marketing business.
Builderall advertises itself as a tool platform to help online business owners cut expenses.
You should not confuse between an affiliate marketing training program with Builderall marketing tools.
One is a training program, the other is digital tools for you to promote an online business.
Builderall offers you an opportunity to make money by becoming an affiliate partner. But an affiliate partner of an MLM opportunity.
Builderall training lessons and videos are focused on teaching people how to promote and sell Builderall tools for commissions.
Builderall doesn't worth it for those looking to learn affiliate marketing.
The Real Affiliate Marketing Training Programs.
The process to make money online has a different training track compared to Builderall.
The most popular is 'the 4 steps to affiliate marketing success.'
A quick review of the 4 steps: Find a niche, build a website, and create content, web traffic techniques, and website monetization. Builderall does not have any lessons related to these steps.
A few of the best affiliate training programs are Wealthy Affiliate, Affilorama, and Super Affiliate. These programs offer extensive lessons on the process of building an online affiliate marketing business with a strong record of success.
A program that I recommend to newbies and beginners is the Wealthy Affiliate University.
I like this training program because it has a free membership account, allowing people to test first before registering as a student.
If you want to learn affiliate marketing, Builderall is not for you.
I suggest you register for a free account with Wealthy Affiliate University to learn basic affiliate marketing before joining the Builderall MLM program.
Before investing in any online program, you need to understand what it's about. Builderall is a digital marketing tools platform, not a training program.
Builderall MLM is not an online business opportunity.
I invite you to read "What I Do Every Day To Make Money Online" to learn the differences.
It is more enjoyable to make money doing what you love, than joining the an MLM scam.
I hope this Builderall review answers your question, is Builderall a scam?
Until next time. Please share your own Builderall experience below.