It's not easy to make money as an Optavia Coach.
I am not saying Optavia is a scam.
It becomes harder and harder for you to build an MLM business through face-to-face sales and recruiting.
Fewer and fewer people are willing to invite you into their home for a business meeting.
Today, MLM business owners must use the internet to build their businesses. Many of them start a blog site and use MLM Affiliate Marketing to promote and recruit downline.
Are you thinking about joining the Optavia MLM business opportunity?
I invite you to read this Optavia review to find out what I have discovered about this MLM business opportunity.
Tired Of Scams And Pyramid Schemes?

Your Work From Home Opportunity!
Optavia Review Summary
You can join the Optavia MLM business to make money from home selling weight management products and recruiting others to join your team.
Optavia pays Coaches commissions based on product sales and team sales.
Under Optavia unilevel compensation plan, the best way to make money is recruiting coaches, not selling products.
The MLM business strategy is to recruit coaches, then require them to purchase products every month to stay active and receive commissions. This is how you make money.
The recruiting activities require a face-to-face sales meeting, which most people hate.
Everyone loves virtual or online meetings. Face-to-face selling is a dead business.
NO FACE-2-FACE SALE – NO RECRUIT – JUST PASSIVE INCOME
CHECK OUT THIS #1 HOME-BASED BUSINESS
What Is Optavia?
Optavia is a popular Health & Wellness MLM company that promotes and sells the 5&1 diet plan. You can achieve weight loss by consuming five of Optavia's "fuelings" and one low-calorie "lean and green" homemade meal per day.
The Optavia fuelings are meal replacements that you must purchase from the company to stay in shape.
Optavia fuelings are not available in retail stores. You have to purchase them from an Optavia Coach, which you can become one by joining the Optavia MLM program.
As an Optavia coach, your business is to recruit people to join Optavia diet plans and consume a lot of Optavia Fuelings. The more they eat and drink Optavia products, the more money you make.
Unlock the door to financial freedom with the
#1 home-based business opportunity!
Discover a way to earn over $100K a year from the comfort of your own home.
Don't wait, click now to start your journey to success.
Optavia History
Optavia is owned and operated by Medifast.
Medifast was initially known as HealthRite, founded in 1980 by Dr. William Vitale. The company changed its name to Medifast in 2001.
In 2002 Dr. Wayne S. Andersen and Bradly T. Macdonald created the Take Shape For Life diet program to promote and sell Medifast meal replacements 'Fuelings'.
Take Shape for Life was rebranded in 2017 to Optavia.
Optavia is an MLM program created to sell weight-loss products invented in 1980.
Doesn't this make you wonder what makes people so crazy about the diet products that no one wants in 1980?
Is Optavia Safe?
Optavia is safe. This meal replacement diet program uses products created in 1980. The products have been on the market for over 40 years.
You can only purchase the Optavia diet plans after meeting with a coach.
The company has three popular diet plans for you to choose from:
The Optavia 5&1 plan requires users to consume five meal replacements "Optavia Fuelings" and 1 low-calorie meal daily.
The Optavia 4&2&1 plan requires users to consume four meal replacements, 2 low-calorie meals, and 1 snack daily.
The Optavia 3&3 plan requires users to consume three meal replacements and three low-calorie meals daily.
These diet plans are designed to sell Medifast products.
Optavia Coaches are trained to convince users to select the 5&1 or 4&2&1 plan. The more fuelings you consume, the more money they make.
Can you see why the 5&1 plan is the most popular choice?
Optavia offers over 60 different meal replacement items. These foods include bars, cookies, shakes, puddings, cereals, soups, pasta, and more.
Optavia fuelings are low in carbs, but high in fiber and protein.
The cost of Optavia diet plans is from $350 to $425 per month, depending on the plan you choose.
Since this is the review of the Optavia MLM business opportunity, I will focus our discussion on the business opportunity as an Optavia Coach. I will not review the effectiveness and safety of the Optavia diet plans.
However, I like to share with you the $3.7 million settlement that Medifast was ordered to pay the FTC for false advertising. The company falsely claimed that you could "lose up to 2 to 5 pounds per week" with the 5&1 plan.
Is Optavia An MLM?
Optavia is an MLM company using the 1-on-1 coaching program to sell meal replacements.
Optavia Coaches make money by inviting (recruiting) people to join their diet plans. Coaches are expected to purchase and consume the products that they promote.
Optavia MLM business works by recruiting people to join the Optavia diet program.
As more people joining your team, they will purchase more Optavia products from you.
New Coaches are encouraged to recruit 3 people into the Optavia diet program every 30 days.
Rank promotions are based on the number of recruits and total products ordered by your team every month.
This MLM business is a recruiting business that requires a face-to-face sales meeting.
Today, face-to-face selling is not a favorable business model.
Is Optavia A Pyramid Scheme?
Many people agree Optavia is not a pyramid scheme because the company offers real products, meal replacements. It's an interpretation of the US laws defining a legit MLM.
When you ask, is Optavia a pyramid scheme? You mean, can I make money with Optavia MLM.
The truth is, Optavia MLM business opportunity is a marketing scheme to sell Medifast products, "recruiting to sell."
According to Optavia Income Disclosure Statement, 90.17% of Coaches earned less than $10,000 per year in 2019.
Only a small group at the top of Optavia MLM makes money.
Doesn't this MLM look like a pyramid scheme?
How Much Does Optavia Program Cost?
Optavia coaches have to pay two types of costs to join the Optavia program.
The first cost is the price of your diet plan. As I have stated earlier, this costs between $350 to $450 per month.
To become the Optavia coach, you must purchase a business kit. This kit costs $199.00 for the first year and $99 every year to renew your MLM business.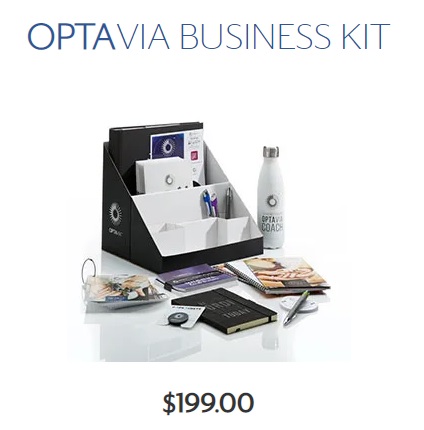 Above are the initial costs to start an Optavia MLM business. There are business operating expenses, which you must add to the business every month.
I understand that it costs money to start a business.
But can you recover the investment costs working Optavia?
How Much Do Optavia Coaches Make?
Optavia claims, by false advertising, that you could potentially earn between $1000 – $2000 by recruiting just 11 to 17 people every month.
But when you look at the disclaimer, the company calls this a hypothetical that does not include expenses incurred by Coaches to recruit people.
You should never rely on this MLM company marketing material to evaluate how much do Optavia Coaches make.
You need to look at the Optavia Income Disclosure Statement (IDS) to understand the actual income Optavia Coaches make each year.
According to the Optavia IDS report, over 90% of coaches earned less than $10,000 in 2019. Only 7% of Optavia coaches earned above $1,000 monthly income in the same year. These were gross incomes.
After taking out taxes and expenses, your chance of making $1,000 per month with the Optavia MLM is less than 1%.
Do you know why it's so hard to make money with the Optavia MLM?
The answer is in the Optavia compensation plan.
Optavia Compensation Plan Review
Optavia uses the unilevel compensation plan to reward its coaches.
The compensation was designed with a high level of confusion that it's difficult for you to determine the exact commission rate.
I will review the important parts of the Optavia compensation plan. You can download a copy from the link above to study in-depth.
To determine your commission rate, you need to know that Optavia doesn't pay commissions based on the dollars. The company uses the product's Compensation Volume (CV) to calculate commissions.
Compensation Volume (CV) are the points that the company assigns to each product. You will need the product CV list to determine your commissions on each sale.
Here's how this work in real life:
You sold an Optavia item for $100 with 70 (CV). Coaches earn 15% on personal each order. Your commission for this sale is $10.50 (70 CV x 15%), not 15. Your actual commission rate is not 15%. It's more like 10.5%.
Can you see why Optavia using the CV not dollar to determine your commission?
Yes, it fools people into thinking that they are earning higher commission rates.
Once you understand the Optavia commission trick, let discuss the 3 ways coaches make money with Optavia.
Client Support Income – This is commission payments from personal sales and recruits.
Team building Income – This is team commissions residual income.
Leadership Development Income – These are leadership bonuses.
As a new coach, your primary incomes are from Team Building and Client Support.
You must reach the rank of the Regional Director to earn the Leadership Development Income.
The Regional Director must generate at least $20,000 worth of product sales every month to qualify. It's impossible to achieve this as a new business.
Since we're already talking about ranks, you should know the Optavia ranks.
Ranks play a big factor in determining your income working as an Optavia coach.
Optavia Ranks
Optavia has 15 Ranks:
COACH
SENIOR COACH (SC)
MANAGER
ASSOCIATE DIRECTOR
DIRECTOR
EXECUTIVE DIRECTOR (ED)
INTEGRATED EXECUTIVE DIRECTOR (FIBC)
REGIONAL DIRECTOR
INTEGRATED REGIONAL DIRECTOR
NATIONAL DIRECTOR
INTEGRATED NATIONAL DIRECTOR
GLOBAL DIRECTOR
INTEGRATED GLOBAL DIRECTOR (FIBL)
PRESIDENTIAL DIRECTOR
INTEGRATED PRESIDENTIAL DIRECTOR
The commission rates increase as you advance in rank. I suggest you look at the compensation plan to know the rank qualification requirements.
I can tell you the way to move up the ranks is by recruiting others to join Optavia.
Now we can discuss your income potential working as an Optavia coach.
Client Support Income
You receive a 15% commission on purchases by your direct recruits.
You earn an additional 5% commission when your monthly sales volume is above $1,200.
Once you become a Certified Optavia Coach, you get paid another 3% commission.
The Maximum commission rate that you can earn for Client Support is 23%.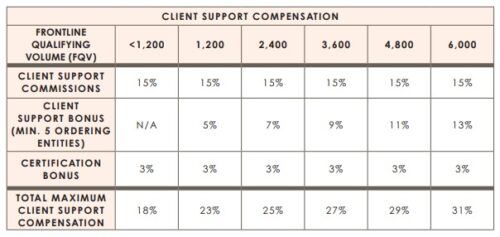 Team building Income
You do not qualify for this income until you have achieved the rank of Senior Coach.
Senior Coaches are Optavia coaches that have recruited 5 coaches with a minimum monthly sales volume of $1,200.
Once you qualify as a Senior Coach, you will earn between 2% to 12% team commission based on your rank up to 6 levels.
Many people look at the Optavia compensation plan and think the 23% commission rate is great.
But remember, you are not earning commissions on every dollar of sale. You earn commissions on the CV of the product which is a lesser value.
Do you know I earned 50% to 70% of commissions for products and services that I promote online?
Low commission rates are the reason you will have a hard time making money with Optavia.
If you want to earn the best commissions, I invite you to read how I make money every day online.
Is Optavia A Scam?
You must agree with me that Optavia meal replacements are expensive.
It is very difficult to promote and sell overpriced products. But this doesn't make Optavia a scam.
Optavia is a legit MLM business opportunity.
Legit doesn't necessarily mean you can make money.
You must understand that the Optavia MLM business strategy is to recruit and convert.
You recruit coaches into your team to sell them the Optavia diet plans. If you cannot recruit, you will not make money.
Recruiting is not an easy business. Only a few can achieve success with this business.
Even though Optavia is not a scam, but your chance of achieving financial success is less than 1%.
Final Review of Optavia
MLM business is a dying business.
Today, people don't want to invite strangers into their homes for a sales meeting.
How can you sell the Optavia diet plans if people refuse to meet with you face-to-face?
Most MLM business owners have adopted the internet to recruit and build their businesses. But MLM is not the right business model to make money online.
Let me ask you this question, why do you start a business?
To make money, right?
To make money you must invest in a profitable business opportunity.
There's a lucrative method that I and millions of people have been using to generate six-figure passive income online.
I suggest you read these articles explaining why:
You can use This #1 Home Business Opportunity to create a full-time passive income. You can work from the comfort of your own home and on a laptop, with no commute and no boss. You work whenever you want and where you like.
I invite you to read What I Do Every Day To Make Money At Home Online. Let me show you the real system of generating passive income.
I hope this Optavia review answers your question, is Optavia a scam?
Until next time.
Please share your experience below.