This is a review of TextbookRush.
Every year, TextbookRush makes millions buying, selling, and renting textbooks to students.
The company purchases used textbooks at a deep discount price to resell or rent them for profits.
Are you planning to sell or buy from TextbookRush?
Or worse, you have sold textbooks to make a few dollars from home. But TextbookRush refuses to pay.
The company accuses you of selling counterfeit books.
How can this be?
You bought those textbooks from the school.
You thought TextbookRush is a legit company.
You now have lots of questions about TextbookRush.
You want to know, 'Is TextbookRush legit or scam?'
Tired Of Scams And Pyramid Schemes?

Your Work From Home Opportunity!
TextbookRush Review Summary
TextbookRush is the alternative to school bookstores.
Students rely on TextbookRush to sell used books, buy cheap textbooks, and even rent books.
The company makes millions every year buying and reselling used textbooks.
TextbookRush is a way to get some cash for your unwanted textbooks.
Lately, TextbookRush has been using the 'Counterfeit Policy' to confiscate textbooks without paying for them.
Is TextbookRush using the counterfeit policy to scam students?
Should you even trust TextbookRush?
Don't waste your time. TextbookRush is a good way to make money.
NO FACE-2-FACE SALE – NO RECRUIT – JUST PASSIVE INCOME
CHECK OUT THIS #1 HOME-BASED BUSINESS
What Is TextbookRush.com?
TextbookRush is an online used bookstore that buys, sells, and rents used textbooks.
The first TextbookRush store was opened on the campus of The Ohio State University in 1994.
In 2001, an online used textbook store was initiated under the name TextbooRush.com.
TextbookRush's current headquarter location is at 802 Avondale Ave, Grandview Heights, OH.
At the time of writing this review, TextbookRush estimated annual sales revenue is $17 million with 92 employees.
TexbookRush.com has been in business for more than 16 years. No scam will last this long.
The controversy regarding TextbookRush's counterfeit policy starts when the company decided not to return counterfeit textbooks to students.
Many students accused TextbookRush of using the counterfeit designation to steal their textbooks.
Is this true?
Can a legit company, TextbookRush, do this?
How can TextbookRush continue to earn the trust of its customers?
Unlock the door to financial freedom with the
#1 home-based business opportunity!
Discover a way to earn over $100K a year from the comfort of your own home.
Don't wait, click now to start your journey to success.
How Does TextbookRush Work?
TextbookRush is a one-stop shop for students to buy, sell, or rent new and used textbooks, ebooks, video games, and movies at outstanding prices.
Buying or selling textbooks at TextbookRush.com requires a simple registration for a free account to track your orders.
We don't need to review the purchasing process at TextbookRush.com. This is a simple online transaction.
The process of selling your textbooks to the store is complicated and confusing. TextbookRush can keep your book without paying you a dime.
You have two options to sell textbooks. You can sell in the TextbookRush marketplace, or you can sell TextbookRush.com.
TextbookRush Marketplace
TextbookRush marketplace is a vendor platform allowing you to list, sell, and ship textbooks directly to students.
The fee to use the TextbookRush marketplace is 15% of the sale price. The company provides shipping credits of $2.99 (standard) and $5.49 (expedited) directly to you.
TextbookRush BuyBack Program
People choose to sell textbooks to TextbookRush to avoid the hassle of shipping and customer supports. This process begins with a visit to the TextbookRush buyback program.
You use the buyback page to check if TextbookRush buying the title at that time by entering the ISBNs or UPCs numbers.
TextbookRush offers you a quote for the textbook. This is just a quote, not the price that the company will pay you. I'll discuss more on this later.
You accept the quote and add the textbook to the buyback cart.
You cannot sell your books unless the buyback cart reaches at least $15 or more. You can sell more textbooks to meet the requirement.
The next step is sending your textbooks in for payment. If you are new, you will be asked to create an account. You are also required to select the method of payments: check, PayPal, or store credits.
Then you submit the buyback for a free shipping label.
The last step is printing the TextbookRush free shipping label and send in the textbooks.
Then wait for your payment.
TextbookRush Sell Books
TextbookRush buys used textbooks to resell for profits.
You receive roughly 21% to 25% of the original price, it all depends on the demands.
TextbookRush resells the books up to 100% markup on the purchase price.
Yes, used textbook buyback is very profitable. TextbookRush generates millions every year with the textbook buyback program.
Students are going around college and university campuses, buying used textbooks to sell on TextbookRush. As you can see, this is not a good option to make money, lots of work with tiny profits.
Are you looking for ways to generate a full-time income from home?
I invite you to read "What I do every day at home to earn a full-time income online."
TextbookRush Rental
Students who cannot afford to purchase the required textbooks will use TextbookRush rental.
The rental process starts with entering the ISBNs or UPCs numbers.
TextbookRush.com provides you a rental quote for three months. The company offers rental prices range from 10% to 50% of the textbook retail value.
If you accept the rental, you enter into a textbook rental agreement with TextbookRush.com.
TextbookRush offers free shipping and returns on book rental.
Renting a textbook is like renting a movie. You must return when it's due or pay the late fee.
TextbookRush.com charges a $9.99 late fee + tax. This extends your due date for an additional 10 days.
If you fail to return the rental textbook within the extended due date, TextbookRush will be automatically converted the rental into a sale. It will charge you for the full retail price.
Is TextbookRush legit?
TextbookRush is a legit online bookstore.
According to some long-time users, TextbookRush is a go-to place to buy and sell used textbooks.
However, this is no longer true.
Many students testify that they no longer have trust in the TextbookRush buyback program. They point to the 'Counterfeit Policy' as their biggest concern.
Under the counterfeit policy, TextbookRush can keep your textbooks without paying you.
There is no opportunity to prove or defend yourself, even if you purchased the textbook from a legit source.
TextbookRush is fighting counterfeiting and copyright infringement.
But it seems this policy is one-sided, benefiting TextbookRush.
I include recent complaints on Trustpilot involving the counterfeit policy from TextbookRush buyback.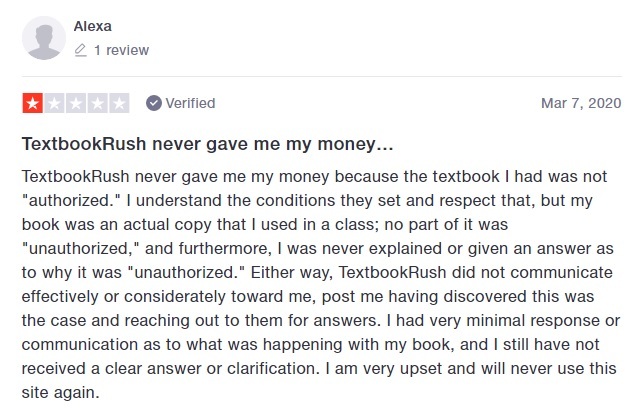 Students accused TextbookRush.com of using the counterfeit policy to scam them.
They consider TextbookRush as not trustworthy or safe to do business with.
I feel the frustration of those losing their textbooks.
On the other hand, the number of complaints on this issue doesn't give rise to the level of scams.
However, TextbookRush has used an unfair process to confiscate textbooks. They don't allow the students an opportunity to prove that the textbooks are legit.
I agree with many of you on this. It's not safe to do business with TextbookRush. You can end up getting nothing selling your used textbook to this company.
As a successful Online Business Reviewer, I have evaluated hundreds of online businesses to expose scams.
I can tell you, 'TextbookRush is legit, not a scam.'
However, you need to be careful when participating in the TextbookRush buyback program.
Is TextbookRush Trustworthy?
When buying textbooks from TextbookRush, I believe you are safe. TextbookRush.com offers a 21-day return policy.
Here's a warning to those selling used books at TextbookRush.com, you stand to lose a lot with the counterfeit policy.
I understand you are trying to sell unused books to raise some cash for the bills.
But I think you should not waste your time with TextbookRush.
Selling textbooks is like doing Online Surveys for cash. You will never make enough to pay the bills.
Do you want to earn a full-time income online from home?
Let me ask you,
Why do you want to make money?
To earn extra cash, be your own boss, or quit your corporate job?
But to make money, you look for a real home opportunity that pays a consistent income.
Selling textbooks are legit, but TextbookRush is not a good opportunity to generate consistent income.
To be honest,
You are looking for an opportunity that generates long-term income.
You want to make money far into the future, not just for a few dollars here and there. Isn't this the #1 reason you search for a legit online opportunity to make money from home?
There's a lucrative method that I and millions of people have been using to generate six-figure passive income online.
You must read my #1 recommended online business opportunity.
Can you write?
If your answer is "YES", then why not use this skill to start your own highly lucrative online writing business, TODAY!
Selling unused textbooks to TextbookRush to clean out your junk is fun.
It should not be a concern if TextbookRush keeps the books.
However, if you are selling textbooks to raise some money. Yet! The counterfeit policy is very unfair.
Listen, there are lots of legit opportunities that you can earn better pay compared to TextbookRush.
I choose This #1 Work At Home Job Opportunity to build my fortune. Yes, I have to invest time and effort into this opportunity. But the income is consistent.
Selling use books to TextbookRusk.com is for fun. I have to throw the books in the trash anyway!
I am working from the comfort of my home and on a laptop. No driving around town and no boss. I work whenever I want and where I like.
Don't waste your time with TextbookRush, read "What I Do Every Day To Make Money At Home Online". You will make more money in a few hours than selling used textbooks.
I hope my TextbookRush review answers your question, is TextbookRush legit or a scam?
Until next time.
Please share your TextbookRush experience below.