Viral Cash App, is this real or another scam work from home business opportunity by Matthew Neer?
The Viral Cash App system, an automated app, will connect you with free internet resource worth over $70 billion dollars. It is from this resource you can make lots of money online by sharing automated viral videos.
Viral content marketing has been around for years. It is a great way to promote products and services.
The idea is to attach products and services with viral videos to push them in front of potential customers.
Applying the viral content marketing technique, Viral Cash App promises to provide members' with viral videos, affiliate networks, and billion dollars audience for them to share the viral videos and make money online.
This is a big promise, but the question is: can Viral Cash App delivered the cash? This Viral Cash App Review is a full business analysis to answer this question.
I will apply the fundamental online business process to analyze and evaluate this business opportunity.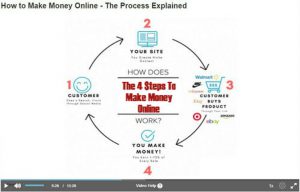 If you are new or unfamiliar with the 4 fundamental steps making money online process, Click Here to Learn More, or watch the short video on the right describing 'The Process of Making Money Online.'
Every real work from home business opportunity must meet these four fundamental business steps, no exception!
What Is Viral Cash App Review?
Viral Cash App is an online hosting platform with a website builder application to help members' create an online business website that contains viral funny video contents. The way of making money online with viral cash is by sharing the viral website on social media networks.
This work from home business is marketed as a complete online business package where everything is done for you through an automated app. There is no need to purchase a domain name or web hosting services.
How Viral Cash App works?
To make money online with viral cash app, members' just need to follow these 5 simple steps once log into the app platform:
Select a niche or category for the business website

Pick keywords to create video contents for the viral website

Add affiliate links from affiliate networks to the viral videos

Click done to create the viral website

Share the viral website on social media networks to generate viral traffic and make money online
After completing the 5 steps above, you can sit back and watch money pouring in from those affiliate links. You make online money every time someone watches and share the viral videos that you have posted on social networks.
According to Mr. Neer, using Viral Cash App anyone can make millions online without doing anything. The viral cash system is an automated Viral App Siphons Profit From $70 Billion Dollar FREE Source.
However, this real-work from home business opportunity is not available to everyone.
How To Join Viral Cash App?
You must be qualified to join this real work from home business opportunity. The qualification requirements are:
1. Basic computer skills are required to copy and paste contents
2. The ability to watches and share videos on social networks
3. Follow the training to produce and share at least 10 viral videos inside the Viral Cash App platform
If you meet all these requirements, you are qualified and can start making money online with Viral Cash App after paying the $47 membership fee.
Now let us review the Viral Cash App in term of real-world application and the chance of making millions online.
A Business Review Of Viral Cash App
Every business system sounds good in theory, but, it might not work.
This Viral Cash App review will apply the real world business practice to see if this program can generate online income for you as an investor.
Every member, upon joining the Viral Cash System, is asked to: steps 1 choose a niche, step 2 create website contents, step 3 promote contents, and step 4 monetize through affiliate links.
Let break it down to see if Viral Cash App can deliver the cash.
Choose a niche
Viral Cash App starts by asking new member to choose a niche, or category, to start building an online business. This is a good step.
Every online business must start with a profitable niche, but not all niches are good for starting a business.
Viral Cash App makes starting an online business easier by allowing you to select a profitable online niche from chosen categories. This saves you a lot of times from finding your own profitable niche.
Viral Cash App automated web builder application sounds like a good option for non-technical people.
You do not need to purchase a domain name and a hosting package. Both are provided to you inside the Viral Cash App system. This saves you a lot of money from the start.
Sharing a hosting plan does have some disadvantages, the biggest is that you do not have your own website. Every member of the Viral Cash App owns a piece, or a page, of the website. This is not good.

The Viral Cash App makes it easy for you to launch a business online, but you are not the sole owner of the website. If you are not the owner of the business website, you are not the owner of an online business that you have just created. Your website is your business assets without this you have nothing.
Website content creation is another most difficult and costly process for every online business. Many online entrepreneurs fail at this stage.
Viral Cash App helps you to create viral contents for your business website. This is important because contents are the fundamental engine to generate web traffic and money.
Using Viral Cash App every member can create content for the business website with a few clicks of a mouse, saving you lots of time and money in creating your own contents.
However, Automated website contents reduce the initial costs of investment, but they add no value to your online business. This is why real work from home business will not use this method to create viral contents.
Automated contents are duplicated contents. This means every time a Viral Cash member creates 10 viral videos, he is making a duplicated of the same 10 videos that other members' have posted and shared online. As more and more people duplicate the same contents, their value will be diminished.
Viral contents require unique, fresh, and original materials. The original content is viral content, but the duplicate content is not. This is a problem.
Promote Viral Website On Social Media Networks
Viral Cash App provides you with online lessons on how to share your viral videos to a $70 billion free traffic sources to earn millions online.
Free web traffic is the golden ticket for making money online because of traffic equal to cash.
As a member of Viral Cash system, you get access to training lessons on how to share your videos on social media networks hoping one of those videos will go viral, generating millions of traffic to your website.
Sharing and posting on social media networks are the way to generate free traffic. This is not a secret!
Viral Cash App doesn't have any special or unique techniques to share and post content online. Posting and sharing manually is time consuming and not an efficient way to create a social media viral.
A viral happens when millions of social media members' share and comment on your videos. Sharing the same video by yourself over and over on social media networks is not viral. It is called spam!
Real work from home business should not encourage members' to Spam. It is a bad business practice.
Make money online through affiliate links
Making money with your own viral contents is the most exciting moment for every online entrepreneur.
The way to make money online as an affiliate marketer is by earning a commission from your affiliate links. This is called Website Monetization.
The Viral Cash App will teach you how to add affiliate links to your viral contents. This is very helpful to newbies. But adding affiliate links are only half of the process to make money online.
You make money when someone clicks or purchase something through the affiliate links. If a personal watch the viral videos and do nothing, you earn nothing.
The reality is this, not every viral content will generate income online. Viral contents only generate free traffic.
An online business must convert free traffic into customers to make money. If it cannot convert the traffic, then the business has no customer.
Viral Cash App falls short on this. This work from home business relies solely on viral videos to generate sales.
Let me ask you this: "How many times did you purchase something right after watching a viral video?" I never did!
Viral contents alone are not enough to generate money online. You need a call to action that convinces viewers to click or buy something through the affiliate links. The Viral Cash system does not have a 'Call to Action.'
Can You Make Money With Viral Cash App?
The answer is yes, but not the millions promised by Viral Cash App.
Viral Cash App can only deliver on two of the 4 fundamental steps to make money online.
This work from home business opportunity makes it easy for members' to choose a profitable niche and create a business website, but fails in delivering real viral contents and a call to action.
Viral contents must be unique and original, duplicate contents are just the copies of the real deal! Nobody cares for them. 
Every business knows that viral contents are a marketing technique to generate free traffic. It is not a sales generating tool.
To make a sale, you must convert traffic into customers through a funnel system or a call to action. Basically, you are guiding the viewers to perform a specific action for you such as click on this link or purchase this product.
You will not make a lot of sales relying solely on duplicate videos. They will not generate enough online income for you to quick your job.
Is Viral Cash App The Real Work From Home Business Opportunity?
Viral Cash App can be a real work from home business opportunity if Mathew Neer willing making some changes to the system, especially adding lessons on how to create original viral contents? And how to create a sale funnel or a call to action?
Because Viral Cash App misses the two most important fundamental business steps, it is not a good business opportunity to join.
There are other real works from home business opportunities for you to join such as Click Bank Affiliate Program, Super Affiliate System, Affilorama, and Wealthy Affiliate. All these programs have a strong business model and training programs to help you make money online.
Viral Cash App vs. Real Work From Home Business
Viral Cash App is not a good program to build your home-based business. This program does not provide enough knowledge and skills for you to build a successful online business.
You need to join a training program with proven track records of helping entrepreneurs succeed online to improve your chance of success.
I have been building online businesses for decades. Here's my profile. My success is the result of my ability to identify real work from home business opportunities vs. scam.
Viral Cash App is not a scam because you do receive an automated website and some online lessons with the membership. The problem with Viral Cash App system is you will not make lots of money online from viral videos.
If you really want to make money online, here are my personal recommendations:
I use these 10 Free Affiliate Marketing Lessons to start a successful real work from home business. You can join and try it out for free to see what the real work from home business program look like before purchasing Viral Cash App.