Is Ambit Energy A Pyramid Scheme – Ambit Energy Review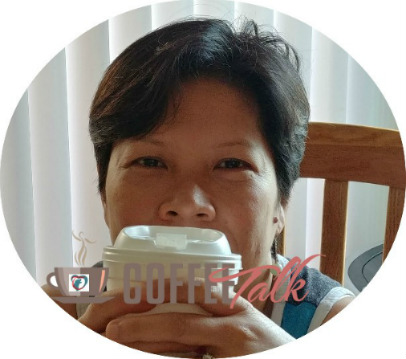 I'm TQ, a mom and owner of this successful Writing Business.
Yes, I make passive income with affiliate links when I write. Isn't that amazing? Want to learn? Join My Free Training!
As I drove home after dropped off my kids for summer camp,
I noticed something unusual,
I told Hubby, "Those power lines are so low, almost touched the ground… Isn't that dangerous?"
No… those are not live… I think they are running new lines.
Oh, by the way,
I just thought of something.
What? I asked.
Did you write a review on Ambit Energy?
No, I don't even know anything about the company… But why you ask?
Well, a guy at work talked about Ambit Energy business opportunity these other days… and I thought,
Maybe, nothing.
What… you're not going to tell me?
No, I just thought it sounded like an "mlm", one of those pyramid schemes that you write about.
So, I thought you might know something!
Ambit Energy, I thought to myself… Well, I can investigate… If you want?
No, I'm not interested, plus…
Look, you're not, but other people might… I'll research this company for my Coffee Talk blog.
What are you going to say? Ambit Energy a pyramid scheme?
I don't know… But if it is, then I'll let you know…
You're gonna tell me right?
No, you have to read the blog…
But, I'll help you find the article, with this title,
Is Ambit Energy A Pyramid Scheme?
I was a little surprised to discover, Ambit Energy is an mlm company.
Interesting, isn't it?
I guess you can sell anything using multilevel marketing.
Now, I understand why my Hubby called Ambit Energy a pyramid scheme…
Like everyone, he believes all mlm companies are a pyramid scheme.
But, Ambit Energy is different,
first, it only offers two products: electricity and gas,
second, it offers residual income.
This is significant… Because not a whole lot of mlm company offers residual income.
Residual income is like royalty payment to a writer… This is the #1 passive income for my writing business.
If you want to make money with Ambit Energy, you have to understand the residual income part of the compensation plan…
However, before discussing the Ambit Energy compensation plan, we need to know,
What Is Ambit Energy
Ambit Energy was amount hundreds of energy companies founded after the deregulation of the energy industry.
The purpose was to provide alternative electric and gas services to consumers at a lower cost.
Ambit Energy founded in 2006 by Jere Thompson Jr., and Chris Chambless, with headquarters in Dallas, Texas.
Besides, offering low energy costs,
Ambit Energy offers its customers an opportunity to start their own home-based business,
become an Ambit Energy Consultant… This is an mlm opportunity, which earns Ambit Energy a pyramid scheme title.
This was how my Hubby learned about Ambit Energy…
A fellow at his company tried to recruit him as a consultant.
He started by asking my Hubby to change our electric services to Ambit Energy with a 1 or 2 years lock-in low price guarantee contract.
My Hubby liked the low price, but did not want the lock-in contract…
That is when he talked about becoming a consultant for Ambit Energy.
The idea was as a consultant, we would be earning more than enough money to pay for the electric bill…
Ambit Energy offers cheaper utility services to get customer switching suppliers.
Then, once you're a customer, they recruit you to become a consultant…
Isn't that interesting?
However, the real question is,
"Can you earn enough money as an Ambit Energy consultant to pay for the utility bills?"
This takes us to the next topic,
The Cost To Become An Ambit Consultant
I asked my Hubby to invite his coworker out for coffee, telling him, "we want to discuss the process of signing up as an Ambit Energy consultant."
We met at my favorite café place… After the introduction, the consultant began explaining to us the process,
To become an Ambit Energy consultant, he said,
"the first step is switching your utility services to Ambit Energy and pay a single investment of $75 to sign up."
No other cost? I asked
No… Oh… I'm sorry… there is a $24.95 monthly fee for a personal website.
What if we don't need the website?
I think the website is part of the package… I have to ask the company.
But, look, this is less than $100 to get you in business today!
Yet! It's only five cents less… I said, as we all laughed…
But, don't you agree this is cheap to start a business?
Well, it's not just $100… my Hubby replied… we have to change our electric services… and we don't know the costs of Ambit Energy.
The consultant started to explain the service options and costs, which I had no interest.
So, I interrupted and asked, "Can I review the services later?" Right now, I want to discuss how we make money as an Ambit Energy Consultant!
You want to know the compensations?
Yes, I like to know,
Ambit Energy Compensation Plan
The consultant pulled out a folder and handed it to us.
The folder contained a printout of the Ambit Energy Compensation Plan, which stated 3 Ways to Earn: Immediate Income, Leadership Income, and Residual Income.
Consultant earns the first $100 immediate income after enrolling 5 customers within 4 weeks of joining.
As the consultant enrolling more customers, he can potentially make money…
Below is the earning table.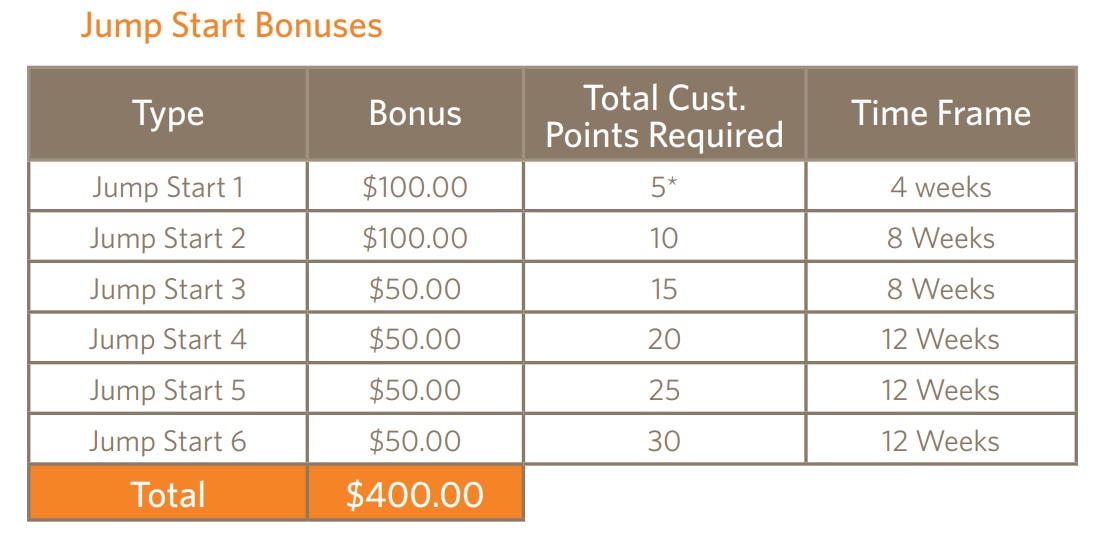 The problem with this immediate income is time restriction.
It is not easy for an Ambit Energy consultant to acquire a large number of customers in a short 12 weeks.
The Leadership Income is earned when you start building your team.
As your team grows, you get promoted and earn more money.
Here's the table explains the leadership positions and earnings potential.
Looking at this table, I asked, "The leadership income is earned after the new Ambit Energy consultant enrolls 5 customers in 4 weeks, right?"
Yes, the consultant replied.
So, if the new consultant doesn't meet the time restriction, there's no leadership income.
Truth!
This is tough… How you make money then?
Most Ambit consultants make money with the Residual Income… The consultant continued… This is unique about being an Ambit Consultant.
OK, tell us more about the residual income.
This is simple, residual income is paid monthly on active customers, when they paid their utility bill, on your team through six levels.
You see this income table,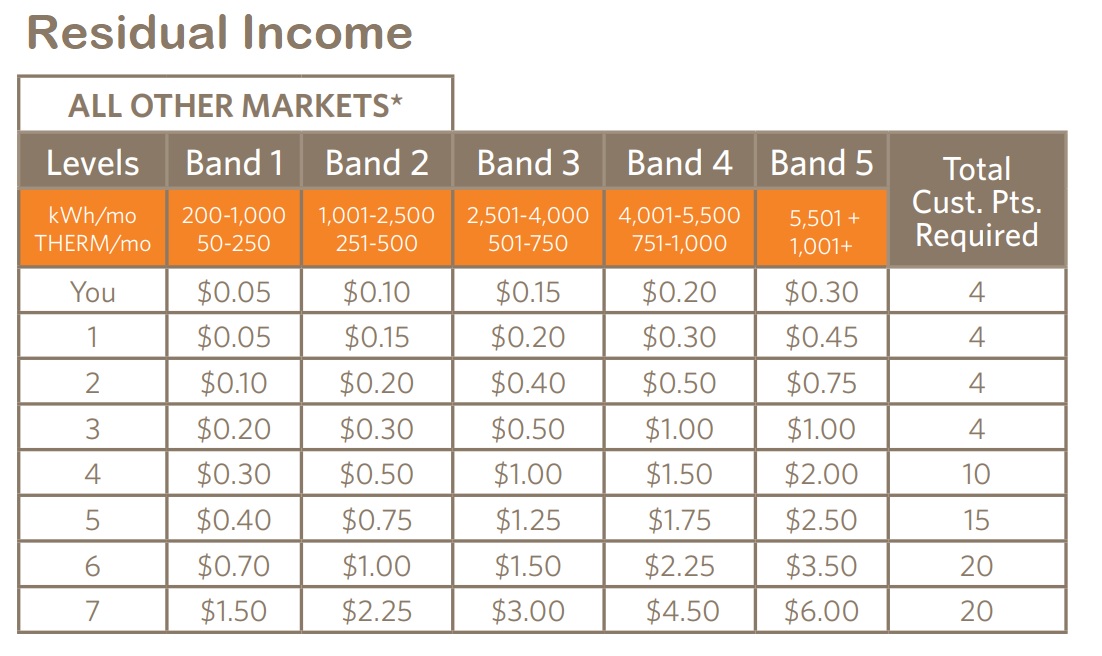 the residual income is earned based on the amount of usages… You can potentially make a lot of money as an Ambit Energy consultant.
Well, the earnings potential sound good, but do you have the actual earnings statement?
Yes, the consultant replied… pulled out two pieces of papers… he handed to me… Here's the earning disclosure statement.
So, to make decent incomes, which is $34,924.99, you have to be an executive consultant.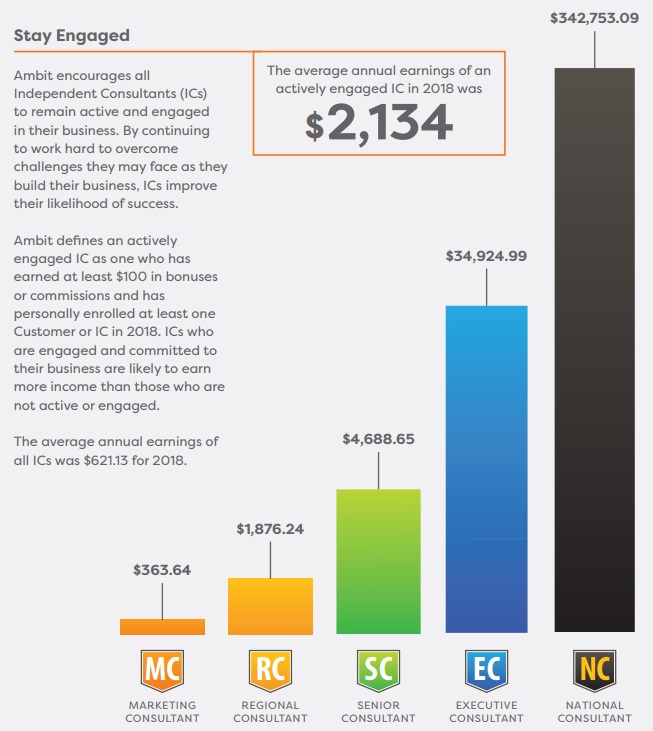 Yet… But some people reach this position very fast.
Not really, according to the earnings by promotion level,

Less than 1% achieved Ambit Energy Executive Consultant in 2018… This is terrible.
This earnings statement projected… it could take 5 plus years for an Ambit Consultant to earn an average annual income of $6,778.94.
How long have you been with Ambit Energy? I asked the consultant.
A little over 2 years… But, I'm doing this part-time.
I looked at my Hubby and smiled… Later in the car, I told him… "I don't think he makes money!"
On the way home, we continued discussing,
Ambit Energy A Pyramid Scheme
You see not all mlms are pyramid scheme… I don't think Ambit Energy a pyramid scheme.
Do you agree?
My hubby just smiled…
But, it's hard to make money… he said.
Yes, that's normal with mlm opportunities.
Then why so many people join mlm?
Well, because they get excited just looking at the potential earnings from downlines… It always looks impressive… But it's not easy to recruit.
The truth is in the earning disclosure… mlms never give out this statement unless you ask.
Lucky you did… If you did not ask for a copy, he probably will not give it to us one.
God! Less than 1% makes $34 grand a year… Hubby said… I don't know if I want to be an Ambit Energy consultant.
How long does it take you to make a full-time income with the writing business, TQ?
Less than a year… Why?
Just wondering… It seems much easier to start a writing business than becoming an Ambit Consultant.
Yes, but you still have to learn to write… The kind of writing that produces money!
It still must easier than traveling from home to home recruiting new customers… You work on the computer from our home… no traveling, nothing!
What about switch our electric service to Ambit Energy customer?
I don't mind doing that… Hubby smiled.
We can't…
What? Why?
Ambit Energy doesn't offer services in our area. You can only switch where service is available.
You know about this all along, TQ? And didn't tell us?
Yet! I need to do my research to find out if Ambit Energy a pyramid scheme.
So, what I am going to tell him at work tomorrow?
You can tell him Ambit Energy is not available in our area, or he'll find out when submitting the paperwork.
I cannot believe this, you dragged him out to meet us for nothing.
It wasn't my false. He should have done his homework before trying to recruit us… That's part of the business… RESEARCH!
You right, TQ… I feel bad for him… It's hard work.
But, not a pyramid scheme…
My hubby smiled… We're home!
I whispered into his ear,
Ambit Energy is not a pyramid scheme, you owe me a dinner.
Don't you want to become an Ambit Energy consultant?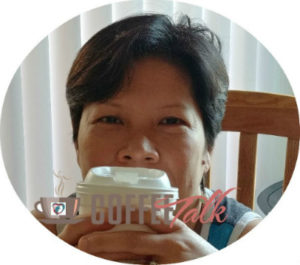 I create OnlineBzDog to share my fascinating life, "The Writer Lifestyle,"… The care-free-drop-everything-travel-the-world lifestyle!
Yes, I have turned my passions into passive incomes, using the secret Money-Making Websites, earning money while I'm Sleeping, Traveling, Or Relaxing on The Beach.
Anyone can easily replicate what I'm doing… Come in, read, share, discuss and learn how I make six figures online.