You have a brick-and-mortar business, or you have a great business idea. You are ready to open a business online, but How?
Tired Of Scams And Pyramid Schemes?

Your Work From Home Opportunity!
How to Open a Business Online I 4 Steps
The process of starting your business online is no different than starting an offline business. It is as simple as that!
Open A Business Online Starts With A Business Plan
You must start an online business with a plan just like you would with your brick-and-mortar business. Your business plan must have goals, objectives, and budget.
When building your online business plan, just ask yourself these questions:
Why am I going online?

W

hat are my objectives or goals?

What do I want to achieve?

What is my budget?

Will I build my own website or outsource?
The answer to these questions is the foundation for your online business success.
This lesson assumes the followings:
Let's start with our tutorial
Step 1. The Online Business Name = Domain Name
Your business name is your brand. This is how people know and find your business online. Choosing a name for your online business is a very important business task. 
Must my online business name be the same as my Offline business name?
Let me put it this way if you can get the same business name for both, GET IT QUICK.
You Ask Why?
Because your online business name is your domain name and your web address. The problem is that you can only have one domain name.
Each domain name is unique. This is how people identify and find your business online.
Example: Your business name is GRANDE MARKET. This might be good for a brick-and-mortar store, but online this domain name might have already been registered by someone. In this case, you cannot have this name for your online business.
Getting the name for your online business is vital. You must register for a domain name as soon as you can. This can be done with any domain registration company.
Here how the domain registration process goes:
If the domain name is already taken, yo have to come up with a new name for your online business.
How to Choose A Name for An Online Business?
If your business name is not available after checking with the registration company above, do not feel bad. Most of us are in the same boat.
Follow this process to help you choose a great domain name for your online business:
Look for a similar word, or a synonym for your offline business' name; if you can.

Go for the name that is Brandable – It's a unique and memorable name.

DO NOT go for a keyword name, it has no SEO value after Google updates its algorithm
Remember, the new name must be available, so please check for availability.
Step 2.  A Location = A Web Host
Just like your brick-and-mortar store, you need a place to build your business online. This place is called Web hosting.
What is a Web Hosting Company?
The web hosting company will rent you space on its server to build and host your website. Yes, they will charge you monthly rent, but much cheaper than a storefront.
Not all hosting companies are equal. You must do your homework before signing up. Look around for the best one.
Here are issues you must consider when choosing web hosting providers:
Free Trial Account: 

Always start with web hosting companies that offer a free hosting account. If you are planning to build the website yourself, then this feature is a must-have for these reasons:

Building

a website requires a lot of times, changes, and corrections. You should do all this on a free account.

You want to have a chance to try out the services first before purchase a hosting plan. It is a big hassle to change hosting service.

It costs money and the loss of online revenue every time you have to change hosting provider.  So, Test Drive First Before Sign Up.
Upgrade only when you are ready to launch. This will save you money. 
Free Training: This is another important feature to look for.  You will need a lot of training to maintain and update your site. You will be responsible to write, edit, and update your website contents after it launched. You will need the free online business training!

Download and Upload Speed: 

This determines your site speed, the faster the better.

Amount of Data Space: 

This determines the amount of data you can store. If you have an eCommerce site, data space is very important.

Security: 

The site must be secured to protect customer personal information.

Site Support: 

24 hours of support is a must.
Open Your Business Online with WordPress
This is important if you are planning to design your own website. WordPress is very easy to use, and it is the most popular web design platform on the internet. Using WordPress make it easy to get free training and tutorials as you're building out your own website.
Step 3.  Build Your Online Business = Web Design
It times to do some real works, build your online business. You have two options: Do It Yourself or Hire Professional. Which way to go?
DIY Design of The Online Business
Build your own business website is much easier than you think.
I recommend going DIY if:
You just start out.

You need a basic eCommerce site.

Your business online is to provide information only, like a Blog.
Most web hosting companies offer free web design tool, but nothing can compare to WordPress. 
Here are the benefits of using WordPress for a non-tech person:
It is easy to learn and user-friendly.

It comes with thousands of free web templates for you to further customize into your own.

You do not need years of study and training.

There are lots and lots of free training and tutorial online to walk you through the design process of a WordPress Website.
Build an E-commerce Business online
You should consider this option if you have a store and are looking to sell products online.
There are many e-commerce platforms available online to help you launch an entire online store in a few hours.
One very popular e-commerce platform is Shopify. Using this platform, you can open a business online to sell goods and products with only a few clicks of a mouse.
You can manage and organize your products, customize and design your storefront, accept all major credit card payments, and even track orders.
Shopify is currently offering a free trial account, so you can build out your storefront. Currently, over 600,000 businesses are using Shopify's e-commerce platform.
So, if you have a retail store with a few hundred items.
Before Shopify, to open this business online, you have to hire professional web-developer to build an eCommerce store.
With the Shopify Automated App, you can open your own business online with a few clicks of the mouse by selecting a professional web theme, a payment processor, a product processing app, upload pictures of inventory.
Your online store is up and running in minutes. Shopify makes it very easy to do so. You can visit Shopify to learn more.
Step 4.  Advertise A Business Online = Web Marketing
Your website is now completed. You have already launched the site.
However, a new business online, the question is how can you find customers for your new business?
How do you get people to come?
For people to see your site, you must advertise. I do not mean calling up your local newspaper to run an ad in the Sunday paper, No! You must do web marketing or digital marketing.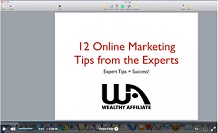 12 online marketing tips Video >>>
What is web marketing?
Web marketing is the method of promoting or marketing your business online to generate traffic to your website.
The two ways to generate traffic to your online business. They are free and paid. 
Free Web Traffic
The methods to generate FREE traffic to your new online business require lots of work from you. 
1. Free traffic with Exchange Programs
The concept of traffic exchange is this, 'you visit my website and I'll visit your'. Usually, exchange traffics are Free.
However, there are some major problems with these exchange programs.
Used of Bots: 

Members use Bots to rack up points. These Bots click on your website and Google can detect them. This can result in manually deindex of your website. This means your website is banned from indexing.

No Conversion: 

Well, the name says it all. People join the Exchange for free traffic, not to buy anything.
If you still like to join these programs, make sure Bots are banned or not allow. You want real human traffic exchange programs such as Followlike.net or LinkCollider.com to avoid getting into trouble with Google.
2. Free traffic with SEO (Search Engine Optimization)
SEO is the marketing technique to get free traffic from Google, Bing, and Yahoo to your online business.
SEO requires both technical skills and creative elements to improve site rankings on the search page which in turn increase awareness of your business online.
SEO requires training, practices and patient to see results.
It takes six months to a year to see free organic traffics. But the free traffics are generated for as long as your website exists.
There are many FREE SEO lessons offers for beginners which I encourage you to take and learn the basic of SEO.
The information offered in these free SEO lessons will teach online business owners the right way to promote their business website successfully using SEO.
Paid Web Traffic
Paid web traffic is advertising your business online. You are purchasing traffics to your business website.
You can purchase traffic directly from Google, Bings, and Yahoo, or from private websites networks such as Revisitors and Real Traffic Source.
1. Purchase traffic with private ads networks
You are purchasing traffic from private websites network, publishers, or news agencies. There are a few issues you must consider before purchasing traffics.
Pros:
The cost is must cheaper

You can purchase website visitors in volume

The visitor can be targeted to your niche
Cons:
Some private networks use Bots. Be careful, this can become a major problem for you as we have discussed above.

It cost money. Some of them are very expensive. You must budget for this.

Lack of tracking tools to know where your traffic came from.
When looking for a private online advertiser to purchase traffic, remember to sign up with real human traffic Networks. Never, never purchases from a Bot traffic generator, Bots should be free.
2. Purchase traffic with SEM (Search Engine Marketing)
It is the process of getting traffic to your site by purchasing ad placement on search engines such as Google Adwords and Bing Ads.
Pros:
Real human traffics

Professional online marketers' assistance

Detail tracking and reports on traffic
Cons:
Very Expensive

It required a big budget for SEM

Does not improve SEO
There are many ways to promote your online business. The most popular marketing method today is content marketing. This is also known as Affiliate marketing.
Never confuse affiliate marketing with an affiliate marketing program.
The affiliate marketing program is created by businesses to allow affiliate marketers to earn commission by promoting their online business. You might want to implement this program as a way to promote and market your online business.
Affiliate marketing technique refers to the process called content marketing used by affiliate marketers to promote and sell products or services online. This is a marketing technique, not a program.
I have shared with you the 4 simple steps to Opening A Business Online.
To run a successful online business, you have to continue learning. The real works begin after you launch your online business website.
Like your offline business, your online business also requires continuous promotion to bring traffics and customers.
The good news is that you can learn online marketing skills yourself.
This Free Online Entrepreneur Certification Training is a good place for you to start learning the basic skills of building a successful business online. The program is entirely free and offered by the Wealthy Affiliate University.
This certification will provide an in-depth understanding of an online business operation, including website promotion, SEO and SEM marketing techniques, and more.
I hope you enjoy reading this 'How to Open a Business Online Guide'. It is very simple, and you can do it.
If you need business ideas or want to learn more ways to earn money online, I suggest you read our Earn Money Online Blog.
Have questions or comments? Leave them below.