Do you shop online?
Yes, all the time…
You are going to love this saving extension button…
What is it?
It's called the "Honey browser extension."
Are you talking about Honey Extension?
The browser extension that automatically finds coupons for you online…
Yet! That's the one.
The Honey extension is not new… I have been using the extension for sometimes now.
In fact, I have more than one extension added to my browser…
I have an
Tired Of Scams And Pyramid Schemes?

Your Work From Home Opportunity!
BUSINESS INFORMATION
Name: Honey
Business Type: Consumer Loyalty Program
Investment: Free
you know how to use Honey Browser Extension, right?
Yet… I use it every time shopping online…
How comes you've never told me about Honey?
You told me about Ebates and Swagbucks' savings… But not Honey!
Show me how to use this Honey browser extension… will you?
No problem Sis!
My sister and I love to shop online… We buy almost everything… and I mean… everything… on eBay, Walmart, and Amazon.
Why?
Because you can find coupons, cashback, and rewards much easier online than in-store.
Have you ever got cashback from Walmart?
Walmart doesn't offer cashback in-store, but it does online…
Well, this is a review of the Honey browser extension… not the Walmart Cashback Program.
We'll discuss "How to use Honey" to find online coupons.
I'll show my sister how… and you're welcome to join us.
Before I show everyone how…
Let's briefly,
Review The Honey Google Chrome Browser Extension
The Honey extension works with other browsers too… Do you know?
Really?
Yes… Sis… you don't have to use this Honey Google chrome extension anymore.
When it first launched in 2012, the Honey browser extension only works with Google Chrome… Today, this browser extension is compatible with all major browsers.
How long have you been using Honey, TQ?
Since, 2014… It wasn't very good back then… But, I always have the extension.
Adding the Honey extension to your browser, save a lot of time from searching for coupons… Honey will find the best coupons and deals online for you.
No need to search Google for saving codes!
That's interesting…
Now, I don't have to search on Google… copy and paste every saving code to find a valid one.
Yes… that's the deal with Honey browser extension…
On click coupon saving button!
OK… stop talking and show me how to use Honey.
How To Use Honey Browser Extension?
Sis, there is not much to show you about the Honey extension.
This picture is the best representation of the process to use the Honey extension.
When you visit the Honey website, the orange button you see is "Add Honey – It's Free" …

Click on this button will open the browser extension installation window… This is Google Chrome… So, you'll see the button "Add To Chrome."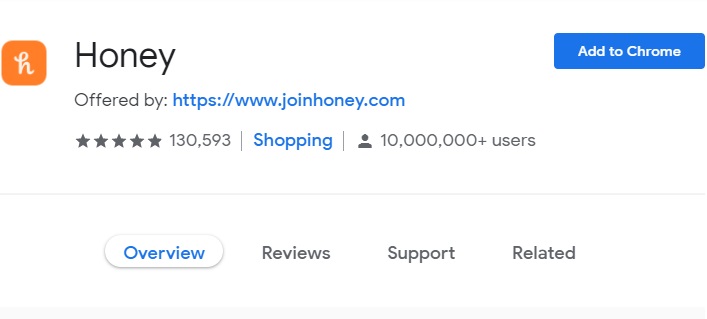 All you have to do, Sis, is click the button to add the Honey extension to the browser.
That's done… You are ready to save money.
But… how do I find coupons…
Sis, the Honey browser extension will find the coupon for you… You don't have to do anything.
I still don't understand… How to use honey?
OK, let me walk you through the process… I have to order some dog food from Walmart… want to shop at Walmart.com?
OK, my sister replied.
Let visit Walmart.com…
I want to order a bag of dry dog food… how about… this Blue Buffalo Dry Dog Food…
Now, I add to the shopping cart…
Then click on checkout…
Here's the important step…
You have to click on the Honey extension button to activate the search…
Once you press on this Honey button on your browser, Sis…
Honey automatically finds, tries all working coupons, and applies the best one to your order.
That's it! That's how to use Honey.
Also… There's one special feature that I love about Honey… Sis.
Is connecting the Honey browser extension with Amazon!
Want to learn?
How To Use Honey Browser Extension On Amazon?
OK… to use Honey on Amazon, you have to connect your Amazon account with the Honey extension.
This special feature is called "DROPLIST."
We all know that Amazon doesn't offer coupons…
But… the giant retail offers sales and discounts by dropping the item's price.
The problem… We don't know when Amazon will drop the price…
Would it be nice to receive a price drop Alert?
There is away, the Honey Droplist.
I use the Honey extension droplist to alert me when Amazon prices drop.
Let me show you how to set this up…
First, you have to connect your Amazon account with Honey.
Here's the step to connect Honey extension with Amazon:
Click on the "DROPLIST" tab,

You'll see the "Set up your Droplist" button… Click on it to connect your Amazon account.
Once the two accounts connected… Just go shopping on Amazon…
When you see an item on Amazon that you're interested in… but doesn't like the price…
On the item, you see an orange h+ Save to Droplist, (See pic. below), click on the button…
When you click save to Droplist, Honey extension will track the price of the item… when Amazon drops the price… Honey extension alerts you of the price drop…
This is the best way to use Honey with Amazon.
I use this a lot on every Black Friday… and throughout the year… to track Amazon prices.
Now, isn't this awesome, Sis?
I like that too… But,
Is Honey Browser Extension Safe?
Do you use extensions on your browser?
Yet! The Honey browser extension is as safe as Ebates or Swagbucks.
I have used this extension for years… and never have a problem.
Besides, the Honey browser extension is for finding coupons and deals online, nothing else… Plus, you can deactivate the extension when not using it.
By the way… if the Honey browser extension is so good, why do you need the other saving extension?
Well, Sis… each browser extension offers different discounts…
For examples,
Because… The Honey extension cannot excess Swagbucks or Ebates exclusive saving deals… So, if you don't have the other extensions… you are missing out.
These browser extensions work the same… it just takes 1 click… and the extensions apply the best saving to your entire shopping cart…
I use them all to get the best deals shopping online.
I have a little warning for you…
Don't overuse the Honey Amazon price drop alert… you'll end up buying too much…
I don't do that…
I know you… Sis… You love to buy it… buy… and buy.
Is that why you didn't show me how to use Honey… until now!
Maybe…
Anyway, enjoy using Honey browner extensions.
Let me know how you like it.