CTFO Review – Is CTFO A Scam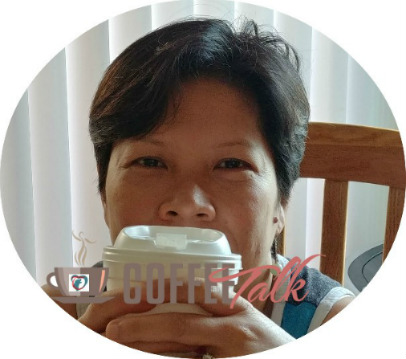 I'm TQ, a mom and owner of this successful Writing Business.
Yes, I make passive income with affiliate links when I write. Isn't that amazing? Want to learn? Join My Free Training!
Legalization of medical marijuana has given birth to a new industry with explosive growths and opportunities.
I am talking about CBD oil businesses. This industry is projected to reach $22 Billion by 2022.
A company, Changing The Future Outcome (CTFO), has gained big attention by adopting the mlm business model to promote and sell Cannabidiol (CBD) products.
Are you ready to review CTFO?
First, welcome you to our CTFO MLM review Coffee Talk.
In this discussion, we are going to find out "Is CTFO a scam?"
Many online reviewers call CTFO a scam or CTFO a pyramid scheme, just because CTFO is an mlm company.
Yes, every pyramid scheme is a scam. If CTFO is a pyramid scheme, then CTFO is a scam.
In our previous Coffee Talk,  MLM vs Affiliate Marketing, we have discussed the difference between a legit mlm and a pyramid scheme following the FTC guideline.
The FTC guideline is a legal procedure to define a legit mlm operation.
When people call CTFO a scam or a pyramid scheme, they refer to the business opportunity.
We don't know if the allegation above is true or not.
One thing that we do know is CTFO offering people an opportunity to enter the CBD oil business with very little investment.
Remember, why you want to start a business?
To make money and achieve financial freedom.
You don't want to be a victim of a scam.
Before investing with CTFO, don't you want to know more than, "Is CTFO a scam?"
Don't you want to find out,
Is CTFO a legit opportunity?

The process to join CTFO.

The costs to start a CTFO business, and

Can you make money with CTFO?
The least you need to know is "Profitability."
If you are interested in joining CTFO, you should read this review to fully understand the risks and rewards of becoming an associate.
Please keep in mind that this business review is written based on my own experiences and opinions. I try to keep things fair and balanced in order to help you make the best investment decision.
I enjoy writing reviews of small business opportunities. I do not receive compensation or endorsement from the company that I review.
If you are looking for the best way to make money from home, check out the #1 home-based business opportunity which does not require recruiting or Face-to-Face selling.
CTFO Review Executive Summary
Name: CTFO

Competitors: Country Naturals, Forever Living, Kannaway, Prime My Body, LivLabs, Hempworx, Innov8tive, Zilis, Bocannaco, Green HoriZen, Illuminent, NewYou, Vasayo, Wakaya Cibi-Gold

Annual Revenue: $3 Million
Business Opportunity:
Multilevel-Marketing (MLM)
Initial Investments:
$0 and $47.47 every 31 days

Business Earnings Estimate: 
Average income less than $100 per year.
CTFO Review and Analysis Summary:
CTFO is an mlm company that promotes and sells CBD Hemp oils.

CTFO business opportunity is free to join. But to make money, you must meet several difficult conditions.

Making money with CTFO requires a high-level of sale skills, especially with Face-To-Face recruiting.

Recruiting is the way to make money with this organization.
There are other lucrative and inexpensive home-based business opportunities for you to compare and consider:
1 – My #1 Home Business Opportunity, or
2 – Affiliate Marketing.
Both do not require face-to-face recruiting and/or a monthly sales quota.
What Is CTFO?
CTFO is an mlm company founded by Stuart Finger in 20015.
CTFO was originally named "Chew The Fat Off," which promoted health and wellness products. But, the company did not do well.
Early 2018 the founder changed the company name to "Changing The Future Outcome" and shifted the company product lines to promote and sell CBD Hemp oil products.
CTFO offers a wide variety of CBD products which divide into six categories: Vape and Oil, Hair Growth, Pain Creams, Edibles and Sprays, Pet Products, and Skin Care.
CTFO products are considered rich in CBD Hemp.
The company claims that its products are 100% US growth and processed Hemp.
CTFO products contain less than 0.3% of THC (tetrahydrocannabinol). The compound in cannabis, which makes people high.
If you want to learn more about CTFO products, you can visit the company products webpage for more information.
CTFO reported an annual sales revenue of $3 Million in 2018.
The company primarily sells its products through an mlm network of Independent Associates.
However, according to CTFO, more than 64% of independent associates earned an average income of $68 a month.
To become a successful CTFO associate, you must possess a strong sale skill, especially in face-to-face recruiting.
Before starting a CTFO business, it's smart to compare with other home-based business opportunities.
You can use The Best MLM Opportunity to make a comparison.
How to Join CTFO?
There are three options to join CTFO:
Retail Customers are people interested in purchasing CBD products from CTFO.

Preferred Customers are those registered with CTFO for a free website and to purchase products at the wholesale price.

CTFO Associates refer to individuals that joined CTFO for the business opportunity.
This CTFO review is an analysis of the business opportunity.
Therefore, I will focus on the option to join CTFO as an associate, starting a business with CTFO.
The Process To Join CTFO
To join CTFO, you can visit the company website to sign up for a free associates account.
Upon completing the registration, you are provided with a website to promote and sell CTFO CBD Hemp products.
But, before you can earn the commission, you have to sell or recruit others to join CTFO.
The Costs to Join CTFO
Anyone can become a CTFO associate because it costs nothing to join.
It is 100% free to join the CTFO business opportunity.
However, this does not mean you will earn commissions with a free associate account.
There are other costs and requirements which an associate must meet to earn the commission with CTFO.
In this CTFO review, I'll discuss two important costs to build your CTFO business.
1. Time Investment
If you want to make money with CTFO, you must invest time into promoting and selling the CTFO products.
You will need to invest at least 80 hours per week to build this business.
Yes, this is a full-time job, not a part-time. I have never met anyone successfully building an mlm business part-time.
2. Costs To Maintain "Active Status"
CTFO associates are required to place an order of $47.47 every 31 days to remain active.
I refer to this requirement as, "Pay and Play!" If you want to earn, you have to pay.
So, the real investments to launch a CTFO CBD business is not ZERO.
The cost is $47.47 per month and your times. These are the biggest expenses to operate your CTFO business.
The monthly minimum order can destroy your chance of making a profit. Because if you cannot sell the products, they become business losses.
With other home-based businesses, like affiliate marketing, you earn a commission on every sale.
Do you know why CTFO has a $47.47 monthly order requirement?
First to sell products, and

Second to meet the FTC guideline as a legit mlm business.
Without product sales, CTFO is a scam or a pyramid scheme.
CTFO Compensation Plan
The #1 reason that you want to join CTFO is to make money.
According to the CTFO compensation plan, associates have four ways to make money with the company.
However, this is just marketing hype. As an mlm opportunity, CTFO offers you two ways to earn, sale products and recruiting others to join CTFO.
I'll provide a quick overview of the CTFO compensation plan. If you want to know in detail, you can download a copy.
Make Money Selling CTFO Products
There are two avenues to make money under this option. Associates can buy products at a wholesale price and resell for a profit, or they can refer customers to buy fro their own replicated CTFO website.
A CTFO associate can earn up to 30% retail profit on each sale.
It sounds simple, right?
Well, I did a quick search online and find a bottle of 500 mg CBD Hemp Oil drops for $12.43.
The same item on CTFO website with a wholesale price of $59.97 and a suggested retail of $80.97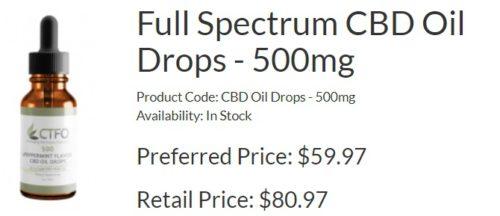 Can you sell CTFO CBD products on the market at the suggested retail price?
It will be a challenge for CTFO ssociates to make money selling products.
Make Money Recruiting Others
There are several ways for a CTFO Associate to make money with recruiting.
But, the Associates must be Active and Qualified.
An Active and Qualified Associate must meet one of the two following conditions:
Order a minimum of $47.47 each month and personally recruit 5 active associates, or

Personally enrolled 10 active associates.
Here's how this work:
You place your monthly order $47.47. Let say 4 of your personal recruits placed orders for a total of $10,000. You receive no commission because you did not have 5 active associates.
This means a CTFO associate can potentially earn nothing even having big sales.
Here's what you can earn if you are considered active and qualified.
Up to 20% of Commissionable Volume (CV) on all personal referrals and sales.

A 4% override commission on the total CV of any product purchased by anyone from the 2nd level to the 5th level.
CTFO has a unique commission, which they call the 3x Matrix Commissions. This Matrix is made up of 21 levels.
Every Associate and Preferred Customer is assigned a position in the CTFO Matrix.
Each position has 3 positions directly beneath it. This means:
You're on the 1st Matrix Level, you have 3 positions under you

The 2nd Matrix Level has 9 positions under you (3×3)

The 3rd Matrix Level has 27 positions (9×3)

The 4th Matrix Level has 81 positions (27×3)

This goes all the way up to 21 levels.
The CTFO Associates earn the following CV commissions under this Matrix:
1% total CV commissions from matrix levels 1-5

10% total CV commissions from matrix levels 6 and 7

1% total CV commissions from matrix levels 8-21
Matrix commissions can potentially become a lucrative income if you are able to build a big organization and remain active and qualified.
It is very difficult to fully understand the CTFO compensation plan. However, you don't need to because the compensation plan only tells you, "How to make money with CTFO."
Can You Make Money With CTFO?
CTFO promotes itself as an mlm that is free to join with no monthly sale quota.
As we have discussed above, this is not true.
The first thing we notice is that an associate will not make money by registering for a free account.
Yes, CTFO associates are not required to purchase products, but to receive the commission, all associates must be active and qualified.
Under the CTFO compensation plan, the minimum requirement to qualify for the commission is 5 direct active downlines with each person placing an order of $47.47 every month.
What happens if you have 2 big sales, total $10,000, from 2 of your personal recruits?
You make no money with CTFO because you fail to meet the 5 active associates requirement, even if you have placed the $47.47 personal order.
Under the monthly sale quota, you receive commissions as long as your team total sales volume meet the requirement, even if only 1 recruit generated all the sales.
CTFO is not easy to make money compared to other mlms.
CTFO uses "free registration and no monthly sale quota" marketing gimmick to trick people into joining the company.
The truth is, this mlm business opportunity is not free, and it's not easy to make money with CTFO.
Then, does this mean
CTFO A Scam
Yes, it is much more difficult to make money with CTFO, but this doesn't make CTFO a scam.
CTFO is an mlm business opportunity. It requires hard work to generate profits.
However, the chance of making money with CTFO is low, because of the compensation plan.
When you become a CTFO Associate, you are willing to accept the chance that you might not make money with this business.
When your business failed, you cannot call CTFO a scam.
Business failure is a risk associated with every startup.
You need to carefully research the business opportunity before investing.
Reading this CTFO Review is a good way to learn the risks and rewards of becoming a CTFO associate.
Many entrepreneurs hire a professional financial analyst to evaluate a business opportunity before investing.
As an owner of an Online Business Review, I have evaluated hundreds of mlm businesses to help investors identified and managed the risks.
As a business opportunity, CTFO is not a scam.
It is a difficult business to make money.
Is CTFO a pyramid scheme?
Mlm companies are legit if they follow the FTC guideline.
CTFO might be legit under the law, but I don't invest based on the law.
I look at the financial information to determine a pyramid scheme or scam. I say Reliv is a pyramid scheme.
I believe CTFO is a pyramid scheme.
Why?
Looks at their compensation plan,
Do you notice a pyramid scheme with the 3x Matrix?
Under this Matrix the more people you recruit into your team, the more money you make.
CTFO is rewarding associates to recruit people into the organization, not selling products.
Recruiting is how you get promoted and make money with CTFO!
Isn't this a pyramid scheme?
Well, you don't have to agree with me. It's not that important
I write this CTFO Review to show you that it's not easy to make money with a FREE mlm program.
Is CTFO Worth It?
If you decide to start a business with CTFO, you must accept the chance of earning no money, even if your team is doing well.
I'll never invest in a business opportunity unless I can make money, or the opportunity is profitable.
For me, CTFO is not a profitable business.
Ask yourself this question,
Do you know why you want to start a business?
To make money, right?
And to make money, we invest in a PROFITABLE business!
There are much better and less risky home-based business opportunities compared to mlm opportunities.
I recommend you look at Affiliate Marketing.
As an affiliate marketer, there's
No need to purchase a starter kit,

No Personal Volume (PV) requirement,

No face-to-face sales,

No recruiting, and

The best part, you are working on the computer in your own home or anywhere you like.
Affiliate marketing is one of the most powerful methods to promote and build your mlm team. I recommend you read, The New MLM Affiliate Marketing to learn more.
CTFO is a small mlm company, and the CBD oil business is very competitive.
A major business risk associated with CTFO, which people rarely discuss, is the risk of the company goes out of business.
Do you know what happens if CTFO goes out of business?
Yes, every CTFO Associate is out of business.
So, when you become a CTFO Associate, you should know that you are not the owner of your business.
You are in business as long as CTFO allows you!
Don't you want to start your own business?
If you want to be an owner of a lucrative and profitable business that generates six-figure passive income, then…
You should read my #1 recommended online business opportunity.
Can you write?
If your answer is "YES", then why not use this skill to start your own highly lucrative online writing business, TODAY!
I hope this CTFO Review gives you a better understanding of the risks and rewards of this mlm opportunity.
Remember, your chance of achieving financial success depends on your ability to find a profitable business.
Do you think CTFO is a profitable business?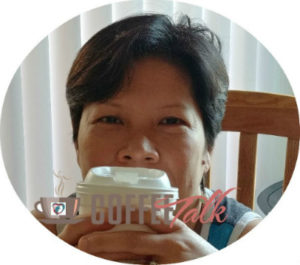 I create OnlineBzDog to share my fascinating life, "The Writer Lifestyle,"… The care-free-drop-everything-travel-the-world lifestyle!
Yes, I have turned my passions into passive incomes, using the secret Money-Making Websites, earning money while I'm Sleeping, Traveling, Or Relaxing on The Beach.
Anyone can easily replicate what I'm doing… Come in, read, share, discuss and learn how I make six figures online.