Profit Genesis 2.0 is a step-by-step training system created by David Miller to help people make over $5,000 a week with drop shipping.
This system is not about multi-level marketing, bitcoins, paid surveys, or Amazon. It is about accessing a "secret system" to make tons of money online.
This secret system was revealed to David Miller by an ex-Google employee which allows him to make thousands of dollars every week.
David now decides to share this "secret system" with you by creating Profit Genesis 2.0.
According to David, this moneymaking system only needs 15 minutes to set up and a few minutes of work each day to generate up to $5,000 per week on autopilot. You will receive cash into your account immediately on day one, this week, and every single week, thanks to the Profit Genesis 2.0 autopilot system.
Are you excited and ready to join? Or Are you skeptical and want to learn more about the Profit Genesis 2.0?
Either way, I urge you to read this review before handing over your hard-earned cash.
Tired Of Scams And Pyramid Schemes?

Your Work From Home Opportunity!
About Profit Genesis 2.0 Review
Every smart entrepreneur/investor should be skeptical about the Profit Genesis system unrealistic claim, generating $5,000 per week with a few minutes of work each day.
Every day, hundreds of online business opportunities are introduced on the internet with promises like this Profit Genesis 2.0. It is not easy to identify which one a scam and which one legit based on the promotional video.
One method that I have used for years, here my profile, to determine if the program legit is "Try Before You Buy." A legit business opportunity doesn't afraid to let to test the system first. This is how I found the #1 business community that helps me build this successful online business.
My online reviews have helped so many people to avoid falling victim to online scams. This Profit Genesis 2.0 Review is one way for me to expose the truth about this autopilot moneymaking system.
How Does This Profit Genesis 2.0 Work?
You have read a lot of online reviews, but do you know what Profit Genesis 2.0 really is? Not sure, right?
Let me disclose the "secret system" to you, Profit Genesis 2.0 is nothing more than basic training for a dropshipping business.
The creator did not say this in the promotional video because he wants you to discover the "secret system" after signing up for the program. It's just marketing hype to lure people in.
This same marketing scheme has been used by other ClickBank products such as Five-Minute Profit Sites, Viral Cash App, Daily Cash Siphon, and more.
The truth is that dropshipping is a very popular and legit online business model. However, it is not easy to make $5,000 per week if you only work a few minutes each day, especially for beginners.
If you want to build a dropshipping business that makes $5,000 a week, you must put in a lot of work, like more than 12 hours each day.
Anyone involved with the dropshipping business will tell you that a startup business will not see a profit within the first 6 months of launch. If Profit Genesis disclosures this information, no one will buy the product.
Now you understand why Profit Genesis 2.0 system did not mention drop shipping as the "secret system."
About Dropshipping System
Dropshipping involves a lot more works than the Profits Genesis 2.0 would like you to believe.
Dropshipping business model is so popular because you don't have to buy inventory.
Here's how dropshipping works:
You create an eCommerce store, using Shopify or other similar sites.
You find suppliers or manufacturers that offer direct order processing process from their facilities.
You find, adding a markup to make a profit, and list products on your eCommerce store to sell to online customers.
A customer visits your online store and makes a purchase.
The order is sent to you which you have to forward to the supplier and purchase the product.
The supplier ships the product directly to the customer on your behalf.
That is the entire process of drop shipping. You never have to touch the product.
To make $5,000 profit, your Shopify eCommerce store has to at least process a few hundred orders per week. It is impossible to work only a few minutes each day to process this volume of orders. I am not even talking about customer services.
Profit Genesis 2.0 Dropshipping Training Program
According to Profit Genesis 2.0, there are only 3 simple steps, 15 minutes, and 10 clicks to set up this system and start making money online. The steps are:
Watch the videos

Follow the instructions

Start generating cash online.
You also get some basic video lessons teaching the basic of dropshipping and how to set up one.
I just cannot see how can you make $5,000 with this training?
The reality is that it requires a lot of work to set up an eCommerce drop shipping business. It doesn't work like this at all.
All online businesses, whether dropshipping or affiliate marketing, require hard work and proper training to generate passive online income. You cannot do this in 3 simple steps. This is like a get-rich-quick scheme.
If you want to learn dropshipping, there are many free online resources which are much better than Profit Genesis 2.0. Here are a few example articles for you:
What Is the Cost to Join Profit Genesis 2.0?
The front-end cost for Profit Genesis 2.0 is $37. Since this is a ClickBank product, you will have to see 3 upsells before getting to the training area.
You are not required to purchase the upsells. It is entirely up to you. There three upsells are:
Upsell 1: Profit Genesis Turbo – $47
Upsell 2: Multiple Income Activator – $197
Upsell 3: Good Club – $97
Notice: Upsells are normal with ClickBank products. If you are going to purchase the Profit Genesis 2.0, just remember that the 60-days money back guarantee does not cover upsell products. It only covers the $37, the front-end product. Buyer beware.
The Profit Genesis Business Review
Profit Genesis is an online business opportunity that promises quick results and instant riches. From my experience, all these systems do not work. There is no such thing as Get-Quick-System. It doesn't exist.
Just take a few seconds and think about this, if there is a system that can generate $5,00 a week or about $20,000 a month with only 15 minutes of work, how much you think this system will cost? I can tell you this, it is not going to be $37.
Is Profit Genesis A Scam?
You should be able to answer this question for yourself by now.
There are a few online reviewers promoting this as a great system for beginners to start making a stream of income weekly because they are looking to earn a commission. This is bad.
I can tell you this, it is unlikely that you will make $5,000 per week with the Profit Genesis 2.0 system.
I'll give some red flags to prove this.
A "Secret System"
As stated above, the "secret system" is nothing more than a drop shipping business.
If you do not know about dropshipping, then this might be a secret for you.
Dropshipping is not a secret. It is a popular and legit online business opportunity, but it requires a lot of work to achieve success.
You cannot build a successful dropshipping business with only 15 minutes and 10 clicks to set up, and a few minutes of work each day. It is impossible.
The secret system is marketing hype to lure people into joining the program.
Fake Income Testimonials
Profit Genesis 2.0 offers a few income proofs with their promotional video, but these testimonials are fake.
The people appeared in the promotional video are actors and actress for the freelancing site, Fiverr, not real members.
Quick online research has revealed some interesting facts: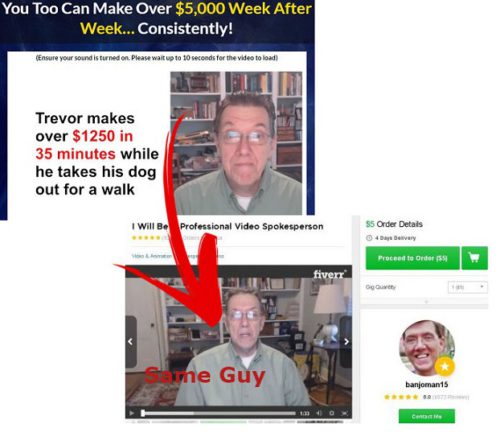 The marketing tactics of using actor and actresses to provide fake income testimonials are not new. This marketing scheme is commonly used by companies without real earnings to promote their products.
Can you really trust Profit Genesis 2.0 to help you make $5,000 per week?
David Miller, Profit Genesis 2.0 founder is not real.
We know about David Miller from a spokesperson in the promotional video.
There is no picture or video interview of this individual. This should be a big red flag!
Let me ask you this question: If you are the founder of this awesome Profit Genesis 2.0, would you want to claim your success? I do! Here's my online success story. Every successful entrepreneur loves to tell their success story. This David Miller guy is either weird or
The real creator of this system is hiding his identity because he's afraid of something. Maybe from people that lost their money to this "secret system."
Is Profit Genesis 2.0 a Get-Rich-Quick Scheme?
These are statements from the promotional video of Profit Genesis 2.0, you tell me if this a get-rich-quick system or not?
You can earn money today under 15 minutes and 10 Clicks.
You can make $5,000 per week working a few minutes each day.
Profit Genesis 2.0 is an automated money-making-machine that generates money weeks after weeks.
It only cost $37 to make $20,000 a month.
These are some of the red flags with this program for you to consider. What do you think? Scam or legit?
Can You Make Money with Profit Genesis 2.0?
No, I cannot see how you can make $5,000 a week with this lousy training system.
Yes, you can make money with the dropshipping business, but you don't need this Profit Genesis 2.0 to do so.
The training lessons provide in this ClickBank product are very basic and sometimes outdated. You might learn a few introductory steps from these video lessons, but nothing substantial to help you generate $5,000 per week.
You will be disappointed if you are chasing after an automated moneymaking system, free money website, like Prophet Genesis 2.0.
No system will make you thousands of dollars on autopilot. It doesn't exist.
Any company that advertises their product as automated online moneymaking machine is just marketing hype. They are creating this hype to sell their products and make money for themselves.
If you are interested in making money online, you must be willing to put in time and efforts to create something of value such as an online business. The most lucrative online business right now is Affiliate Marketing. I suggest you check out this opportunity.
Here A Better Way to Make Money Online
The method of making money online that I am about to share with you requires works and efforts to achieve success. This is not a get-rich-quick system.
The system that I am talking about is affiliate marketing. Affiliate marketing is a very lucrative business, and it does not require a lot of initial investment.
Here's the truth, I started my online business with less than $300. Read my profile to learn more.
This is how I did:
I began my online making money journey with a Free Affiliate Marketing Training Program because I did not have money to pay for training.
From that day on, I always advise beginners to start learning the process of affiliate marketing with a free training program.
Here's are the benefits that I have discovered from the free affiliate marketing training program:
Affiliate marketing is not for everyone. Use the free training program as a testing tool to see if affiliate marketing is right for you. Learn more
Not all training programs are the same. The free training program is a great way to avoid scam because you can try first before investing. A program like Profit Genesis 2.0 never allows you to try first.
Build a business foundation by learning basic affiliate marketing. As a beginner, you must start building the foundation before investing in advanced training. Click here for 10 free lessons
NO financial obligation or commitment, no fee associated with the free training program, so you can take as long as you need to learn and improve your skills. Learn more.
Start part-time before going full-time. This is how I build my online business. I begin part-time before I quit my full-time job. Learn more
Earn extra money. I use the free affiliate marketing training program to make extra cash for many years until I can quit my 9 to 5 job. Learn more
Turn a hobby into a successful business. Anything is possible online. Read more.
Affiliate marketing business is not a get-rich-quick system. It is a real business system that has created many online millionaires. This is how I achieve my online success.
You can check out my #1 affiliate training program. It is free to join, and I can coach you along the way, for free. This is my offer to you.


Join me and write your own online success story. What do you say?